How to Apply and Make Money in the Pinterest Creator Fund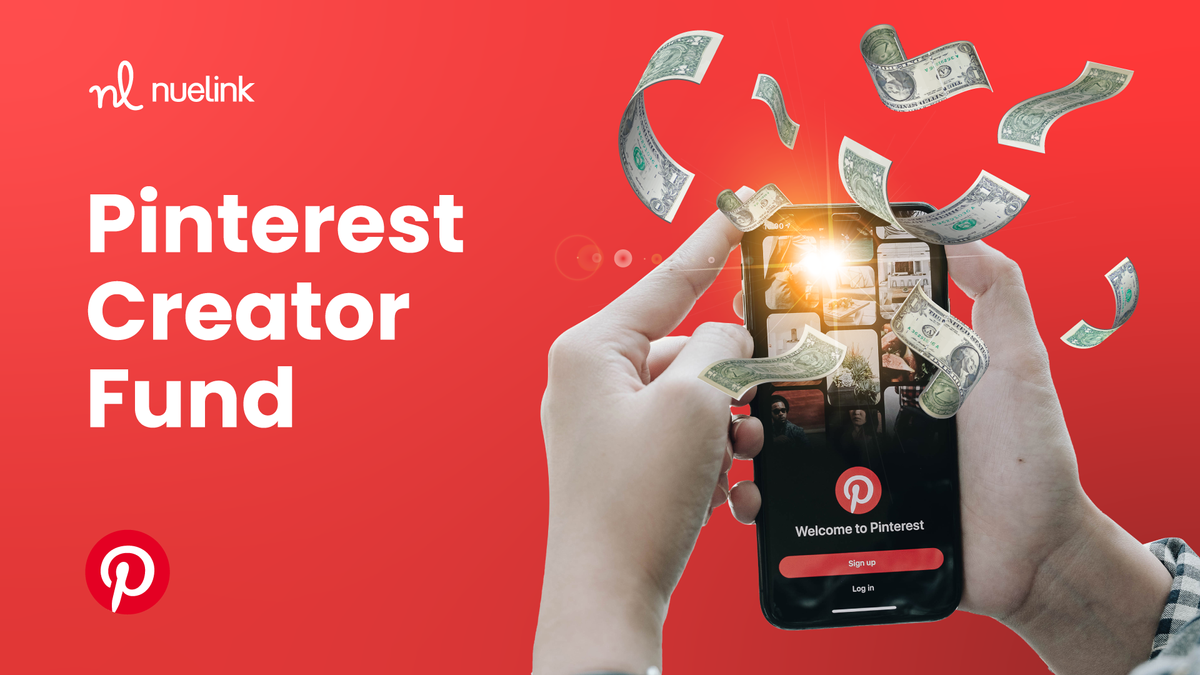 Being a content creator is often a lot of work with little rewards. The amount of time, resources, and creativity needed to make great content is definitely not easy. Especially if you are a small content creator who already has a full-time job to pay the bills and cover the costs of this side hobby.
For the bigger creators, it's an easy bargain that comes with a lot of monetary rewards. For the smaller creators, it is a whole different story.
Many platforms have recognized the value these creators bring to their platforms and the lack of compensation they receive for it.
Platforms like Pinterest took it upon themselves to keep their best creators on the platforms with programs such as the Pinterest Creator Fund and keep those creative juices flowing.  
Pinterest Creator Fund remains one the best creator funds you can apply to earn money on social media.
In this blog post, we will walk you through all you need to know about the Pinterest Creator Fund and then some.
---
Table of Contents
What is the Pinterest Creator Fund?
How Does the Pinterest Creator Fund Differ from the Pinterest Creator Rewards?
What Requirements Do You Need to Join the Pinterest Creator Fund?
How Much Does the Pinterest Creator Fund Pay
How to Apply for the Pinterest Creator Fund?
---
What is the Pinterest Creator Fund?
The Pinterest Creator Fund is a program that offers educational training, community-building, and financial assistance to underrepresented creators, such as people of color, people with disabilities, and members of the LGBTQ+ community, who have Pinterest accounts with between 750 and 10,000 followers.
This program is designed to address several key aspects of creator development, including education, community engagement, and financial support.
Educational Resources: One of the fundamental pillars of the Pinterest Creator Fund is its commitment to providing creators with the knowledge and skills they need to thrive on the platform. This includes providing access to workshops, and webinars...
Community-Building: Through this program, Pinterest is trying to build a sense of belonging and connectivity among creators from underrepresented backgrounds.
Financial Support: This financial support can take various forms, such as grants, sponsorships, or incentives tied to content performance. By offering financial assistance, Pinterest aims to alleviate some of the economic challenges that creators often face.
Diversity and Inclusion: The Creator Fund seeks to elevate voices and perspectives that have historically been underrepresented in the digital creator space.
Empowerment and Amplification: Ultimately, the program recognizes the unique perspectives and talents that these creators bring to the platform and aims to provide them with the resources and visibility they need to reach broader audiences.
How Does the Pinterest Creator Fund Differ from the Pinterest Creator Rewards?
Pinterest used to offer two distinct programs for creators, the Pinterest Creator Fund and Pinterest Creator Rewards.
The Pinterest Creator Fund is an inclusive program open to both emerging and seasoned creators who wish to enhance their skills on the Pinterest platform while also gaining access to financial grants.
In contrast, Pinterest Creator Rewards specifically focused on recognizing and rewarding successful creators for their contributions in the form of Idea Pins.
Creators in this program had the opportunity to monetize their content by creating original Pinterest Idea Pins that meet monthly reward goals. However, this program was shut down back at the end of last year.
What Are the Pinterest Creator Fund Requirements?
At least 18 years old
US Resident
Have an active Pinterest account
Be part of an underrepresented community
Don't benefit from the platform's other monetization programs
750 to 10,000 followers Pinterest account
Align the content with the current funding cycle's focus
How Much Does the Pinterest Creator Fund Pay?
Pinterest pays $25,000 to eligible creators, along with ad credits. It's dedicated to helping underrepresented creators create and monetize better content
How to Apply for the Pinterest Creator Fund?
If you're interested in joining the Pinterest Creator Fund, it's essential to stay informed about the application process and the specific cycles that Pinterest is running.
Pinterest typically announces a new Creator Fund every quarter, each dedicated to a different topic or niche. For instance, one cycle might focus on Fashion and Beauty, while another could center around Food.
Before applying, make sure that your content aligns with the theme of the specific Creator Fund cycle. If your content and the theme are not seeing eye to eye, all you can do is wait for the next cycle.
Pinterest communicates important updates and announcements through its newsletter. To stay informed about upcoming Creator Fund cycles and application details, subscribe to Pinterest's newsletter.
Once a new cycle starts, follow the instructions provided during the application period to submit your entry.
After submitting your application, be patient and await the selection process. The Pinterest team will review applications and choose creators who best fit the criteria for that cycle.
If you are too impatient to wait for the next cycle, here are a few other ways you can make money on Pinterest.
This initiative is aimed at supporting and empowering underrepresented content creators on the Pinterest platform. The program focuses on providing educational resources, fostering community engagement, and offering financial support to these creators. The Pinterest Creator Fund is a multifaceted program that goes beyond just financial support.
It encompasses education, community building, and a commitment to diversity and inclusion, all with the overarching goal of empowering underrepresented creators to thrive on the Pinterest platform and share their unique voices with the world.
The Pinterest Creator Fund has specific requirements, including being an underrepresented creator, maintaining an active Pinterest account, age restrictions, geographical location, and follower count.
This is a highly competitive process so make sure you keep a close eye for any updates.