The Best Creator Funds You Can Apply to Earn Money on Social Media
Content creators are the lifeblood of social media platforms. These innovative individuals, armed with creativity and a passion for sharing, captivate audiences worldwide.
Recognizing the pivotal role that creators play in shaping their platforms, many tech giants have initiated creator funds and support programs.
As many people start considering social media as a full-time job, it's not merely about offering a platform for creators to shine, it's about investing in them, nurturing their creativity, and providing the incentives they need to keep producing engaging content.
In this blog post, we will talk about the best creator funds out there and how you can get a chunk of that money.
Back in 2021, Facebook and Instagram, embark on a mission to rival TikTok's meteoric rise with an ambitious endeavor known as the Bonuses Program. This initiative was crafted to elevate the status of content creators on Facebook and Instagram.
Meta promised to allocate a whopping $1 billion in funding to creators on Instagram and Facebook by the close of 2022.
What truly sets Meta's Bonuses Program apart is its role as a supplementary avenue for creators already harnessing the monetization and creator tools that Instagram and Facebook offer.
These bonuses present creators with an exciting opportunity to maximize their earnings.
In terms of eligibility, creators invited to Instagram's program are handpicked based on certain undisclosed criteria. On the other hand, the Facebook Bonuses Program follows a more open approach, allowing creators to apply provided they meet specific qualifications.
The requirements for Facebook's Bonuses Program are as follows:
Eligible Page: Creators must run a Facebook Page.
While Instagram's program adopts an exclusive approach with its invitation-only model, Facebook's more accessible application process underscores Meta's commitment to making this opportunity available to a broad spectrum of creators.
In 2020, TikTok pioneered the concept of a creator fund, marking a pivotal moment in the evolution of social media monetization.
The fund was an impressive $200 million, a testament to the platform's commitment to its content creators. Due to its remarkable success, TikTok has continued to pour resources into its ever-growing community of influencers.
Unlike some other social media platforms that share advertising revenue, TikTok's creator fund operates on a unique model. It rewards creators based on the performance of their videos, measured by the number of views, likes, and engagement they receive.
However, it's important to note that TikTok's payout rates may not seem particularly generous, even for creators with substantial follower counts.
So, is this fund a lucrative opportunity for creators to make a substantial income? Not quite. TikTok's creator fund is structured in a way that predominantly benefits creators who consistently rack up high view counts...
However, even for those fortunate enough to receive such exposure, the creator fund still may not provide a dependable source of income.
It seems that TikTok's primary aim is to reward and incentivize content creation rather than serve as a primary livelihood for its creators. To participate in TikTok's creator fund, you must meet certain eligibility criteria, which include:
While the financial benefits might not be substantial for everyone, the fund represents an exciting opportunity for content creators to gain recognition, engage with a global audience, and potentially bolster their income if they manage to capture the algorithm's favor.
YouTube Shorts, YouTube's answer to the rise of TikTok, has sparked a new wave of short-form video content on the platform.
What might surprise you is that YouTube has introduced a $100 million creator fund specially tailored for these bite-sized 60-second videos.
The compensation structure of YouTube's creator fund is distinctive. It bases payouts on video performance, primarily measured in terms of total lifetime views. This approach means that creators can receive unexpected bonuses if a video they uploaded six months ago suddenly experiences a surge in popularity within the YouTube Shorts realm.
YouTube has asserted that creators can earn anywhere from $100 to an impressive $10,000 per month through the YouTube Shorts Fund, which can serve as a considerable incentive for those eager to harness their creative potential.
As of now, participation in the YouTube Shorts Fund is by invitation only, with Google notifying creators who meet its criteria. Here are the eligibility requirements creators must meet: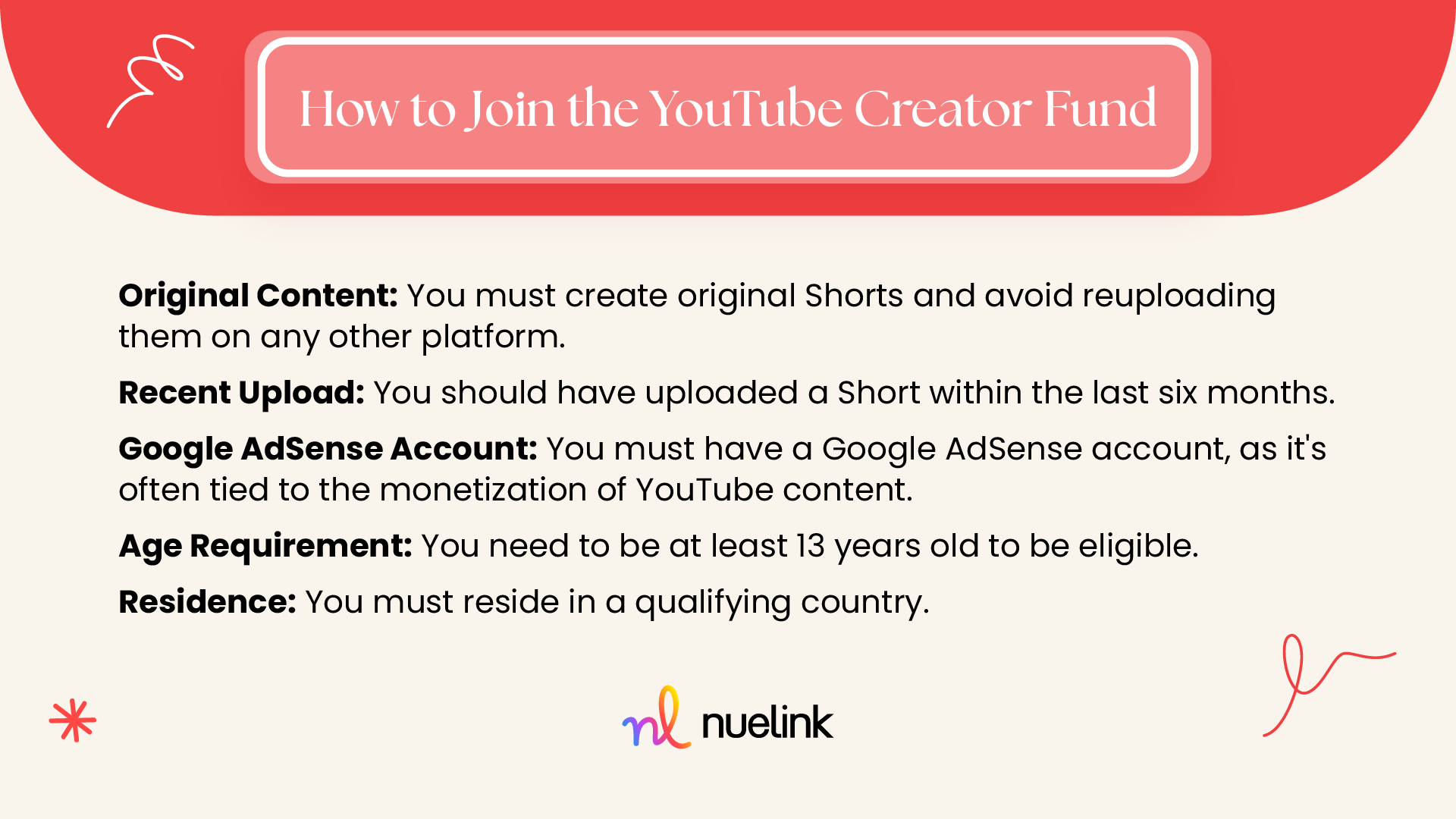 Aspiring and established creators alike can be part of this exclusive fund, provided they meet the eligibility requirements and continue to craft engaging original Shorts.
This fund is not an exclusive club reserved for the big creators but rather an inclusive program designed to cater to the needs of both emerging talents and seasoned creators.
Participants in the Pinterest Creator Fund are offered the opportunity to enrich their skills on the Pinterest platform and, importantly, gain access to financial grants that can further make those creative juices flow.
The Pinterest Creator Fund, although immensely promising, is a highly competitive program that attracts many applications with each new cycle. Unfortunately, the selection process is competitive, resulting in only a select few creators being granted participation.
Now, let's delve into the comprehensive requirements to qualify for the Pinterest Creator Fund: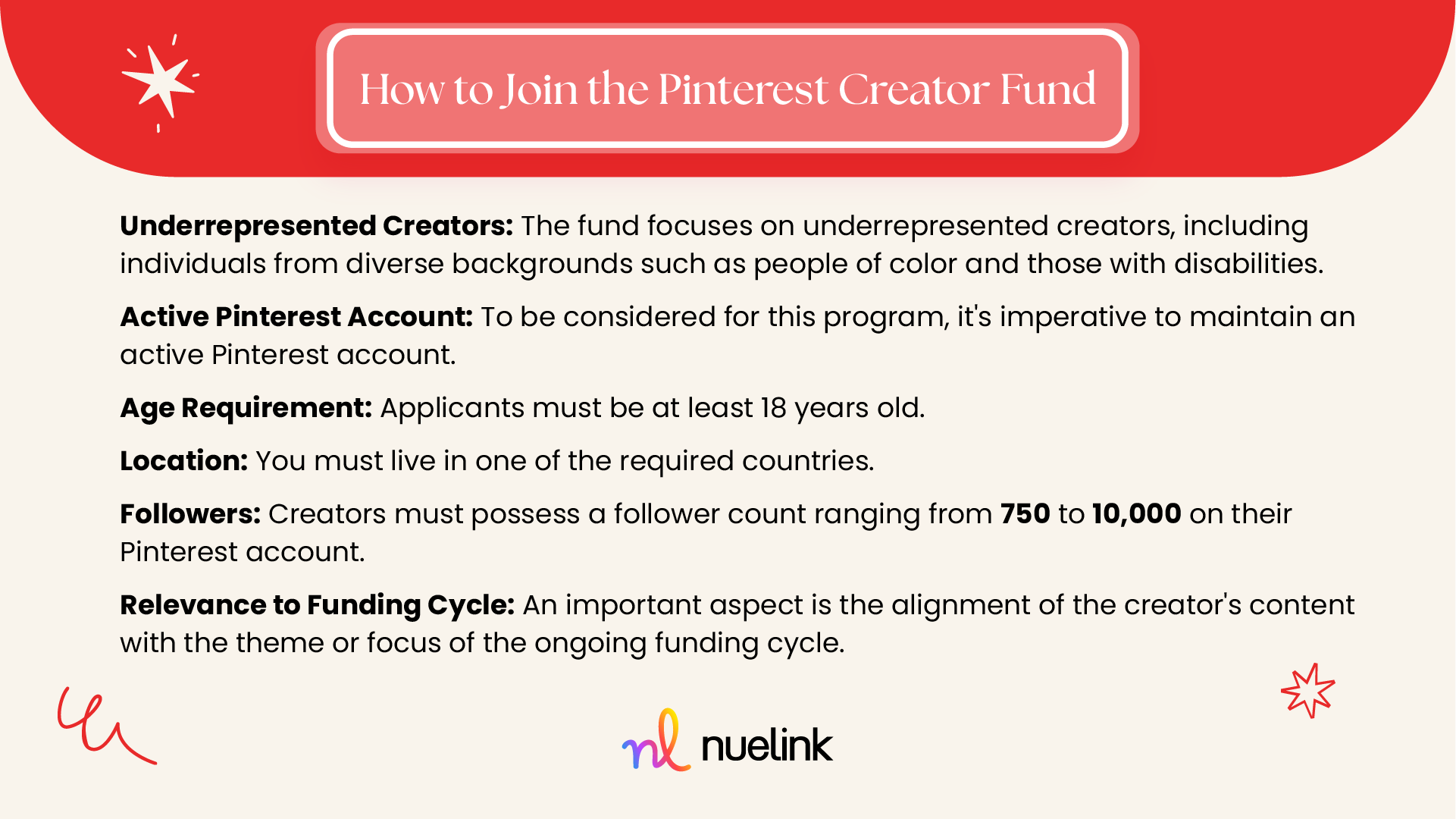 Click here for a detailed post on the Pinterest Creator Fund.
LinkedIn has introduced its Creator Accelerator Program, aiming to amplify the voices of content creators and provide them with valuable resources and support to foster their presence and influence on the platform.
While specifics regarding the Creator Accelerator Program's monetary commitments and resources are not explicitly stated, the program promises to support content creators in multiple ways.
This may include providing creators with tools, insights, and guidance to craft more effective content, enhance engagement, and grow followers.
To become eligible for LinkedIn's Creator Accelerator Program, creators are typically required to meet certain conditions:
Snapchat initially pledged to allocate a million dollars daily to reward creators who posted their Spotlight Reels. However, later Snapchat revised its payout structure, which left some creators disheartened.
However, if you're a Snapchat enthusiast and actively engage in content creation on this platform, there's an appealing opportunity to earn some income through Snapchat's creator fund.
Let's delve into the specifics of Snapchat's creator fund programs and requirements for participation:
Snapchat's Spotlight Fund offers creators the prospect of earning bonuses within a 24-hour window of crafting a Snapchat Spotlight.
Eligibility criteria for the Spotlight Fund include adhering to content guidelines and producing engaging, high-quality content on Snapchat, as specified by Snapchat.
These criteria are typically aimed at ensuring that creators create content that aligns with Snapchat's quality and engagement standards.
Snapchat introduced its second creator fund, the Snapchat Sounds Creator Fund, back in 2022.
This initiative is primarily designed to assist independent artists in launching their music on Snapchat.
To qualify for the Snapchat Sounds Creator Fund, you must be at least 16 years old and reside in the United States. These conditions are crucial to ensure that creators meet the legal requirements for participation and align with the fund's geographical focus.
One of the main focuses of these platforms is that the creators must be active on the platform. This is quite the task with many platforms trying to pull in creators with the promise of reward.
One way you can ensure to stay active and relevant on social media is by using a social media management tool like Nuelink. After all, you need to maximize your opportunity of getting access to one of these sought-after creator funds.
---
Connect with us on socials:
---