A Step-by-Step Guide to Getting Your First Client as a Social Media Manager (+ Bonuses)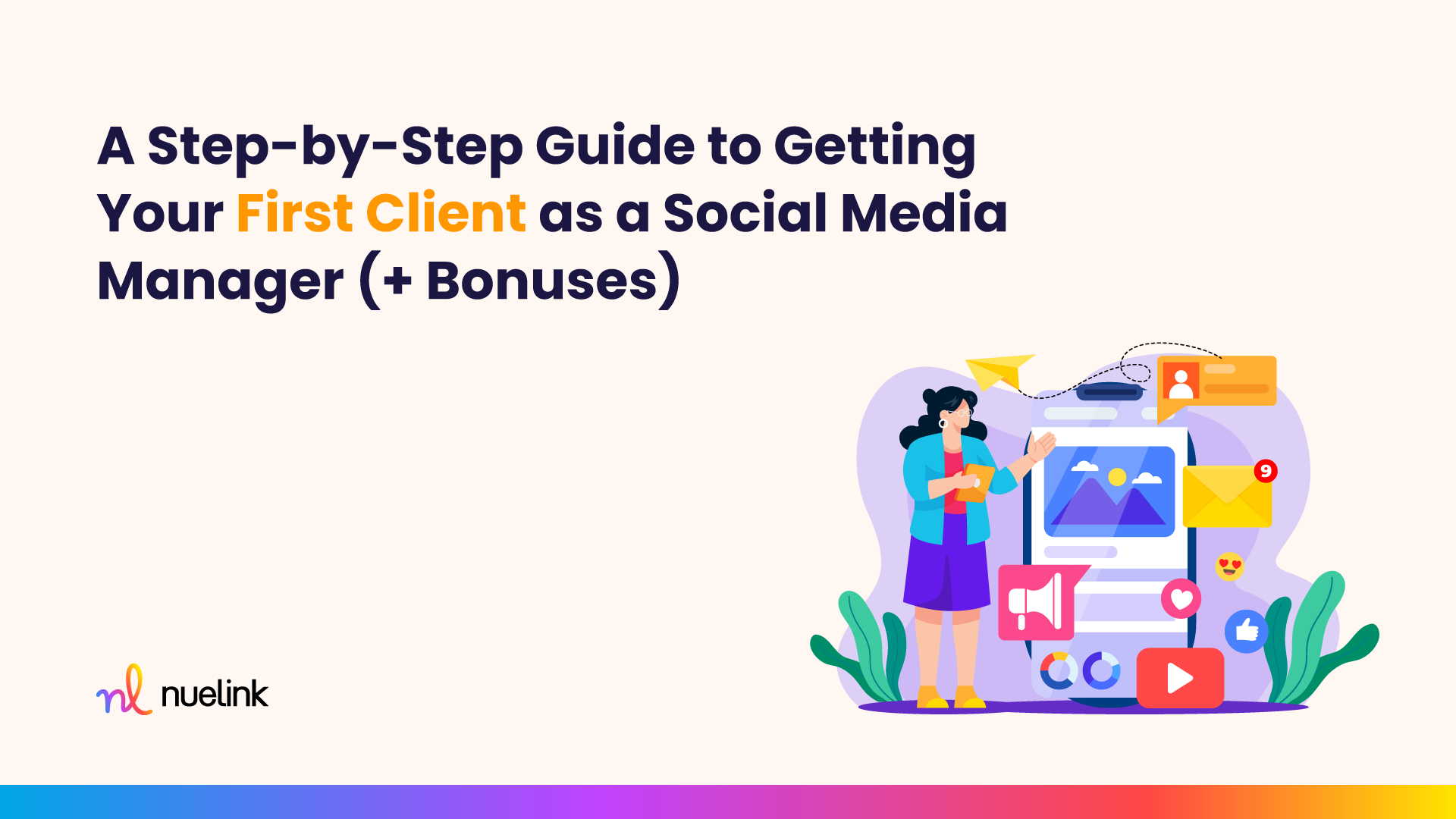 Are you a beginner social media manager who has these questions rolling in your mind?
"How to start my social media management career?"
"How to apply for companies' job offers?"
"Should I start with freelancing first?"
If you found yourself pondering one of these questions. Keep reading you will find the answers you seek!
---
Sitting here, feeling drowsy and sipping my bitter coffee, I recall the initial steps I took to secure my first client as a social media manager.
"Why not help others achieve the same?"  I said to myself
As we discussed in the previous blog post you can find it here.
Landing a job in a high-paying company can be difficult. Almost every company is looking for experienced or senior social media managers.
Senior* refers to anyone with five or more years of experience in the social media management field.

So we are going to narrow down our focus on getting freelance clients. Gaining hands-on experience. Enrich our portfolio with real brands. Then, we will be an attractive candidate to high-paying companies.
Today, we will provide a clear and concise breakdown of three methods, with a step-by-step structure that you can easily follow by the end of this blog.
ATTENTION: With 4 years of solid experience in the field, this blog is a reliable source of information that focuses on practical advice rather than "guru" fantasies or outrageous claims like "How to make 45K/mo in 30 days with no experience".
Also, don't forget to check out the bonuses at the end of this blog! You'll find a wealth of valuable information that I personally invested a lot of time and money to discover.
3 Tried-and-True Methods To Secure Your First Client as a Social Media Manager.
 1- Existing Online Presence Clients

This method focuses on small to medium-sized businesses that are utilizing social media platforms with content that is subpar, designs that are unappealing to the eye, and a lack of consistency in their publishing schedules.
STEP 1:Conduct a general search on social media platforms using relevant keywords or hashtags that describe the industry or niche you want to target.
Example: You are passionate about cars? You can target rental car agencies!
Go to social media and type something like this: "#Cars" "Rental cars" "Rental car agencies" or any related keyword.
STEP 2: Check out the social media profiles of businesses that show up in your search results. Look for those that have fewer followers, low engagement rates, or outdated profiles.
STEP 3: Collect as many businesses as you find in a spreadsheet along with the contact info of each business. Then start reaching out to them and offer your service.
NOTE: For fewer rejections, offer an irresistible deal. Example: 14-day free trial or "pay me only if you're satisfied" offer.
Shift your focus from chasing money to opening doors first.

2- Face-to-face Reach
This method can seem difficult or even scary, especially for introverts. But you can do it, don't you?
This method focuses on businesses with no social media presence at all.
You can narrow down your focus to local businesses in your city.
How you can find businesses with no social media presence in your city? Easy! Follow these steps:
STEP 1: Let's say your focus is on rental car agencies. Go to Google. Type something like the following:
"Rental cars agencies near to me"
"Rental cars near me are open now"
"Rental cars agencies + [Your city name]"
STEP 2: You will see similar results to this: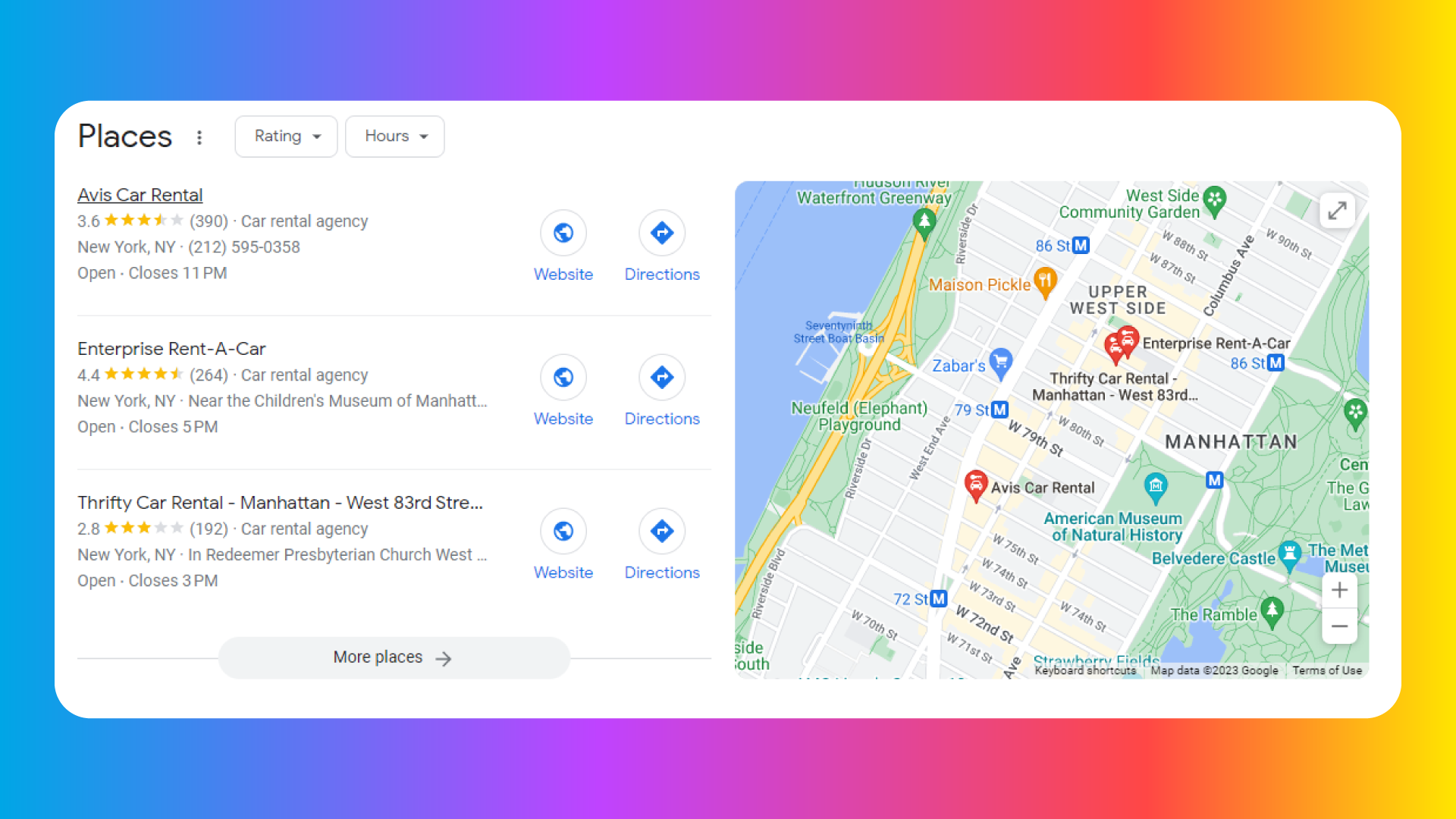 Again collect all the businesses in a spreadsheet.
STEP 3: (This is the hard part)
Get the address of each business from Google Maps
Visit them personally and have a face-to-face conversation with the owner or the director…
Explain clearly how many opportunities they are missing out on being outside the social media game
Confidently offer your services (Again, give an irresistible offer)

IMPORTANT NOTE: Don't be discouraged if a business owner rejects your offer. Always make sure to leave them with your contact information.
3- LinkedIn Outsourcing
If you're not using LinkedIn yet, you're missing out on huge opportunities, but forget the traditional way of using the platform by simply applying for job listings.
Here is what you are going to do instead:
STEP 1: Establish a professional profile on LinkedIn (High-quality profile picture, accurate headline, well-organized bio…)
STEP 2: By consistently creating and managing your own profile and content, you can effectively build your online presence while simultaneously showcasing your skills and expertise to potential clients
STEP 3: Go to the LinkedIn search bar. Type "Social media manager". Once you got the result switch the search option from jobs to people.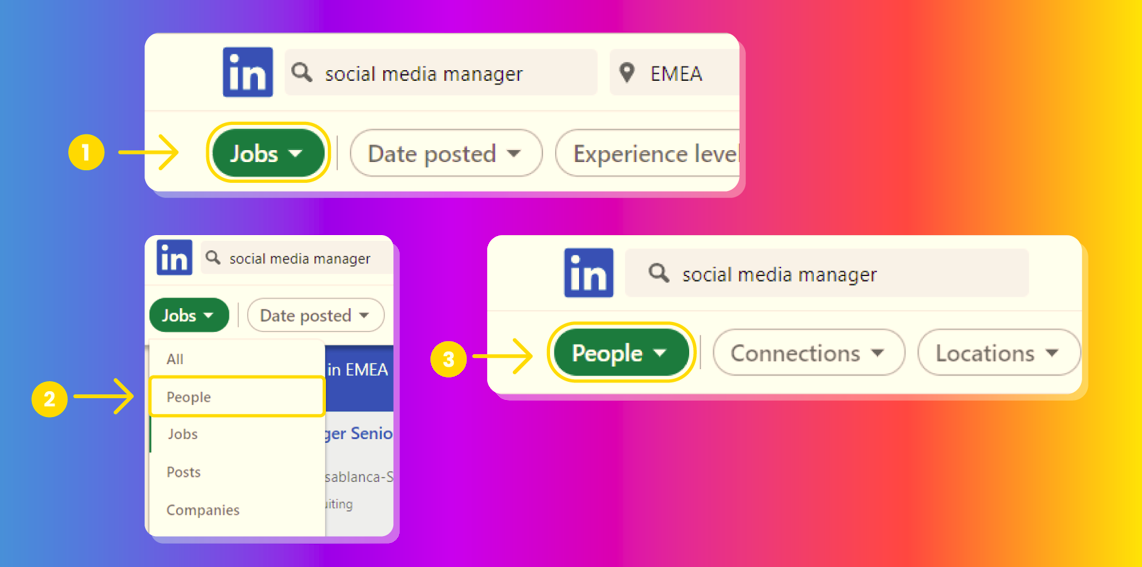 STEP 4: Let's say there's a social media manager who has a full-time job in a company and three freelance clients. He's overwhelmed with work and needs to let go of one client. This is where you can offer your services to work under his name. What does that mean? Instead of losing the client, he can outsource the work to you. For example, if he's paid $500/month by the client, he can give you the responsibility and pay you $250/month, while keeping $250/month for himself.
---
The last thing you need to know is you should not limit yourself to one client, you can manage plenty of them. Just make sure to get the right tools for the job.
You can take Nuelink as an example, It can literally without any exaggerations save you time, with the ability to manage all the brands you are working with at the same interface, without mentioning the pre-made content library that you can schedule and post without doing anything.
Here are the bonuses that I promised you at the beginning of the blog:
To instill confidence in potential clients, avoid using uncertain language such as "maybe," "perhaps," or "I'm not sure." When people are paying for a service, they want to feel assured and confident in their decision.

Referrals: People trust people more than anything, According to a study by Big Commerce, 88% of consumers trust online testimonials and reviews as much as recommendations from friends or family. As you begin to acquire your first clients, it's a good idea to ask them for referrals, testimonials, or recommendations.

Follow-up: Business owners are busy, they have numerous tasks and responsibilities to manage. Although they may be interested in working with you, they can easily forget about your offer. Follow up with them one or two times. You will be amazed by how many opportunities you have missed by not doing that.