What is a Social Media Manager? How Can You Become One in 2023?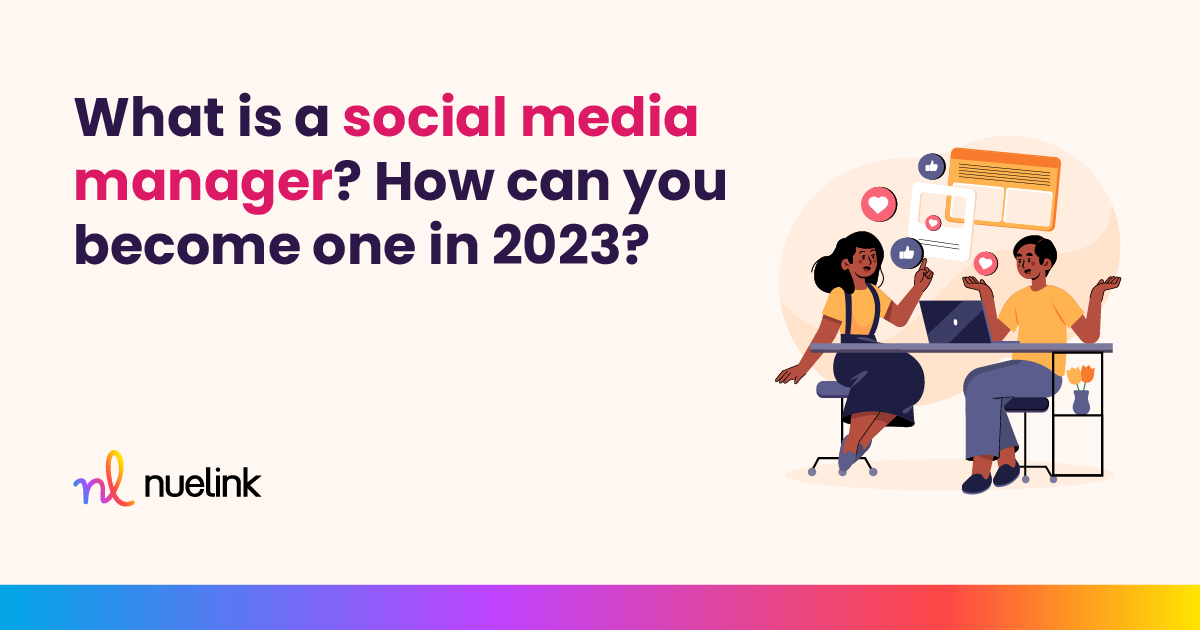 Attention is the key element for any business's success.
Businesses are fighting each other daily to get attention from customers and clients. Because it doesn't matter if you are the best. What matter most is to make the world know you are the best.
The technological revolution and the birth of social media platforms have brought about a remarkable change in the world of business.
Companies have discovered an incredibly effective and budget-friendly way to gather all the attention their business needs.
The advent of the social media age has led to the creation of numerous job listings and money-making opportunities.‌‌
One of them is "Social Media Manager"
If you are curious to know about this specific role, its tasks, and responsibilities, or want to be one in the future, keep reading... Who knows you may discover your next career path!
What Are the Social Media Managers' Responsibilities and Tasks?
Social media managers' responsibilities and tasks can be very confusing. It's normal! Especially for those outside of the digital marketing world.
So, let's break them down!
Indeed has lately published 16 social media manager responsibilities
But here is a better-explained, summarized, and straightforward version of it:
Developing and executing social media strategies:
Define target audience
Select appropriate social media platforms
Create content calendars
Set goals for social media campaigns‌‌
2. Content creation and curation:
Create engaging content for social media platforms
Design graphics, take photographs or videos, write copy
Select content from other sources to share with the audience‌‌
3. Social media monitoring and analysis:
Track engagement and success of social media campaigns
Identify areas for improvement
Stay up-to-date with industry trends and changes to social media algorithms‌‌
4. Community management:
Engage with the social media community
Respond to comments and messages
Foster a positive online presence for the brand
Address negative comments or reviews‌‌
5. Collaboration with other departments:
Work collaboratively with marketing, public relations, and other departments
Ensure social media efforts are aligned with broader organizational goals
Partner with external influencers or agencies to boost social media presence.
IMPORTANT NOTE: Social media manager responsibilities and tasks vary across different companies. Larger companies tend to have more specific responsibilities and tasks for their social media manager. On the other hand, smaller companies often overload their social media managers with various tasks, either because of limited budgets or greediness. Makes sense?
The Demand for Social Media Managers: How Many Businesses Are Seeking Their Services?
To answer this question, we only need to analyze these statistics.‌‌
According to the Bureau of Labor Statistics, the role of social media manager is expected to grow at least 10% from 2021 to 2031. (faster than the average for all occupations).
By 30 DEC, 2022, LinkedIn shared that social media manager is the third most in-demand occupation (by volume of job postings)‌‌
Statistics aside. Let's do some critical thinking here:
Imagine you are a busy business owner who wants to leverage the power of social media, you have two choices:
1- Spending time and energy conducting strategies, creating content, scheduling posts, and analyzing data for different social media platforms.‌‌
2- Hiring an expert to manage all of these daunting tasks for you while you can focus on your business.
Answer truthfully, what choice will you go for?
Is Social Media Management a Lucrative Career Choice?
Good question!
To prevent falling prey to 'Guru' fantasies, let's take a look at these statistics:
Zippia claimed: The average salary for a social media manager in the United States is $70,287. Social media manager salaries typically range between $50,000 and $98,000 a year. The average hourly rate for social media managers is $33.79 per hour.
NOTE: This estimate applies only to the US. Salary expectations vary by country and other factors.
‌‌For freelancing, Upwork reports that social media managers on her platform cost between $14 and $35 per hour. Of course, a variety of factors may affect the average cost such as experience, the number of channels, customer support structure…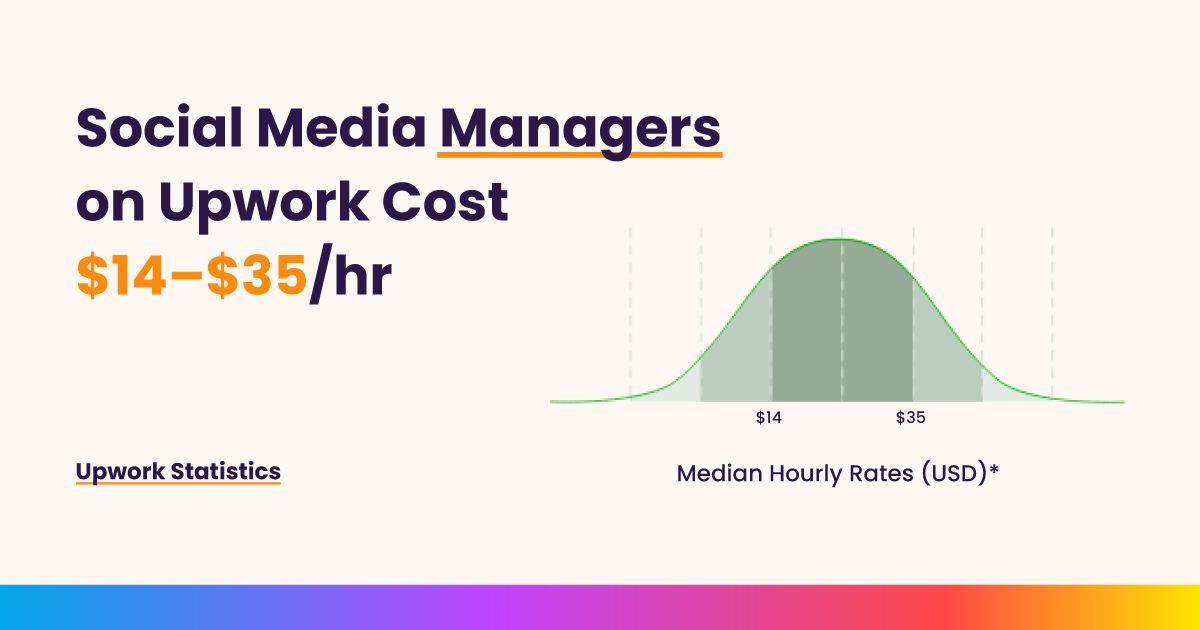 ‌
How You Can Start a Social Media Management Career with No Experience?
Now you decide to start your new career. You may find yourself overwhelmed with questions like "How do I start?", "How can I get my first client?", and "Can I get hired without any experience?"
All of these questions can create unnecessary suffering and increase your self-doubts, but, they shouldn't!
Based on my four years of experience in the field. Here is the best way to start:
To begin a new career, the initial and essential step for anyone is to gain specific knowledge and education about your chosen field.
In your case, these free online courses shares all the knowledge you need to start:
The second step is to start learning & practicing skills that are directly and indirectly related to the social media management field, such as writing good copies, designing graphics, using social media management tools…
NOTE: You don't have to excel in all of these skills; being good at them is sufficient.
You have knowledge. You have skills. Now it's time to experience.
To gain experience you have two choices:
The first choice is to look for small to medium businesses that are using social media with poor content, unappealing designs, and a lack of consistency in publishing content on their platforms.
Then, start reaching out to these businesses through cold emails or phone calls and offer your services.
First, you will charge them lower prices in order to get fewer rejections and offer them a 1-month free trial.
REMEMBER: The goal here is not to make 6-figures income but to gain hands-on experience and build your portfolio with real brands
The second choice is to find local businesses in your city that have yet to embrace the power of social media. From coffee shops and clothes stores to rental car agencies…
Have the courage to visit them. Explain the opportunities they are missing out on by being away from the social media game. Confidently offer your services and show them how businesses like theirs thrive by being on social media.
Of course, you may be rejected multiple times. This is life!‌‌But, With some effort, you can definitely expect positive responses.
Once that happens, take the next step by establishing their brand accounts on various social media platforms and efficiently managing their online presence.
Gaining multiple clients, whether locally or globally, will provide valuable experience and knowledge, making you an attractive candidate for high-paying jobs.
Listen: If you're eager to discover a step-by-step guide for landing your very first client as a social media manager, check out our next blog post from here.
How I Can Make My Social Media Management Tasks Easier and Get More Clients?
You need to know something! You should not limit yourself to one brand only.
It's true! You can broaden your horizons and manage a diverse portfolio of brands. It is not a stressful task at all!
In fact, it can be unbelievably easy, if you have the right tools in your toolbox.
With this AI revolution, every day new tools are being launched making the work of a lot of people easier and less time-consuming than they have ever dreamed of. Including social media managers & agencies.
Let's take Nuelink as an example:
Imagine having a single tool that provides access to a vast library of pre-made posts, enabling you to schedule months of social media content in advance.
Not only that, but this tool also allows you to analyze the performance of each post and set up automation to do the work for you.
Wouldn't your work be 17 times easier?