Nuelink: A Far More Powerful and Affordable Zoho Social Alternative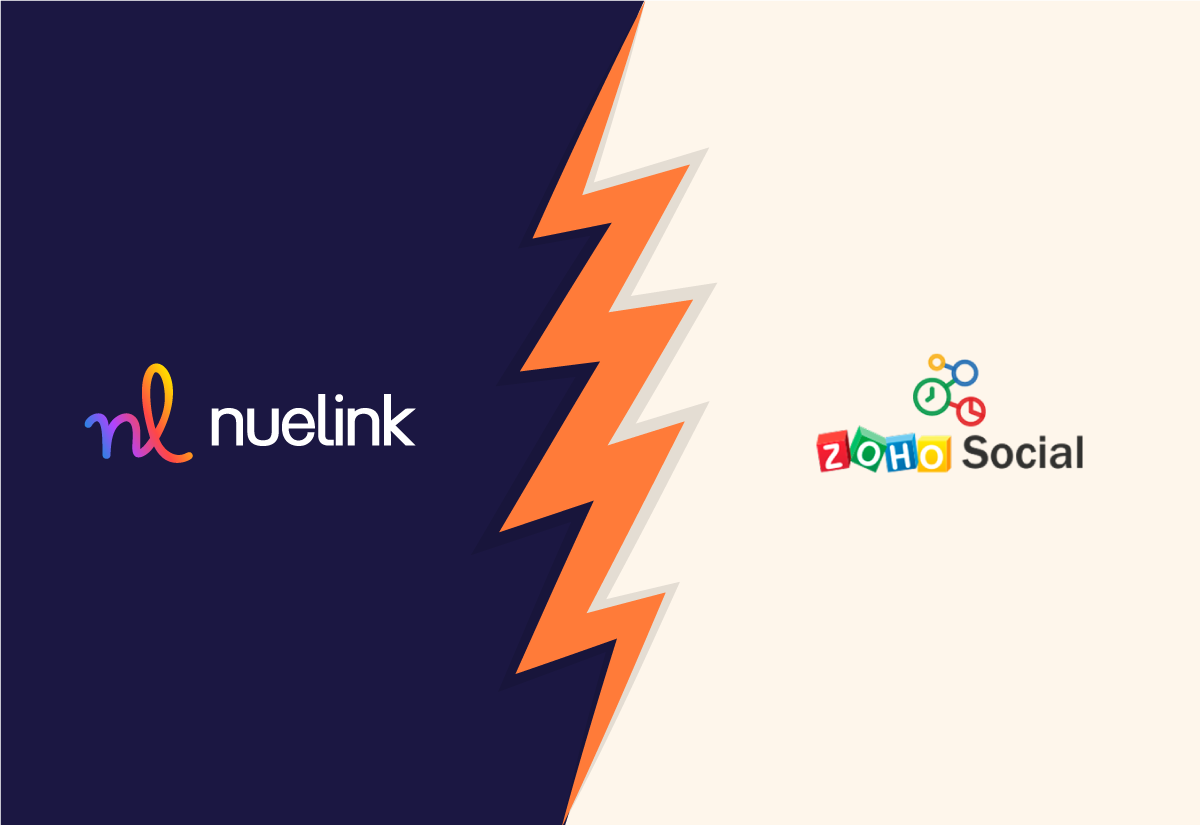 Zoho Social has long been regarded as one of the big guns among social media agencies and managers, alongside popular tools like Hootsuite and Buffer, touted as the ultimate solution for optimizing your social media presence.
However, the pressing question remains: Is Zoho truly the right choice for your social media agency? The answer, in short, is a resounding NO.
Zoho Social lacks the features and support team to keep up with the ever-changing social media landscape. Even their highest-tier plan lacks the automation and AI features that many other tools integrated to make your life easier.
As Zoho Social continues on its down-roll spiral, it's high time for social media agencies to abandon the notion of settling for bottom-of-the-barrel features while being forced to pay that premium price. Believe it or not, superior alternatives exist and for a far more affordable price.
Let's discover how you can avoid shelling out substantial amounts of money for subpar services.
Why investing in Zoho Social is not worth your while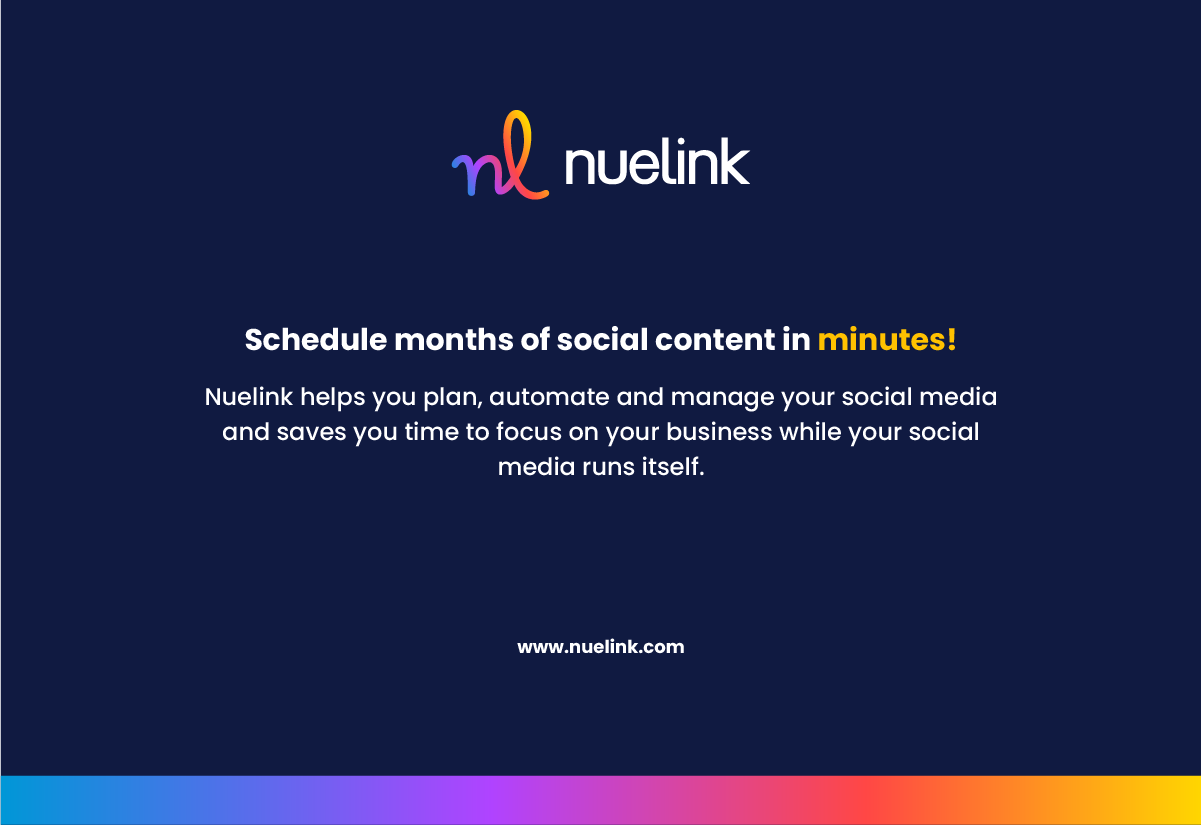 Zoho Social's basic agency plan is too expensive for what it is. The limitations that come with the $200 price tag plan miss the mark on what social media agencies need.
Zoho Social falls short as a comprehensive social media tool, lacking numerous essential features that can be found elsewhere at a fraction of the price, particularly when it comes to automation.
Zoho Social lacks the provision for forwarding requests to development teams for future updates and feature requests and often offers unsympathetic and unhelpful responses.
It lacks smart content creation tools like Link Shortener, Pre-made Collections, and Hashtag Generator to make the price worth your investment.
Furthermore, Zoho Social offers only limited integrations of only 8 channels and is always slow to add more channels to their offerings.
The user interface of Zoho Social can occasionally be perplexing or challenging to navigate, especially for individuals who are new to the platform and are not yet familiar with its features.
Zoho provides limited insights and social listening features that offer feedback on your brand's performance.
Here's how Zoho Social compares to Nuelink.
Nuelink vs Zoho Social
Here's why Zoho Social's Math isn't mathing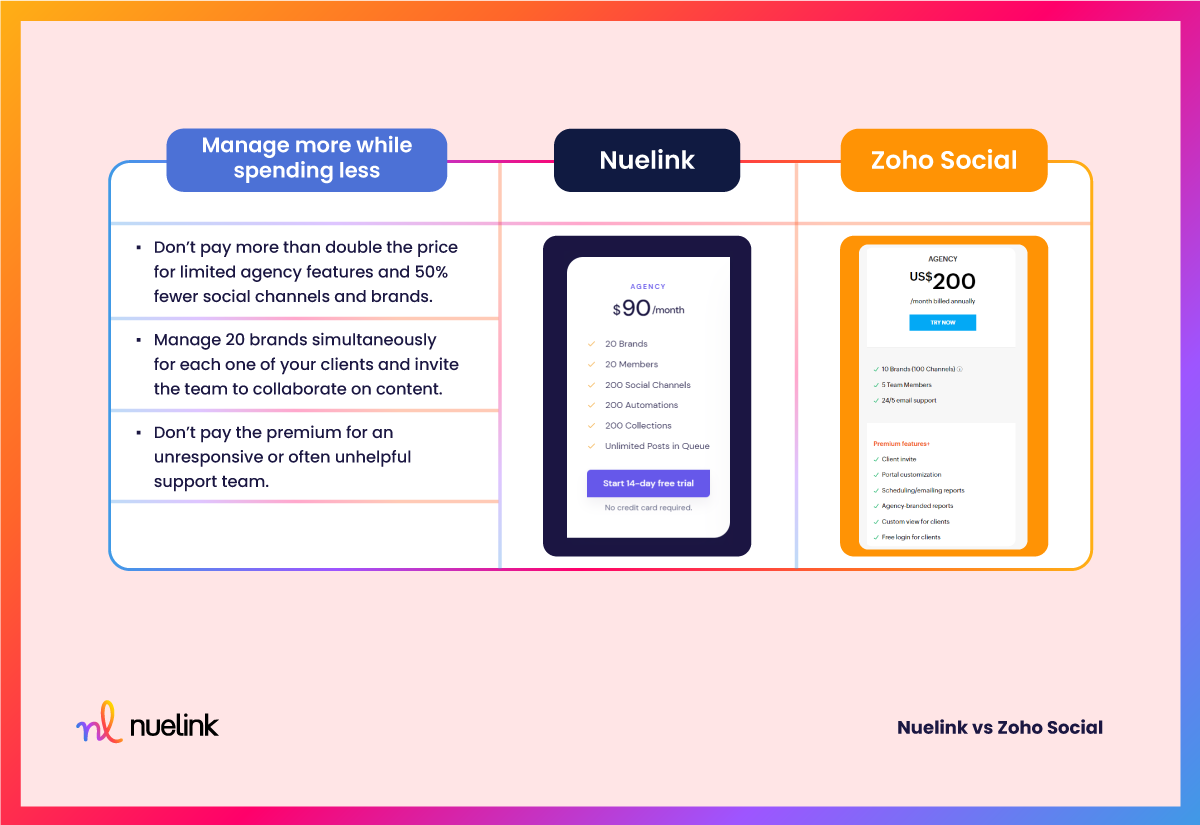 Nuelink's Top Features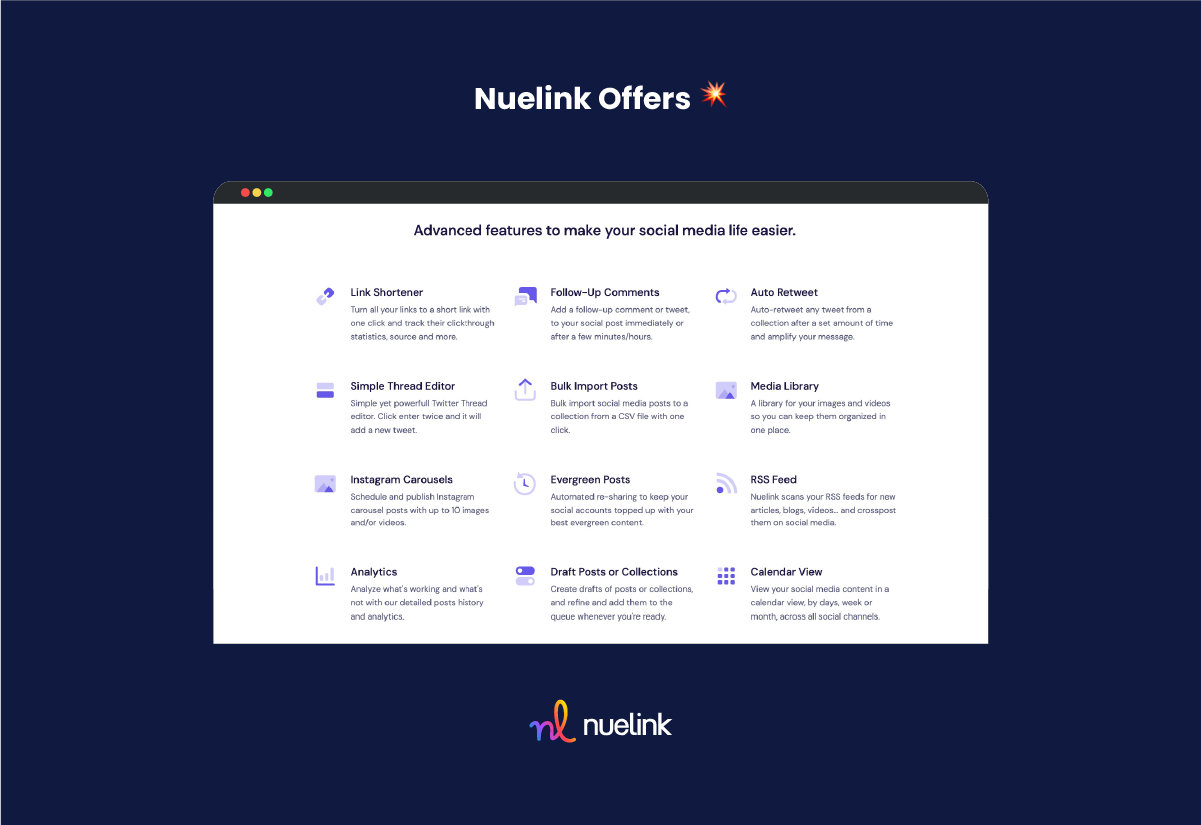 Social Media Management
Streamline your social media management with Nuelink's all-in-one dashboard. Effortlessly access all your social media channels from one convenient and user-friendly dashboard. Create and schedule content in different collections at your convenience.
Agency Features
Nuelink is perfect for agencies and teams as it offers specialized features to enhance collaboration on social media marketing campaigns. With the Brand and Members features, social media managers can efficiently handle clients' content while fostering an environment of teamwork and creativity.
Social Media Cross-posting
Nuelink provides social media cross-posting, allowing you to automatically share content from one channel to all others. It supports cross-posting for Instagram, LinkedIn, Pinterest, and Twitter. This feature is a time-saver, especially if you want to promote your brand across multiple platforms.
Social Media Automation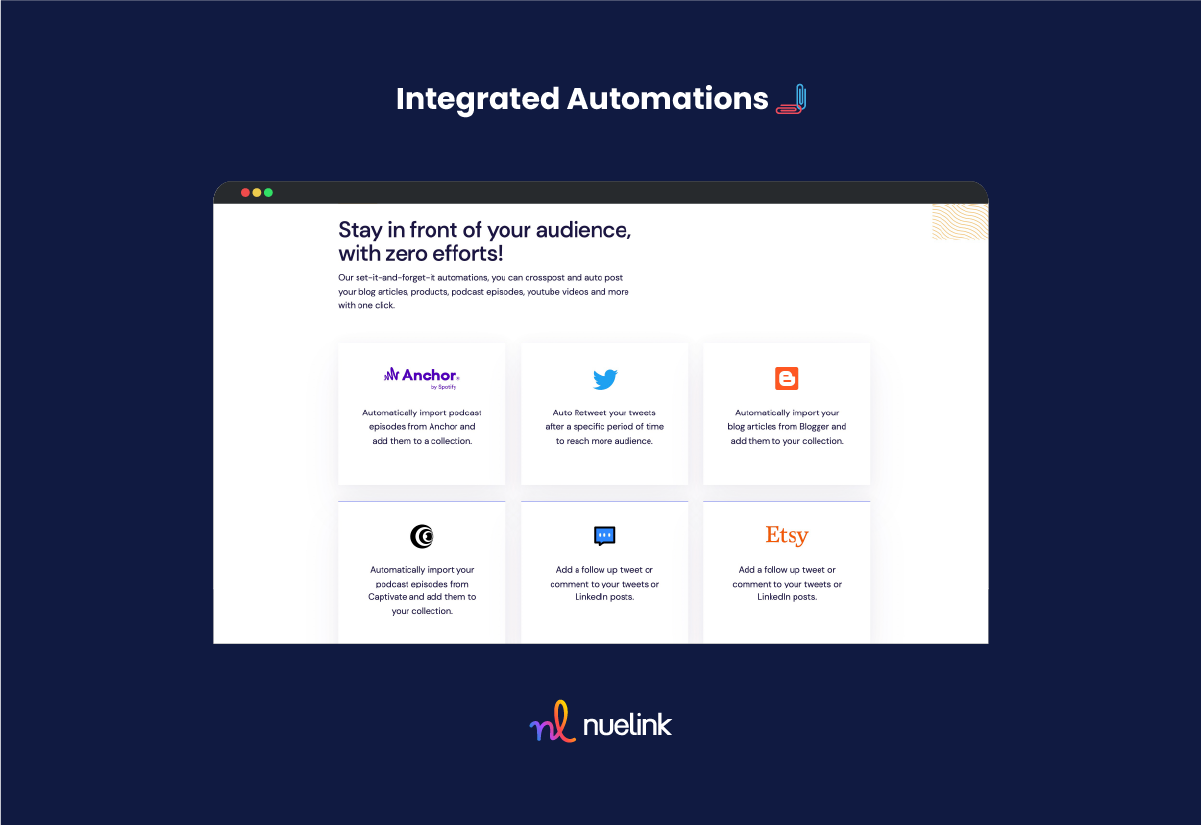 Simplify your social media workflow with automation. Nuelink enables you to automate posting to over 12 different social media channels. Whether you are promoting your blog, podcast, or e-commerce business, Nuelink has got you covered.
Social Media Automation for Bloggers: Auto-post your blog posts from WordPress Blogger, Ghost, RSS, Squarespace Blog, Substack…to Facebook, Instagram, Twitter, LinkedIn, and more than 12 social media channels.
Social Media Automation for E-commerce Sellers: Auto-post your product listings from Etsy, Shopify, Squarespace Shop, and Woocommerce… to Facebook, Instagram, Twitter, LinkedIn, and more than 12 social media channels.
Social Media Automation for Podcasters: Auto-post your podcasts from Anchor, Captive, SoundCloud, and Transistor…to Facebook, Instagram, Twitter, LinkedIn, and over 12 social media channels.
Social Media Automation: Auto-retweet, Follow-up Comment, Tumblr, YouTubers…
Other: IFTTT, Zapier…
Smart Content Creation Features
Set your content to Evergreen to maximize its reach. From Twitter threads and polls to TikToks and carousels, Nuelink supports a wide range of content types. Enhance your posts effortlessly with the hashtag generator and Unsplash integration.
Social Media Analytics and Insights
Track and analyze your social media performance with Nuelink's comprehensive analytics and insights. Gain valuable data on metrics like likes, comments, impressions, engagements, clicks, views, and shares. Leverage the Insights feature to access detailed analytics for each platform.
Rating and Reviews
Nuelink helps you plan, automate and manage your social media and saves you time to focus on your business while your social media runs itself.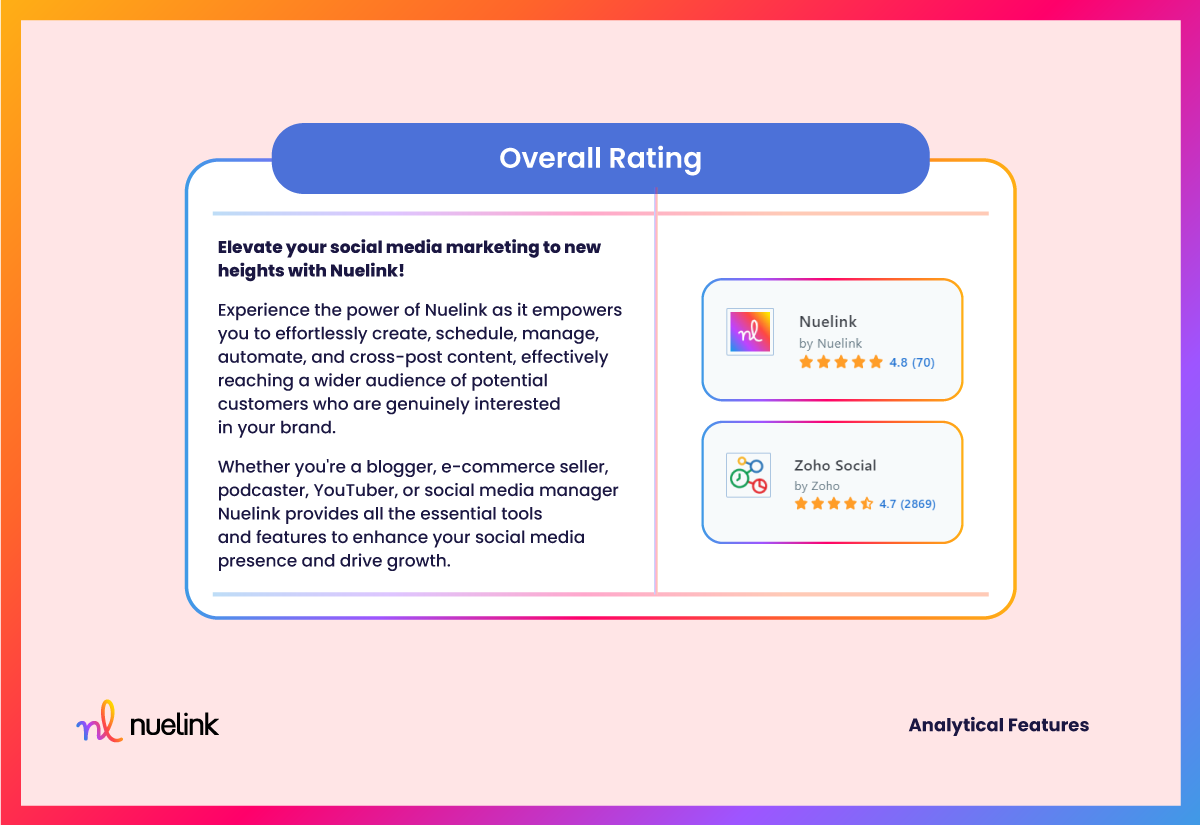 Sometimes, the most expensive option is not the better option and this is one of those cases. Don't be fooled by that price tag because premium prices don't equal premium service, and Zoho Social is a prime example of that.