Are WordPress and WooCommerce the same? Understand the connection between them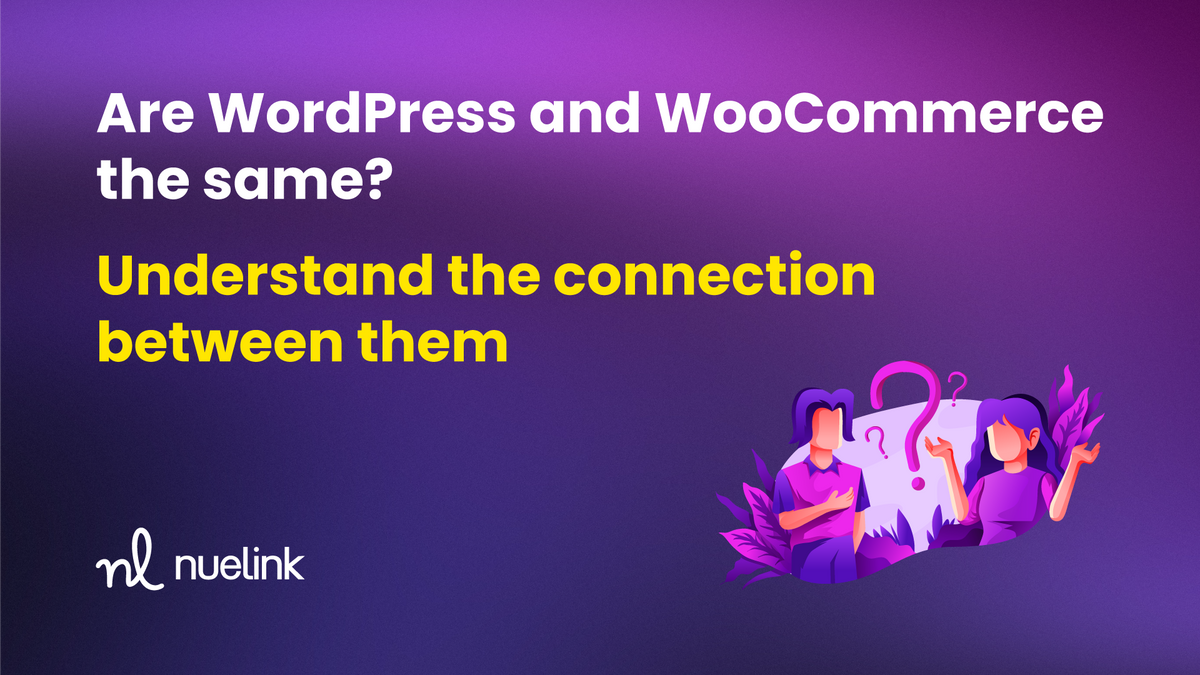 These two terms often lead to significant confusion among individuals, particularly those who are interested in building their websites or starting to sell online. Despite appearing similar, they possess distinct meanings and implications.
Ever since Nuelink shifted its focus towards assisting E-commerce sellers on platforms like Shopify, Etsy, and WooCommerce to leverage the power of social media and streamline their workflow through social media marketing automation, our help center has quickly become full of numerous questions about these platforms and their functionalities.
The most frequently asked question we receive is,
"Are WordPress and WooCommerce the same?" The quick answer is, "No, they are not the same."
The second most common question we encounter on this topic is,
"Can I use WooCommerce without WordPress?" The quick answer, once again, is No, you cannot.
Even if you are not interested in selling online, and your main focus is to start blogging, or just establishing a website for business or personal needs. It is important to know the difference between them and the functionalities of each one.
It's like embarking on a journey: before setting off, you want to ensure you have a clear map of where you're headed and how each path will serve your specific goals.
After all, a little bit of website development knowledge won't hurt you, isn't it?
I am going to assume that you are not familiar with the website development field.
So I am going to explain it to you in an easy-to-understand way.
WordPress is a beginner-friendly software that allows people with no experience in coding to create, modify, and maintain their websites without the need to learn how to code.
WordPress provides you with pre-designed templates called themes. The theme you will choose will determine the overall look of your website. Then you can modify it as you like. You can also install plugins (Plugins are add-ons you add to your website to provide extra features and functionalities like adding social media sharing buttons.)
WordPress is free of charge, although additional expenses may arise for certain third-party services, such as purchasing a domain name.
The domain name is the link that people need to type in the browser so they can enter your website. Think of it like the physical address of your store, but online. Example: Youtube.com is a domain name.
By far, WordPress is the simplest and most popular way to establish your website.
According to Meetanshi, 43% of all websites on the internet use WordPress.
By now, you should know what a Plugin is, right? If you're still unsure, please go back and reread the previous paragraph carefully.
Well, WooCommerce is just a WordPress Plugin. Its role is to transform your WordPress site into an E-commerce store by adding E-commerce features and functionalities.
Think of it like that: WordPress is a toolbox that enables you to construct easily your building from scratch. On the other hand, envision WooCommerce as a tool that helps convert your initial residential house into a store.
Without Installing WooCommerce, your WordPress site is just a normal website that may include information, images, videos, blog posts… You can't sell by using it.
When you install the WooCommerce plugin on your WordPress, you get the ability to sell:
Physical products: Clothes, Handmade jewelry…
Digital Products: (Yes, you can also sell digital products on WooCommerce) such as courses, E-books, downloadable files
Appointments and consultations
Remember the statistic that said 43% of all websites on the internet use WordPress? 20.2% of WordPress-powered websites use WooCommerce.
WooCommerce is the most popular plugin on the entire internet. (Even more popular than Shopify)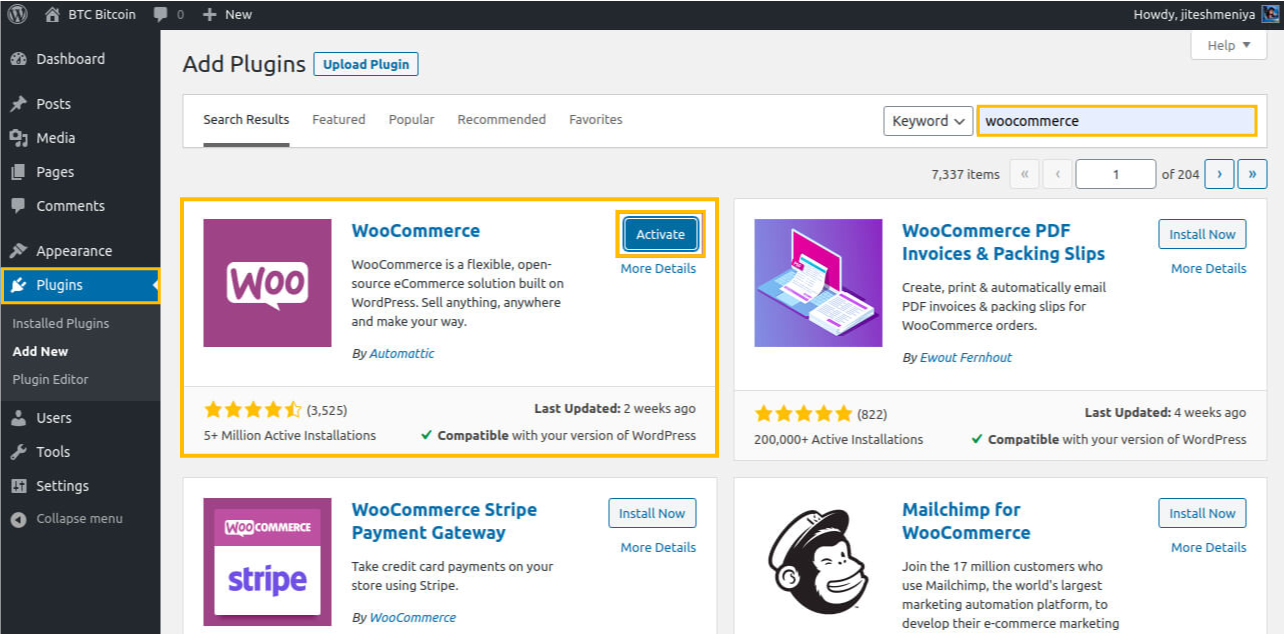 Why and how WooCommerce was created?
Shortly after its release in 2003, WordPress gained immense popularity due to its innovative concept, empowering non-coders to establish their own websites. However, WordPress faced challenges when it came to incorporating e-commerce functionality, such as payment processing.
In 2008, WooThemes was founded, initially focusing on developing WordPress themes. Three years later, they released an E-commerce plugin, which we now know as WooCommerce. This revolutionary plugin transformed the way many WordPress users utilized the software.
It's important to note that WooCommerce wasn't built from scratch. Instead, it was created as a fork of Jigoshop, another WordPress e-commerce plugin.
A fork refers to taking an existing project's codebase and creating a separate, independent version from it.
In 2015, Automattic, the same company behind WordPress, acquired WooCommerce.
It's worth mentioning that WordPress itself was also not created from scratch; it was initially developed as a fork of b2/cafelog.
What value does WooCommerce bring to the table?
E-commerce Store Creation: Adding product listings, managing inventory, and customizing the store's appearance to match your brand.
Product Management: Creating detailed product pages with descriptions, images, pricing, and variations
Secure Payment Processing: Providing a range of secure payment gateways, such as PayPal and Stripe
Shipping and Tax Options: Defining shipping methods, rates, and zones. Also, setting up tax rules based on location, product type, or customer preferences.
WordPress is a software. WooCommerce is a plugin for WordPress
You can use WordPress without using WooCommerce. You can't use WooCommerce without using WordPress.
WordPress is for creating a website. WooCommerce is for adding E-commerce functionalities to that website.
WordPress is for people who want to create a wide range of website types. WooCommerce is only for people who want to sell online.
WordPress is considered an easy-to-use software. WooCommerce is slightly more complex than WordPress.
WordPress serves as the foundation. WooCommerce adds a transformative touch.
---
Listen: We are living in an era of digitalization, where almost everything we do in the physical world can now be accomplished through screens. Yet, it's essential to recognize that this is only the beginning. The ongoing AI revolution serves as a testament to this fact, indicating that the technology we currently possess is merely the tip of the iceberg.
Global e-commerce sales are expected to reach $6.38 trillion by 2024. It becomes evident that paying attention to the world of e-commerce is essential. Regardless of your current occupation, it is highly likely that you will eventually need to navigate the realm of online business in the future.