How to grow an audience on Twitter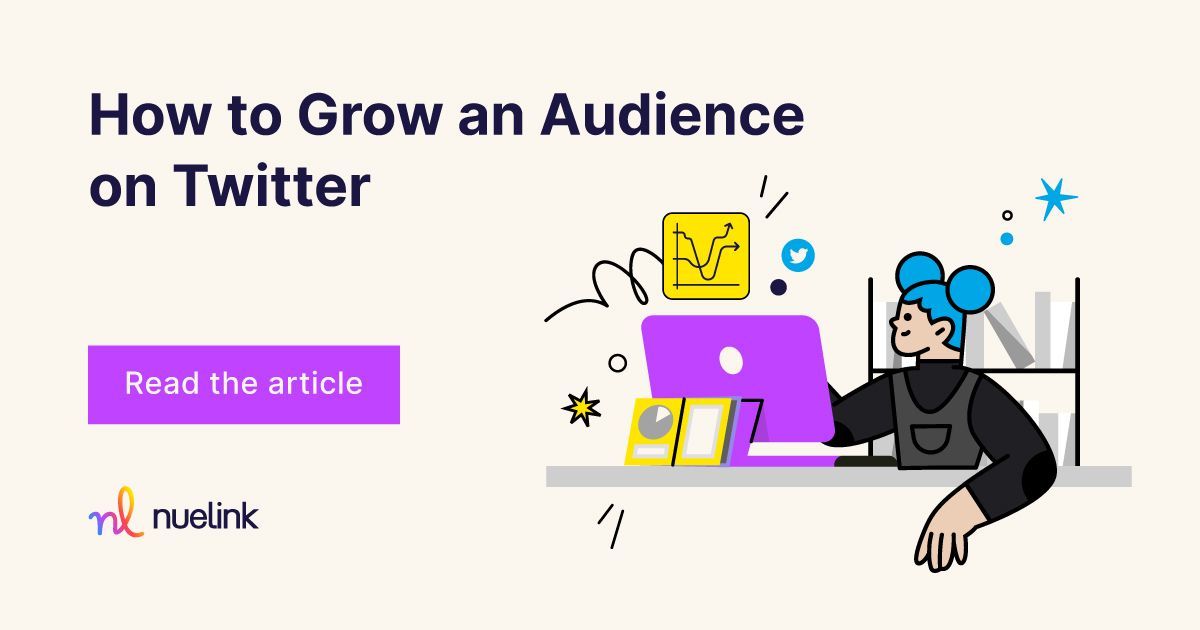 With over 217 million daily active users, Twitter is one of the top social networks today for social media lovers. Fast-moving and so simple to use, Twitter is perhaps the simplest social media platform to create a following from zero. And that explains as well why 53% of people on Twitter are more likely to be the first to buy new products.

So what you should do is take action and start growing your audience. Not to just make your brand more popular but to establish your place within the industry and to make potential customers trust your company.
But first, let's talk about why you would want to gain more Twitter followers.
Why do Twitter followers matter?

Just like any other platform, followers count matters on Twitter as well. It matters when it comes to credibility, organic reach, and authority. Having a lot of followers means that more people visited your profile and were interested in what you provide, and for that reason, they started following you.
Also when it comes to engagement, people are more likely to interact with and follow accounts with a large number of followers. They're also more likely to see your material in their timeline since Twitter prioritizes posts from accounts with a large number of followers over those with a small number of followers.

How to get followers on Twitter:

It doesn't matter if you are starting an account from scratch or if you are struggling to gain followers and grow your account. Today, we brought to you 9 steps to get more followers:
Twitter is the place where people come to take part in conversations and consume content they are interested in. So the best way to grow your audience is by making content that will appeal to the audience and be useful to them. And make sure that what you are sharing is quality over quantity.
People usually focus on visuals, so adding some eye-catching visuals to your tweets can be a way to attract attention and maybe enhance interaction and reach. To help your tweets stand out you can use images, videos, GIFs, memes, graphic quotes, or even infographics.
You only need to ensure that whatever you use, whether it's a video or a meme, it should be relevant to the topic you are tweeting about. You should not use unrelated visuals to get your followers to engage.

Twitter is known to be a conversational platform, it is all about making connections and participating in conversations. That's why engaging on the platform is one of the best methods to build followers. It is a guaranteed approach to acquiring visibility and a larger following.
By tweeting regularly, retweeting, liking, or replying to mentions, you have to make time to engage.

One of the most underrated features of the platform is Twitter Lists.
Twitter lists are collections of individuals that you have organized into a specified group to help you prioritize your engagement time. You can create Twitter lists based on any specific group you want, such as influencers, competitors, customers, Important topics, new sources…etc.
By using Twitter lists, you can quickly categorize all of your followers and communicate with the proper ones on a regular basis.

On Twitter, tweets have a short life span. Most tweets only last a few minutes on the timeline. To ensure that you will be noticed, you must increase your frequency by tweeting more often. Also, because of the algorithms! All social media sites prioritize accounts that post often. In other words, the more frequently you tweet, the more probable it is that you will get noticed and gain followers.

Twitter gives you the right to tweet as much as you want, endlessly. So you should try to tweet more often, more than 10 times a day. And to make it more convenient and easier for you, you can use a scheduling tool like Nuelink to help you plan a few tweets per day to ensure a healthy balance of material and consistency.

Not only the amount you tweet is important, but also the time when you post does matter. Tweeting when your targeted audience is sleeping won't help you gain any followers or engagement.
Obtaining more followers isn't by spending the whole day tweeting and responding. Instead, you should schedule tweets to be posted and coincide with the best and peak times when users are more active.
You can gain insights about the perfect timing to post by using data from platforms such as Nuelink, Buffer, or Sprout Social to automatically schedule your Tweets to be sent out when your audience is most likely to see and engage with them.

Hashtags are one of the most powerful features on the platform, they help make posts more reachable and searchable. They are available to everyone including users who do not follow you. And just like the visual content, tweets that include hashtags usually receive more engagement than those without them.
By adding 1-2 hashtags that are relevant to your brand and audience, you will most definitely attract new viewers and a wider audience.

Aside from your content and engagement strategy, your profile is the first thing to get noticed. Failing to have a professional and up-to-date profile could be a hindrance to gaining new followers and a major turn-off to potential followers.
To make sure your page stands out, optimize your profile by:
Use an eye-catching image and banner.
Add a good and relevant bio.
Relevant tags, keywords, and location information.
Customize the color scheme to match your brand.
Put a taste of your personality into your profile.

Events such as conferences, webinars, summits, or virtual events, are a great way to reach a new and wider audience. As such events have their own unique and dedicated hashtags, it would be easier for you to connect with people who have the same interests as you and gain more followers, by providing some interesting insights and sharing your experience.


Have you figured it out?
Growing your Twitter followers isn't something that happens randomly. It requires a lot of effort, experimentation, and time. Start by using these methods to increase the overall engagement of your account. They may require some commitment of time but they will make a difference and you'll see a big payoff in the long run.
And by using Nuelink you will definitely make it easier for you to manage your Twitter presence alongside all your other social media channels. Try it now!