Social Media Engagement: The Basic Steps to Improve It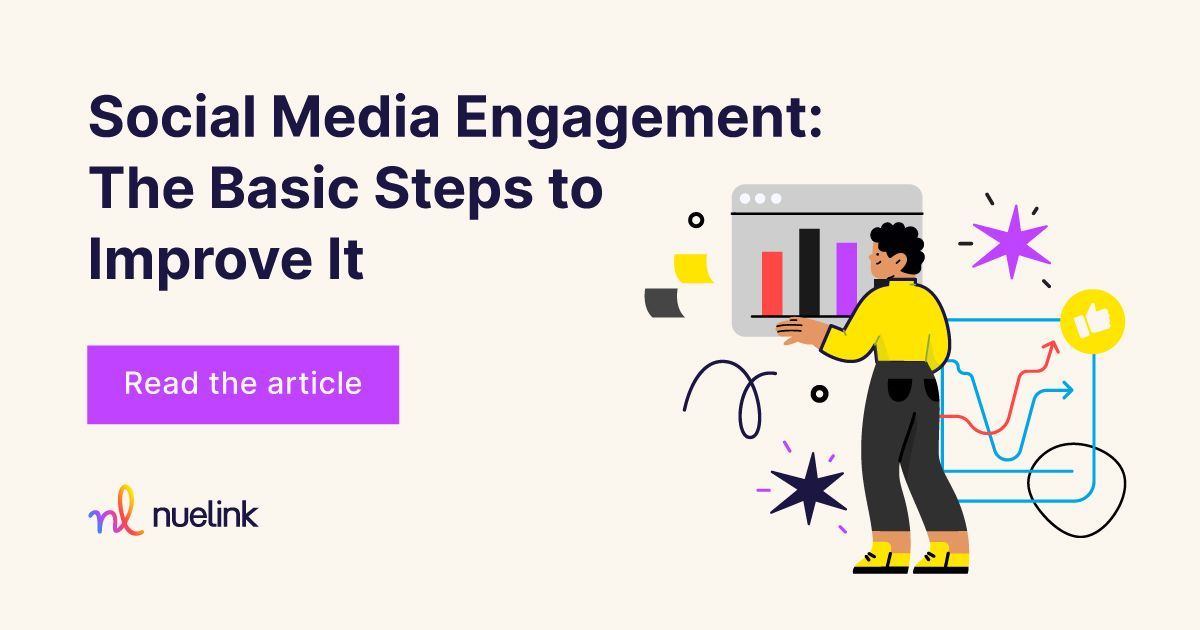 Nowadays, social media marketing has become a pillar of any social media marketing strategy. Hence, every social media manager strives to strengthen the brand's social presence by improving engagement rates through hard work and consistency.
It doesn't matter which social media platform it is used, nor the number of followers. What really matters is engagement. By boosting your engagement you can increase your brand's reputation and awareness as well as turn your audience from followers to customers.
But engagement is hard. It isn't easy to make an impact on the market. If it was that easy everyone would have succeeded. It takes a lot of time and hard work to understand what engagement really means.
So what should you do? and how can you improve your engagement? You'll find all the answers and useful tips to your questions in this guide to achieve business growth.
Without further ado, let's get started.

What is social media engagement:

Social media engagement can be defined and considered as a metric to measure likes, comments, and shares. It is the measurement of engagement that your content receives from users on a social media platform and how effectively a brand is creating interactions with its customers in the social stream.
The engagement could be measured by a different range of metrics, depending on which social media platform is used, which may include the following:
Shares and retweets.
Likes.
Comments.
Branded hashtags.
Followers numbers.
Mentions.
Basically, social media engagement means every interaction you can get from your audience on your account. It can be anything you might get notified about, from a follow, a comment, a retweet, a DM, or a request.

The importance of social media engagement:

Engagement is more than likes and shares though. It's all about establishing a successful social media strategy that will help businesses to thrive. That's why it is considered a sign of making an impact on the market and success.

First, it helps create brand awareness. When you are active on your social media accounts, you are focused on producing quality content and providing relevant services to your clients. And the more your content is interacted with the more it spreads around the platform. This results in the audience recognizing your brand and building trust between you and the visitors to turn them into potential customers.

Second, social media engagement can also increase your sales. Improving social media engagement and creating brand awareness, that basically contributes to boosting sales. Just by being active, providing relevant content, and interacting with your audience, you are building a relationship with your customers which built upon trust and confidence. Your customers will certainly make a purchase and help you grow your sales.

How to increase social media engagement
Every business, no matter how big or small it is, has to focus on its social media marketing strategy and more importantly on its engagement. But before that, we need first to focus on learning how to do so. How to increase social media engagement? What are some tips and tricks to start with?
1. Understand your social media engagement goals:

Before starting anything, the first step to be taken must be understanding what you are doing. By that we mean, you have to understand your goals first. Without having specific and clear, it's difficult to evaluate if your social media engagement approach is effective or not.
Work on listing your goals and understanding what your aims are to have a clear vision of what you should do and how.
2. Analyze your engagement:
As we have talked about at the beginning of this post, engagement is the indicator of every social media success, by measuring how much interaction you got for the stuff you post online. Once you understand what is engagement and you know your audience engagement level, you will be able to improve it.
By analyzing regularly how many likes, shares, and comments you get per average, and what is the number of your followers currently depending on the social media platform, since every platform is different in the functions it enables.
3. Select your strategy:
If you are working hard on your social media marketing, but you ain't getting enough response and it isn't the way you want it to be. Then, It's time for you to come up with another strategy.
Starting by figuring out the goals you want to achieve and understanding your objectives. It doesn't matter how small or bigs are your goals, what matters is to make sure you work hard to achieve them.
4. Know your audience:
Making content without understanding who you are posting to is like traveling with no destination. One of the most important steps to take to boost your engagement is to understand who is your audience first. Know who you are talking to, to make it easier for you and for your audience to connect with one another.
5. Post valuable content:
The social media strategy is inextricably linked to the content marketing plan. By sharing the relevant content your audience is looking for and what they want to connect with you will be able to grow and thrive your engagement. Knowing your audience helps you as well decide which content is most useful and helpful to them.
Avoid talking just about how great your brand is, your sales, and your business, that will disperse all of your crowd.

6. Post consistently:
To make your engagement stay on top and keep it going strong, you must be consistent. It's not enough to just post from time to time when you are available. According to many social media studies, businesses should be posting at least once per day to keep their content fresh and active in the social streams and keep the audience engaged.

7. Be active:
Boosting engagement means being more engaged on social media. And engaging means to give and take, that's what social media is all about.
It's important for businesses to be more active online, instead of using the platforms just to post and hide-respond to mentions, DMs, and comments and engage with other brands and people. Because people like it when brands engage with them both reactively and proactively.

Over To You:
Improving social media engagement is the ultimate goal for every business, either small or big. It has an important part in every marketing strategy, to help increase brand awareness and engage with customers for better results.

It doesn't have to be difficult. Just by following the right steps, putting in some effort and discipline, and showing your followers that you care for them, you will be paid off. Because what goes around, comes around.