Shopify Social Media Automation: Streamline Your Shopify Marketing Efforts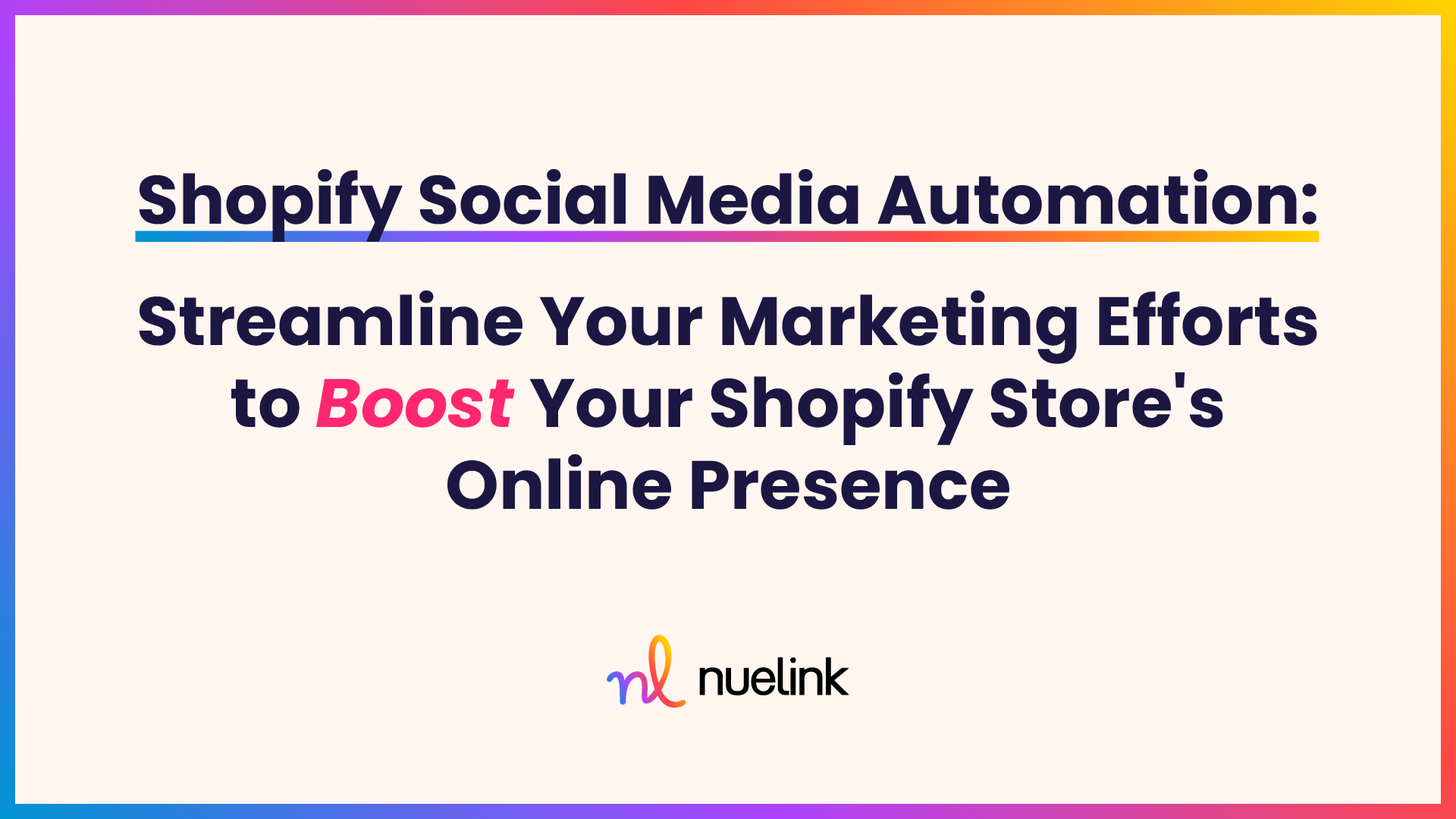 Social media marketing is now just another part of the job, especially for Shopify merchants whose income relies on online exposure. Unlike traditional marketing channels, it is cheap and far more reaching.
The many benefits of social media marketing don't come without their downsides. Mainly, the time you will have to invest in social media to promote your Shopify store. Brainstorming ideas, creating content, and scheduling it is a full-time job on its own. And, it can be difficult for someone who already has their hands full with running a Shopify store.
Here is where Shopify store automation comes in. Keep reading to learn about Shopify store automation and how you too can automate your Shopify store.
You will find here:
What Is Shopify Social Media Automation?
Why Should You Automate Your Shopify Store?‌‌
How To Automate Your Shopify Store's Social Media Posts?
---
What Is Shopify Social Media Automation
Shopify social media automation involves utilizing a social media automation tool to automatically publish your Shopify listings as social media posts.
You can schedule these posts to share with your audience either once, at a time of your choosing, or on repeat. This is a set-it-and-forget-it process and is fuss-free. If you choose a good social media management and automation tool, you will also be able to manage engagements from all of your platforms in one place.
There are a few excellent Shopify social media automation on the block. From Nuelink to Zapier, these tools help turn manual tasks into automated ones at the click of a button. Once you set up your automation tool, you will be able to run your marketing campaign for your Shopify store on autopilot.
Shopify Automation Benefits: Why Automating Your Shopify Store on Social Media is Essential
Automating your Shopify store on social media is essential for several reasons. Firstly, it enables you to save time and streamline your marketing efforts.
By automating tasks such as scheduling posts, managing content, and monitoring engagement, you can focus on other aspects of your E-commerce business.
Secondly, automation ensures a consistent and timely social media presence.
With automated tools, you can maintain a regular posting schedule, even when you're busy or away. This helps to keep your brand visible and maintain a strong online presence.
Additionally, automation allows you to reach a wider audience. By utilizing social media automation tools, you can schedule posts to target different time zones and maximize your reach to a worldwide audience live (Even if you are sleeping!).
Finally, automation provides valuable insights and analytics. Many automation tools offer data and analytics features that allow you to track the performance of your social media campaigns, identify trends, and make data-driven decisions to optimize your marketing strategy.
By embracing Shopify automation you will be able to:
Save between 5-10 hours each week, by removing repetitive tasks.
Increase your productivity by 20 to 30%
Reduce the business costs.
Reduce human errors.
If you need more convincing, analyze these statistics from Instapage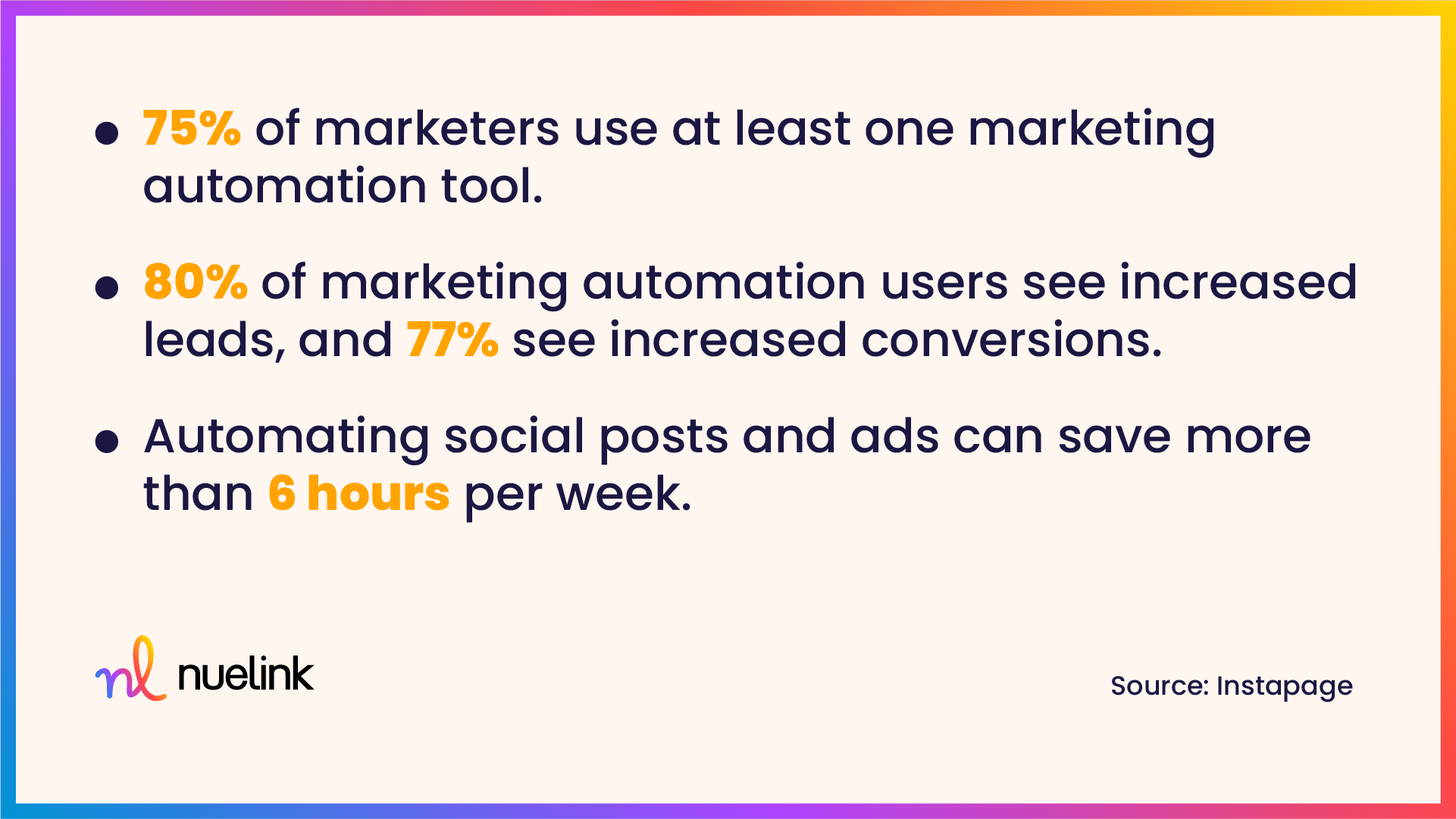 ---
You are using another platform, not Shopify? You may find these articles helpful:
---
How To Automate Your Shopify Store's Social Media Posts
If you are still new to the Shopify game, or at least, new to the 'Shopify Social Media Automation' game. Here is a brief list of initial steps to follow:
Choose wisely your automation tool
Set up and verify your automation tool
Connect your Shopify store with the automation tool
Link your social media channels to the automation tool.
Execute an automation process tailored to align with your marketing strategy.
What if I am already a Nuelink user? How can I set up automation for my Shopify store?
Glad to hear that you are one of our beloved users!
First, here is a YouTube video recorded by Bilal the founder of Nuelink explaining exactly how to automatically post Shopify products on Social Media: Instagram, Pinterest, Facebook, and others
Or you can simply follow these instructions:
STEP 1: Click on Automation on the navbar on the left side of the screen.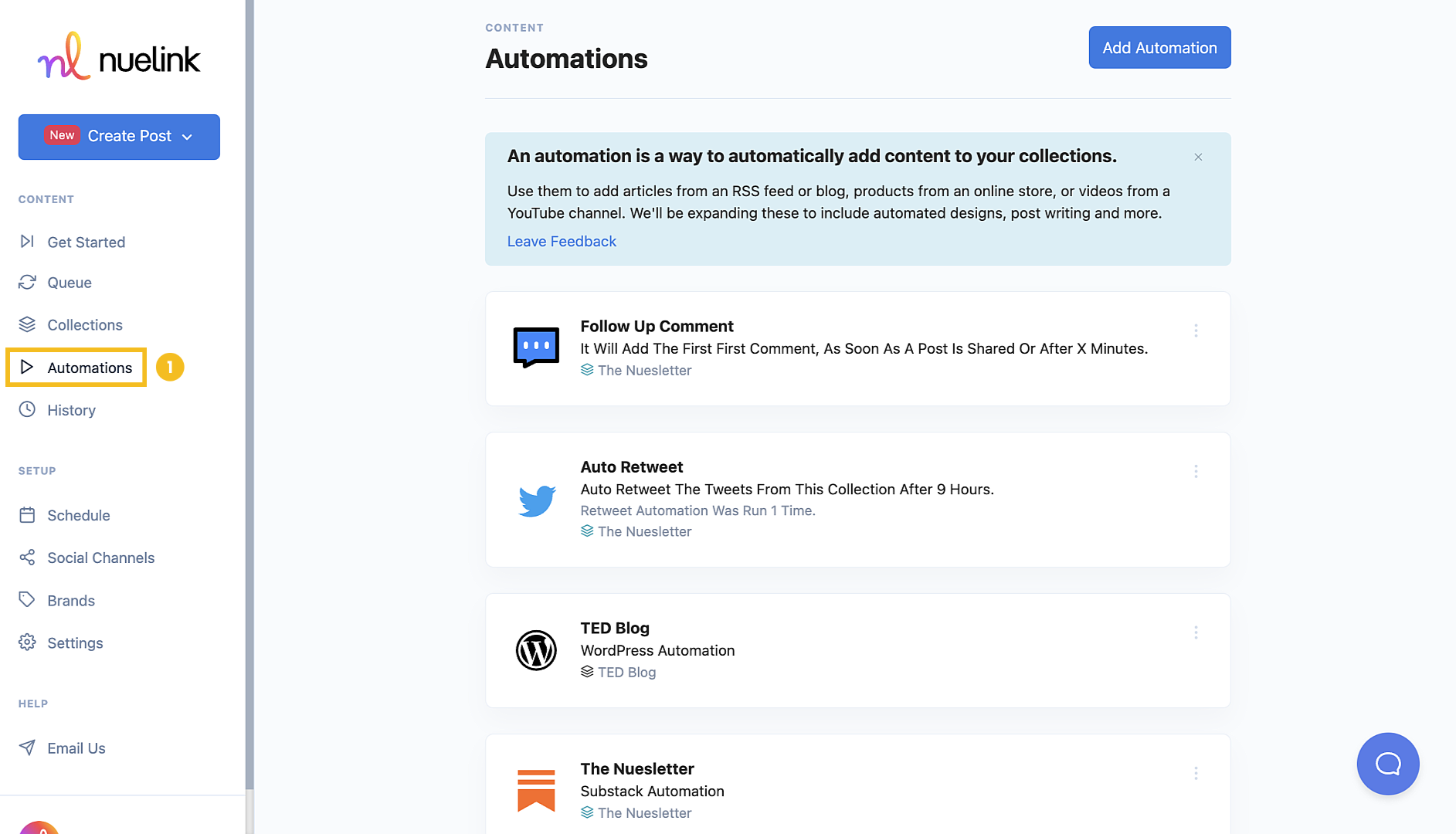 STEP 2: Then, Click on Add Automation button on the top right of the screen.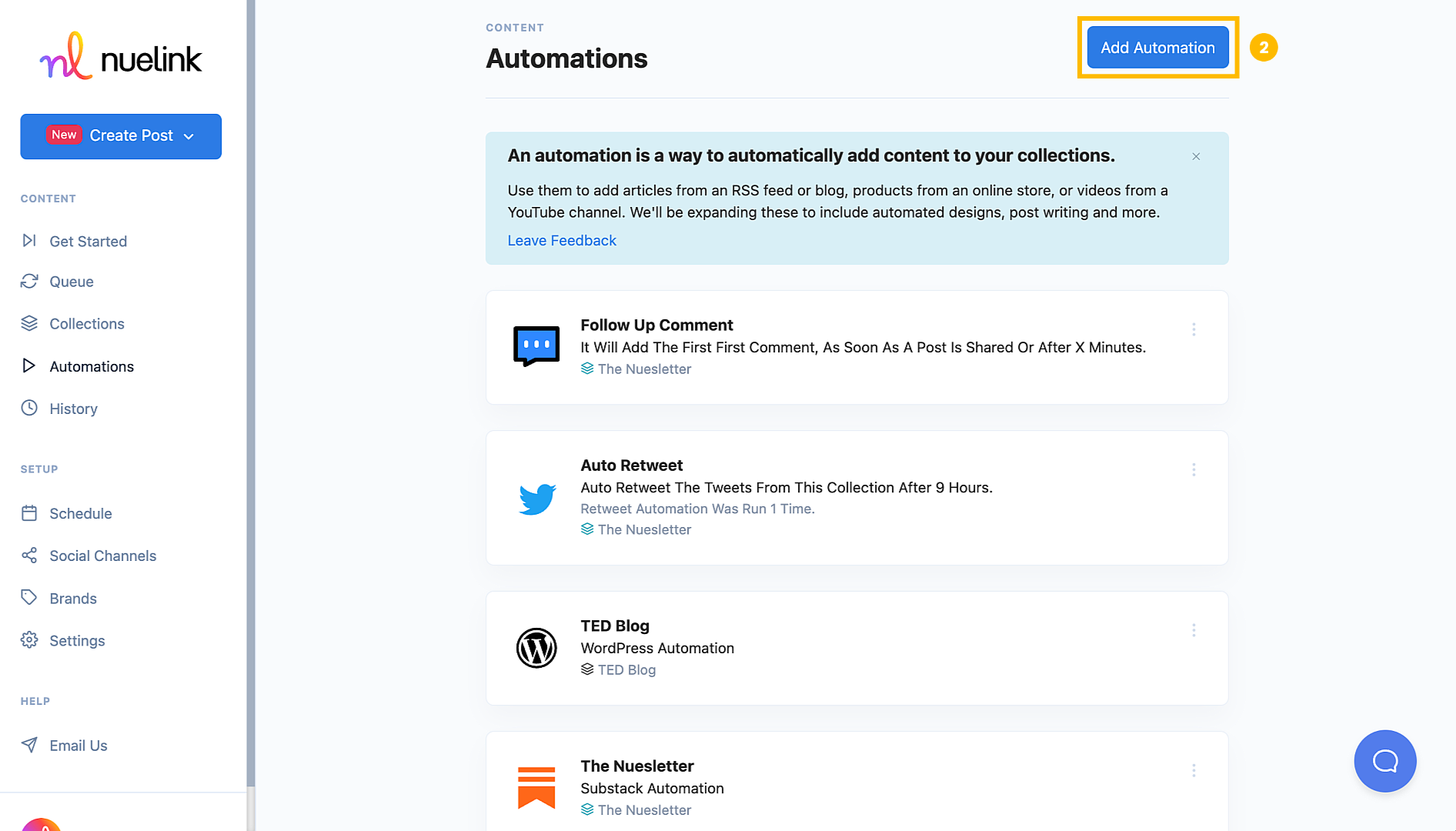 STEP 3: Scroll down until you find Shopify, and then click on Add Automation.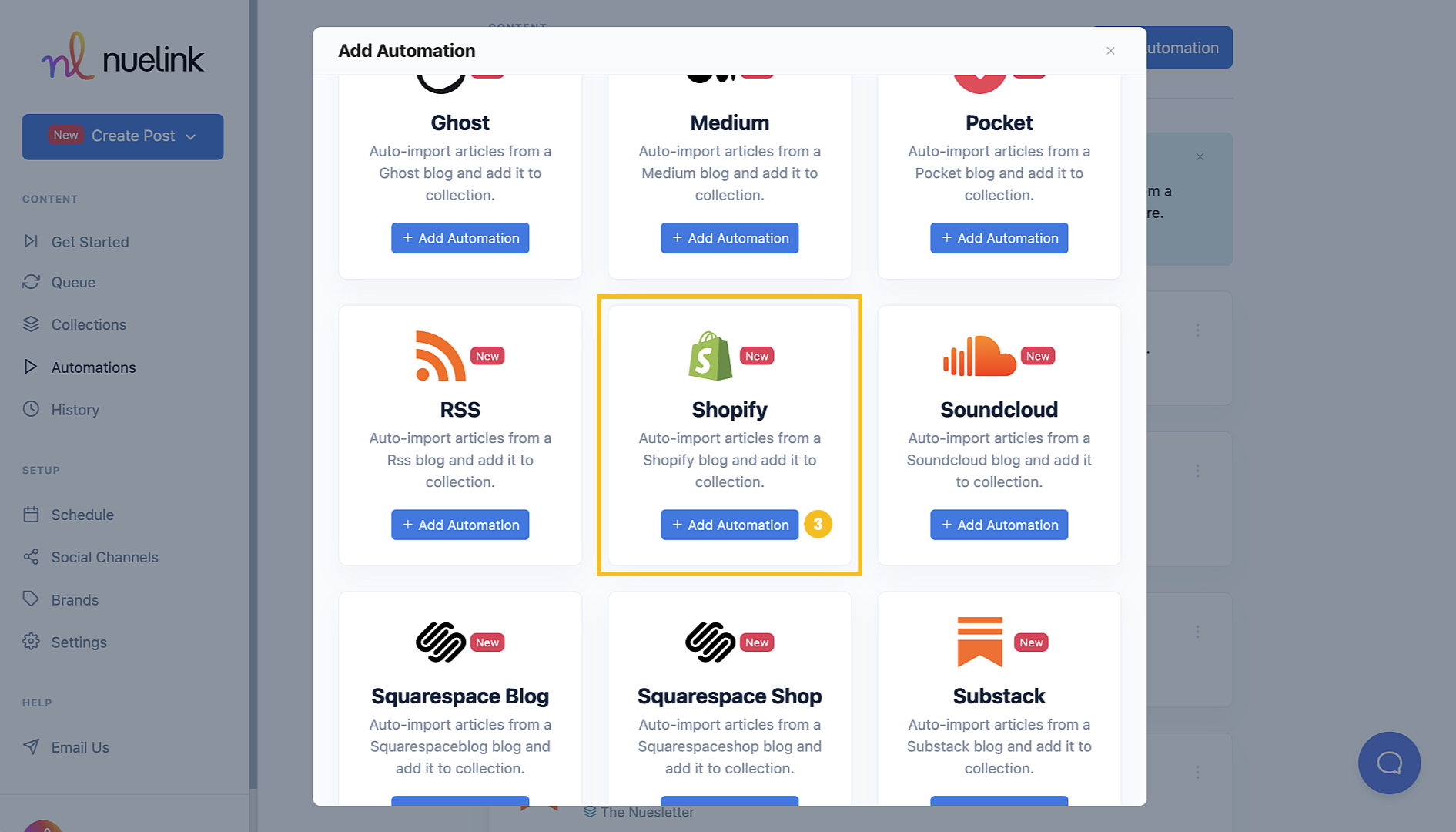 STEP 4: Copy and paste your Shopify store link here.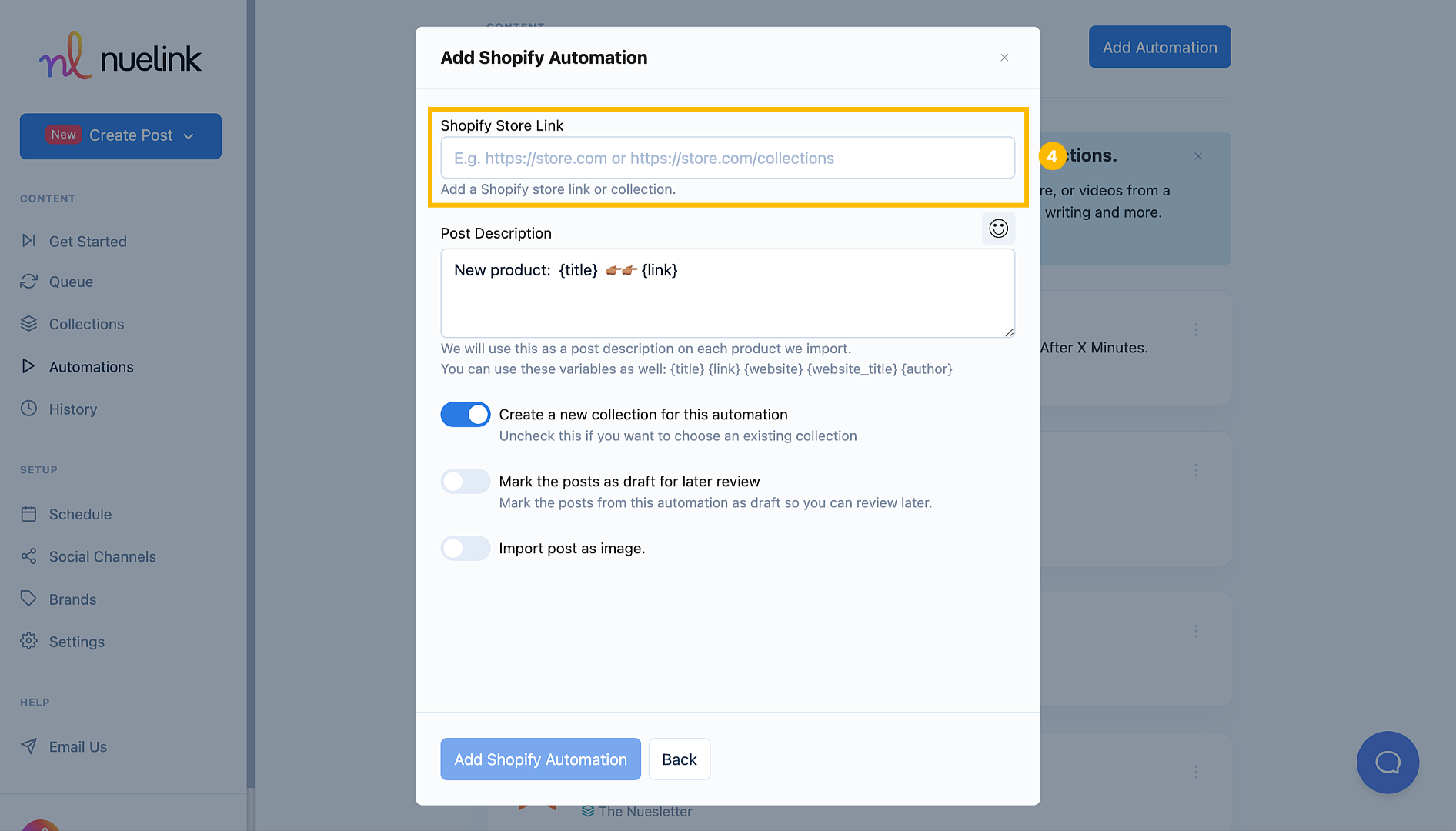 STEP 5: Click on Add Shopify Automation and you are done.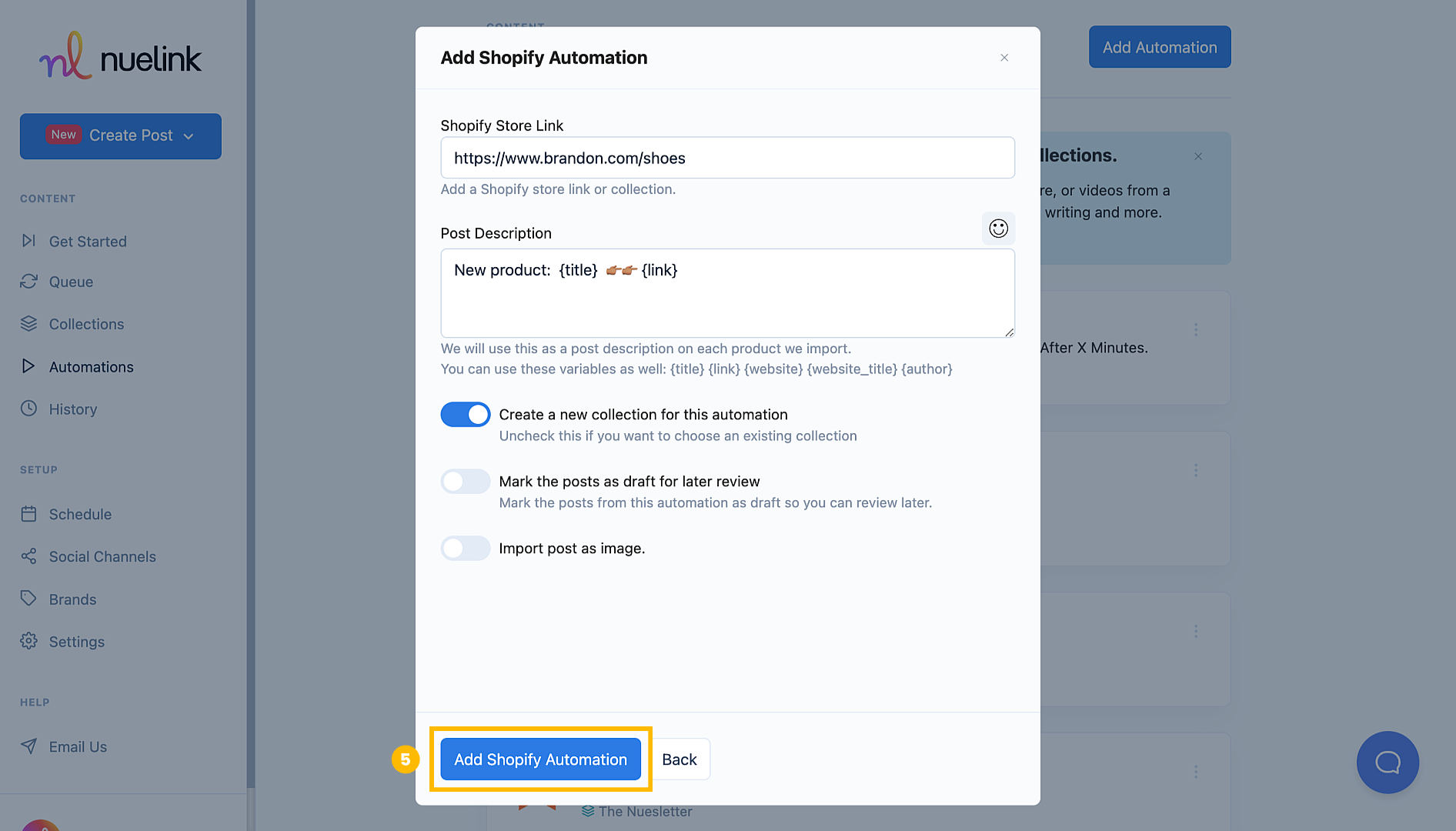 ---
Connect with us on socials:
---