How to Automate Any RSS Feed For Social Media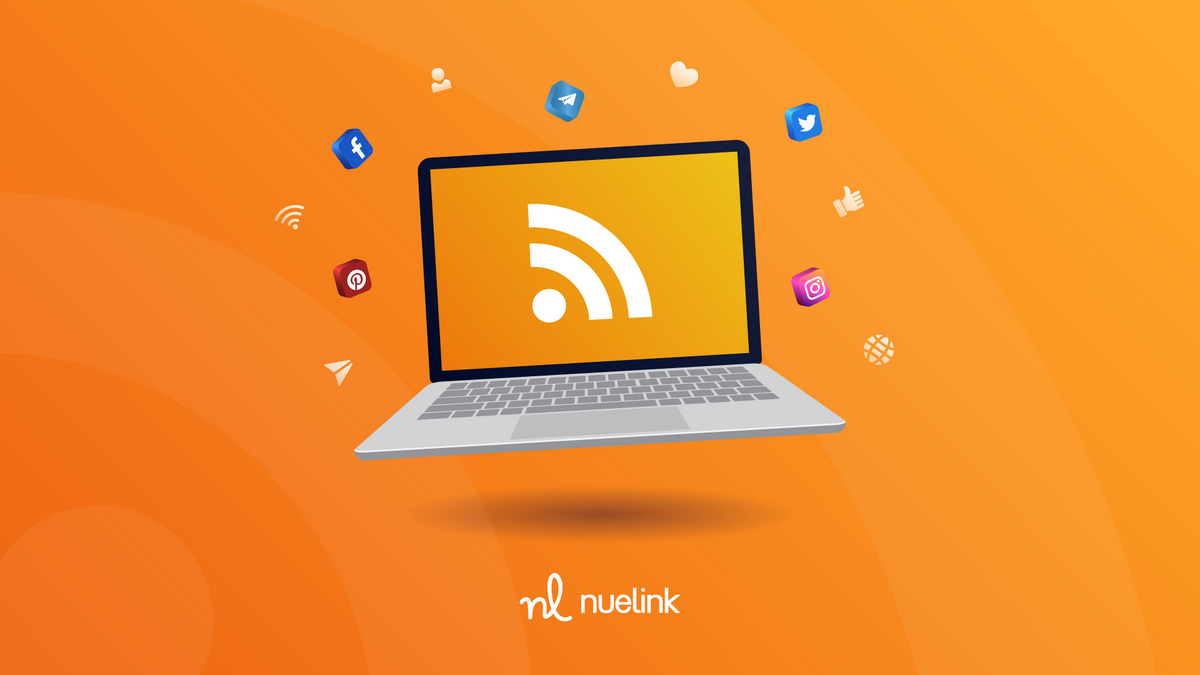 In social media, content is both king and currency. Staying informed of the latest algorithm updates and maintaining an engaging online presence is paramount.
Yet, with the sheer volume of content being produced and the multitude of social media platforms trying to gain your attention, it's easy to feel overwhelmed.
This is especially true for bloggers and podcasters who create content on their websites and then have to promote it on social media. Many in the industry rely on automation to simplify this task.
In this blog post, we'll focus on RSS feed automation, a simple way to automatically share your blogs on social media.
What's RSS Feed?
What's RSS Feed Social Media Automation?
Why You Should Automate Your RSS Feed?
How to Auto Post From RSS Feeds to Your Social Media?
What's RSS Feed?
Well, let's start with the important questions. What's RSS Feed?
RSS, short for Really Simple Syndication, is a technology that allows websites to distribute their content in a standardized format.
Instead of manually visiting various websites to check for updates, users can subscribe to RSS feeds and receive the latest content directly in their RSS feed reader.
These feeds collect headlines, summaries, and links to full articles, providing a convenient way to consume a vast amount of information from different sources in one place, or in our case automate it.
These feeds standardize content into a structured format that can be easily understood by a wide range of applications, including Nuelink, which we will show you how to use to auto-post your content to social media.
What's RSS Feed Social Media Automation?
Traditionally, sharing your latest finds involved a meticulous dance of opening multiple tabs, copying links, crafting posts, and scheduling them across various social platforms.
It's a time-consuming process that often leaves you juggling between content creation, content curation, and social media marketing.
But with the combination of RSS feeds and social media automation, this complex process is transformed into a smooth and automated one.
As new articles, blog posts, and updates roll into your RSS feed reader, tools like Nuelink work in the background, uploading content and posting it to your social media accounts.
Why You Should Automate Your RSS Feed?
We have been bubbling on and on about RSS feed social media automation, but what's in it for you? Well, a few things that will change the game.
Time, a precious commodity for content creators has to be wisely invested. RSS automation offers an efficient alternative to reconfiguring your content to fit the different specifications of each social media channel you are on.
Did you know that 43% of small businesses spend an average of 6 hours per week on social media marketing? With RSS automation, this time could be significantly reduced, allowing you to dedicate those precious hours to strategic planning, engagement, and cultivating connections.
According to a survey, 75% of marketers reported saving time with automation. Imagine the hours you could reclaim by entrusting your content dissemination to automation, enabling you to focus on crafting exceptional content and refining your overall strategy.
Besides auto-posting your own content, the RSS feed automation is also great for curating content for your social channels. By curating content from various sources, you showcase different aspects of your niche.
76% of social media managers are actively including curated content as part of their marketing strategy. This shows that having a variety of content makes you a trusted source of information and expertise, making you someone worth following.
How to Auto Post From RSS Feeds to Your Social Media?
There are a couple of ways to go about this but the most efficient method involves utilizing a dedicated social media management tool. It's worth noting that not all tools offer this capability, so it's important to select a tool like Nuelink that provides extensive automation features.
Step 1: Click on the Automation section in the left-side navigation bar.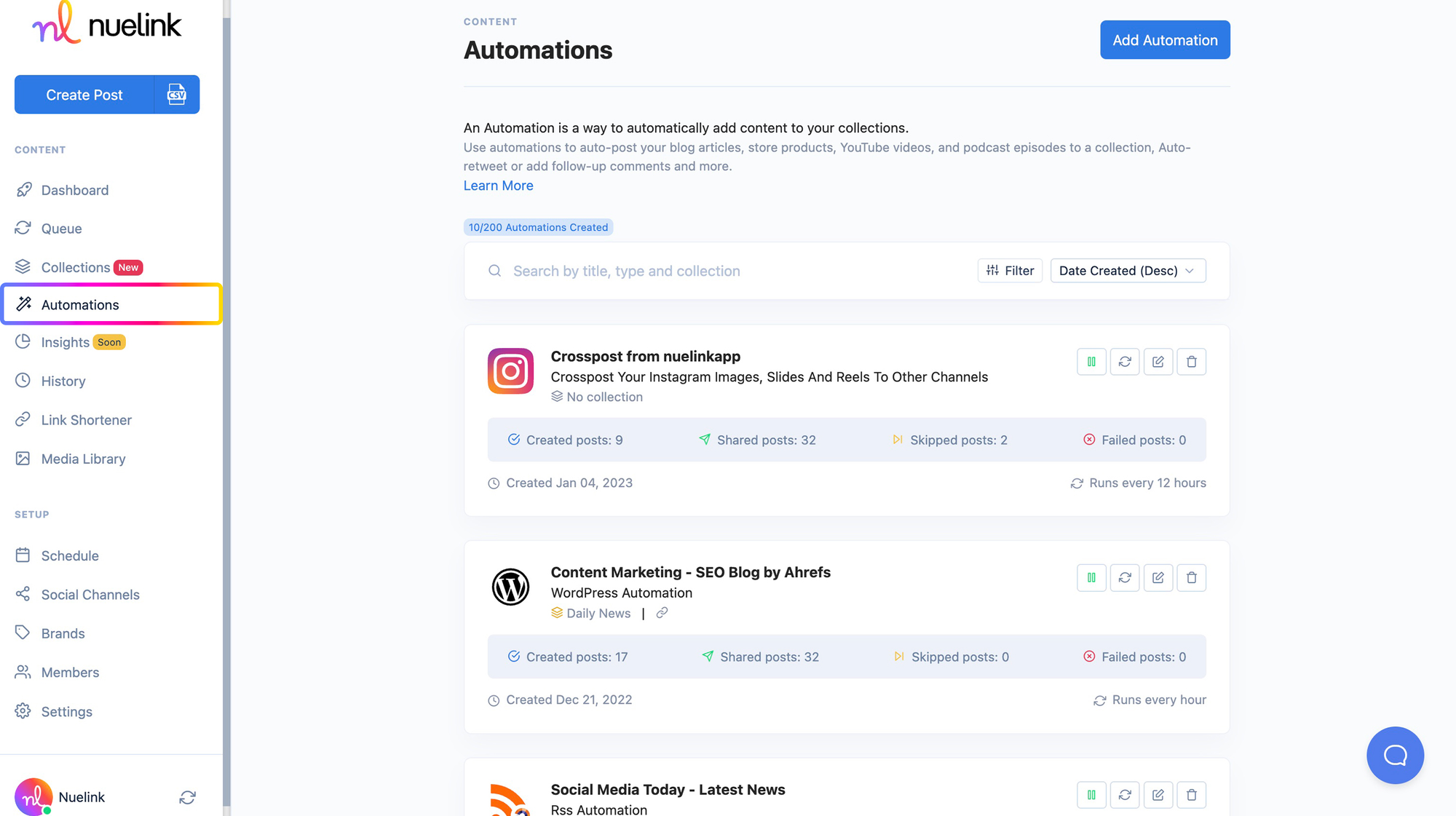 Step 2: Locate and click on the "Add Automation" button in the upper right corner of the screen.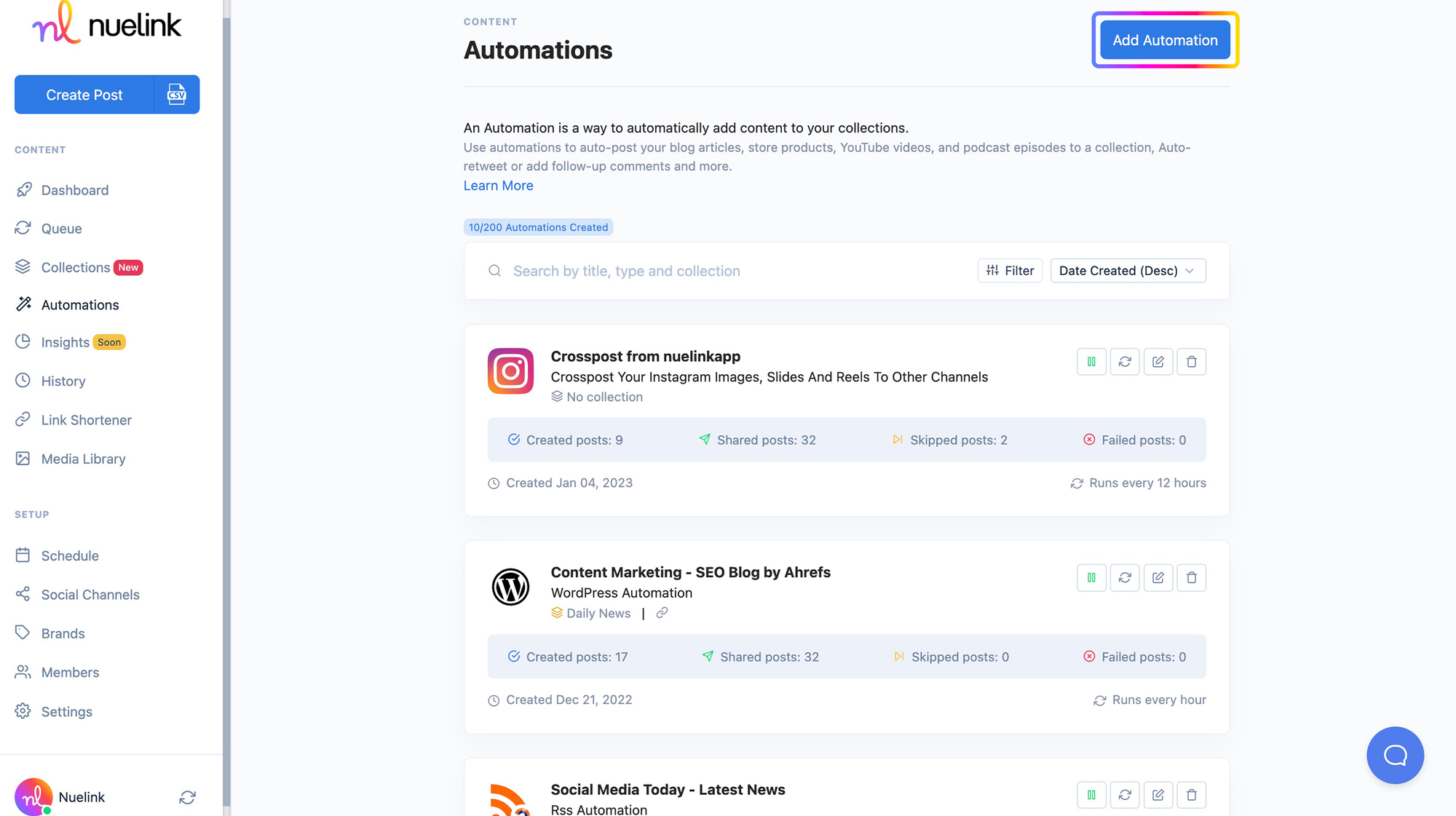 Step 3: Scroll down until you come across the "RSS" option, then proceed to click on "Add Automation."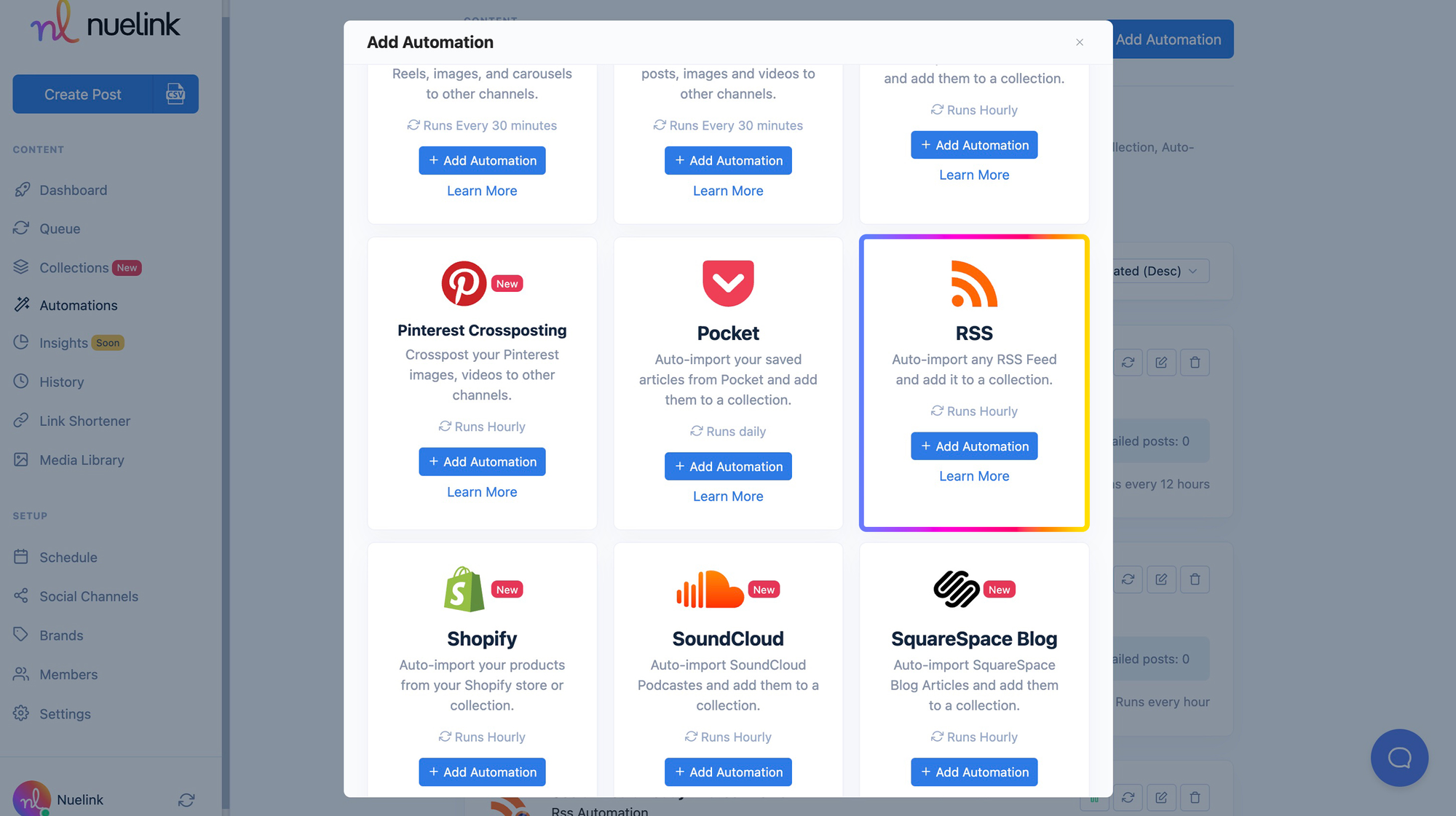 Step 4: Add the link to your website and finalize the process by clicking on "Add Automation."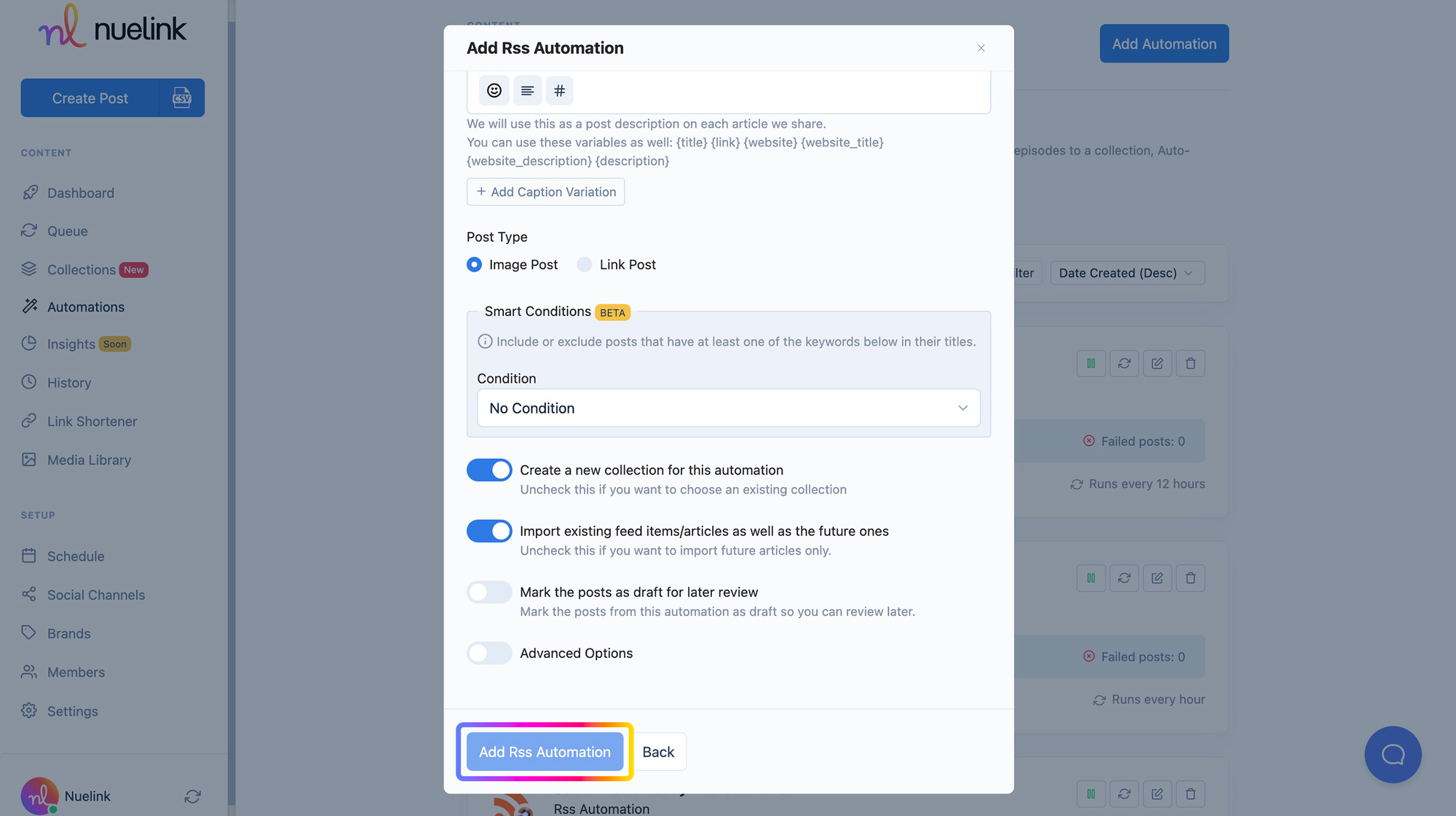 For a comprehensive, detailed guide, you can find more information by clicking here.
Once you set up this automation, Nuelink will upload your blog posts and share them to your different social media channels. And when a new post is added to your website, it will be automatically added to Nuelink.