Nuelink: A Powerful MeetEdgar Alternative for Growing Agencies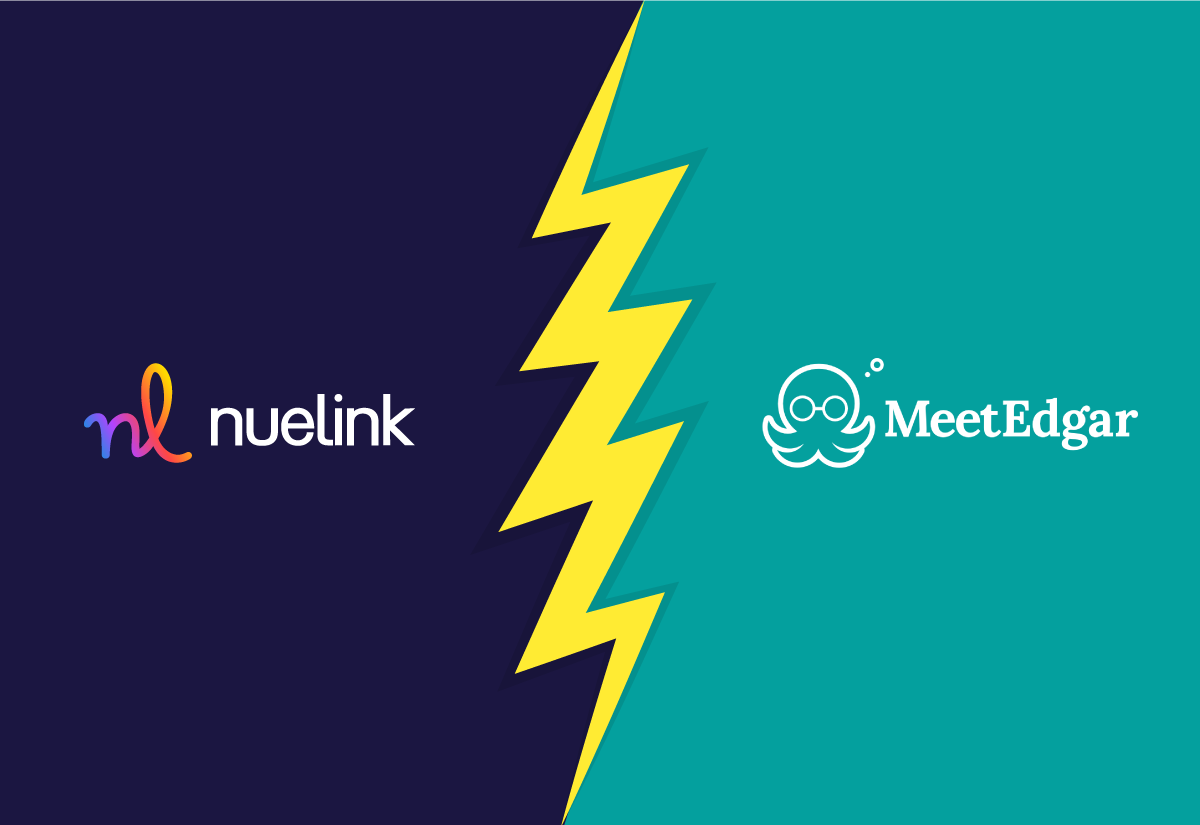 MeetEdgar has made a name for itself in the market since its inception in 2014 as an affordable and powerful tool. It was advertised as a bargain alternative to big names such as Hootsuite and Buffer. But that was then, and this is now.
Currently, MeetEdgar is no better than the tools it claimed to replace with its over-the-top pricing and less-than-stellar list of features that can only be described as mediocre at best.
The tool fails to keep up with the booming market as evidenced by its social channels offering which is one of the lowest among social media management tools.
With MeetEdgar past its prime, it's time for you to move on from the pricey and overrated tool and venture into the land of powerful and affordable social media marketing tools that connect you with audiences from all of your favorite platforms.
Why you shouldn't settle for MeetEdgar's bottom-of-the-barrel features
Although MeetEdgar's price is higher compared to its competitors, they are still falling behind with features that are already available on other similar tools.
MeetEdgar's main draw of the content auto generator is mostly unusable and can be especially bad with the out-of-context content.
Their calendar view is confusing and can be hard to keep up with what content is next on the calendar.
Their social channels offering is the lowest on the market and doesn't account for even the biggest players such as Google Business Profile, TikTok, and YouTube.
MeetEdgar doesn't offer free or freemium versions for users looking to test the tool in-depth.
MeetEdgar only offers single-person accounts and doesn't accommodate social media agencies or team collaboration.
Like Buffer, MeetEdgar lacks many Instagram features that other alternative tools offer in their basic plans.
With limited insights and easy tracking, it's hard to know what content is working and what's not.
Want to see what you are missing out on? here is a side-to-side comparison between MeedEdgar and Nuelink.
Nuelink vs MeetEdgar
Social Media Management Tools Face-off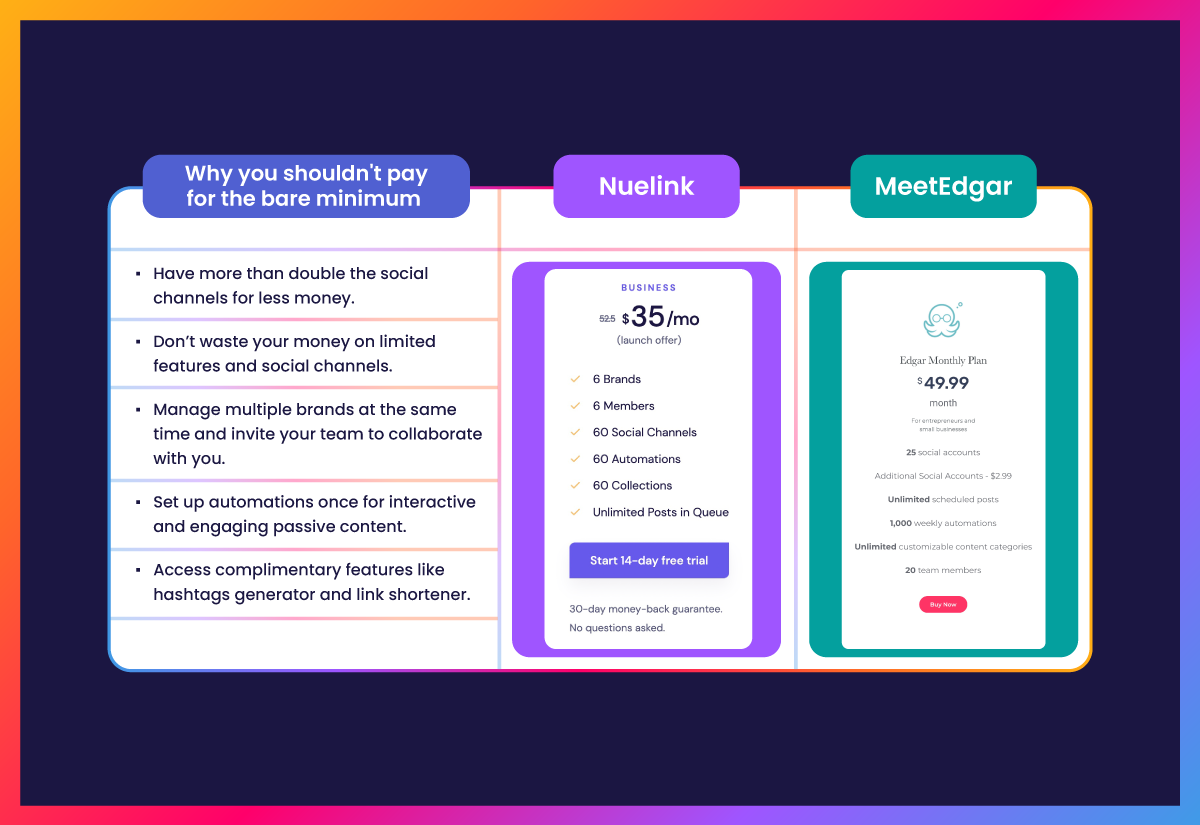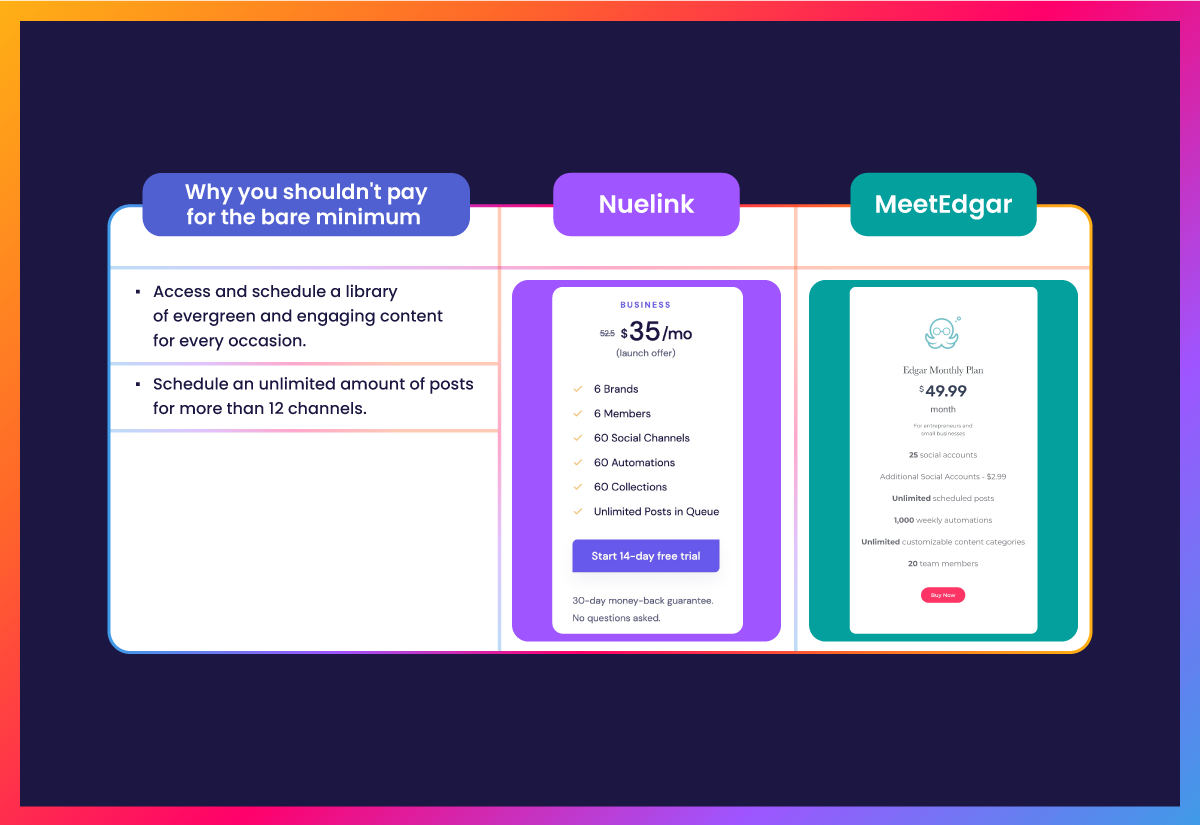 Nuelink's Features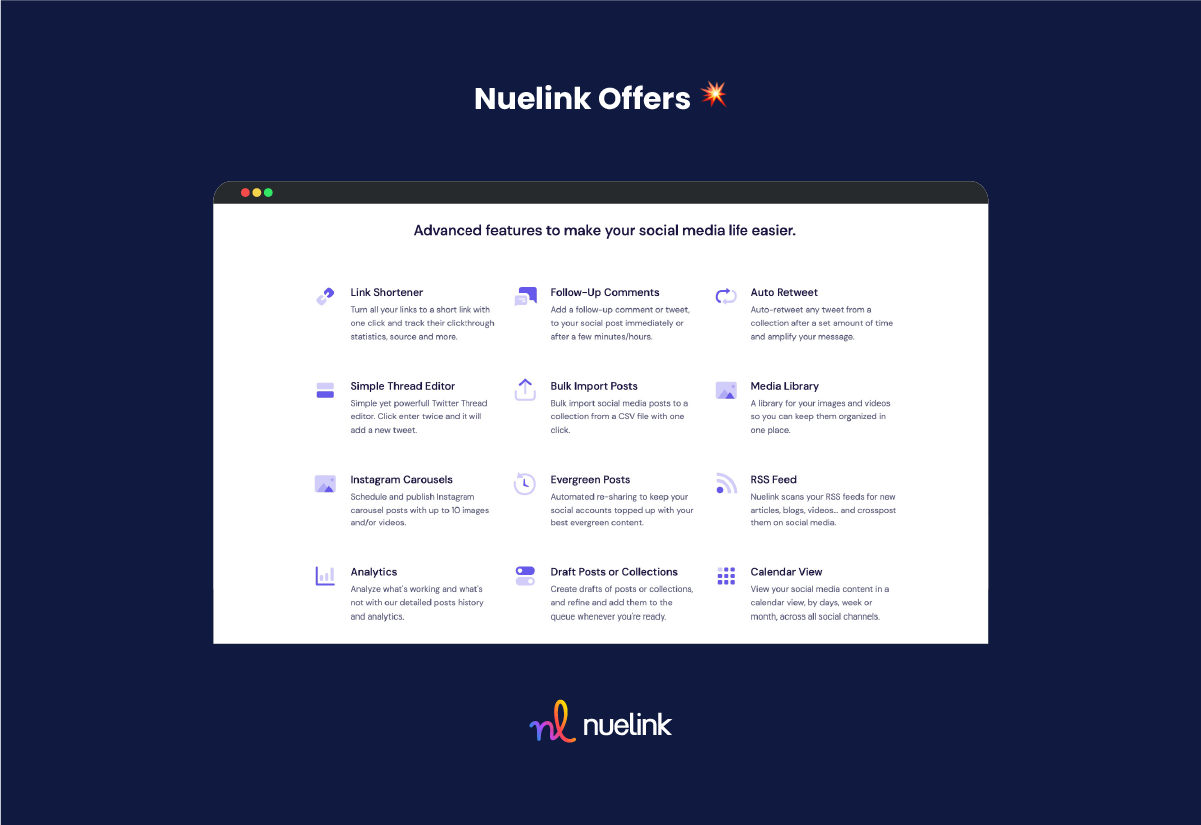 Social Media Managemnet
Nuelink allows you to easily manage all your social media accounts in one convenient dashboard. You can create collections to sort your posts and schedule content accordingly, saving you time and effort.
Agency Features
For agencies and teams, Nuelink offers an array of features to streamline collaboration and social media campaigns. Nuelink's dashboard allows you to manage each client's social media content, while the Members' feature promotes teamwork in creating incredible content.
Social Media Automation
Whether you're a blogger, E-commerce seller, podcaster, or YouTuber, Nuelink can auto-post to over 12 social media channels. Nuelink creates social media posts for your products' listings, blogs, podcasts, and more, giving you more time to focus on what matters most.
Social Media Cross-posting
Nuelink's social media cross-posting feature enables you to post content from one channel to all others, including Instagram, LinkedIn, Pinterest, and Twitter. Plus, Nuelink supports various content types, such as Twitter Threads, Polls, TikToks, and Carousels, to help you create more interactive posts.
Content Library
With Nuelink, you can generate Evergreen content, upload entire content libraries with a single click, and use the hashtag generator and Unsplash to enhance your posts. The link shortener tool also automatically shortens any links shared via Nuelink, providing analytics and data to help you track your progress.
Analytical and Tracking Features
Nuelink's analytical features provide detailed data on your social media metrics, including likes, shares, comments, impressions, engagements, and clicks. And with the Insights feature, you can gain even deeper insights into your social media performance.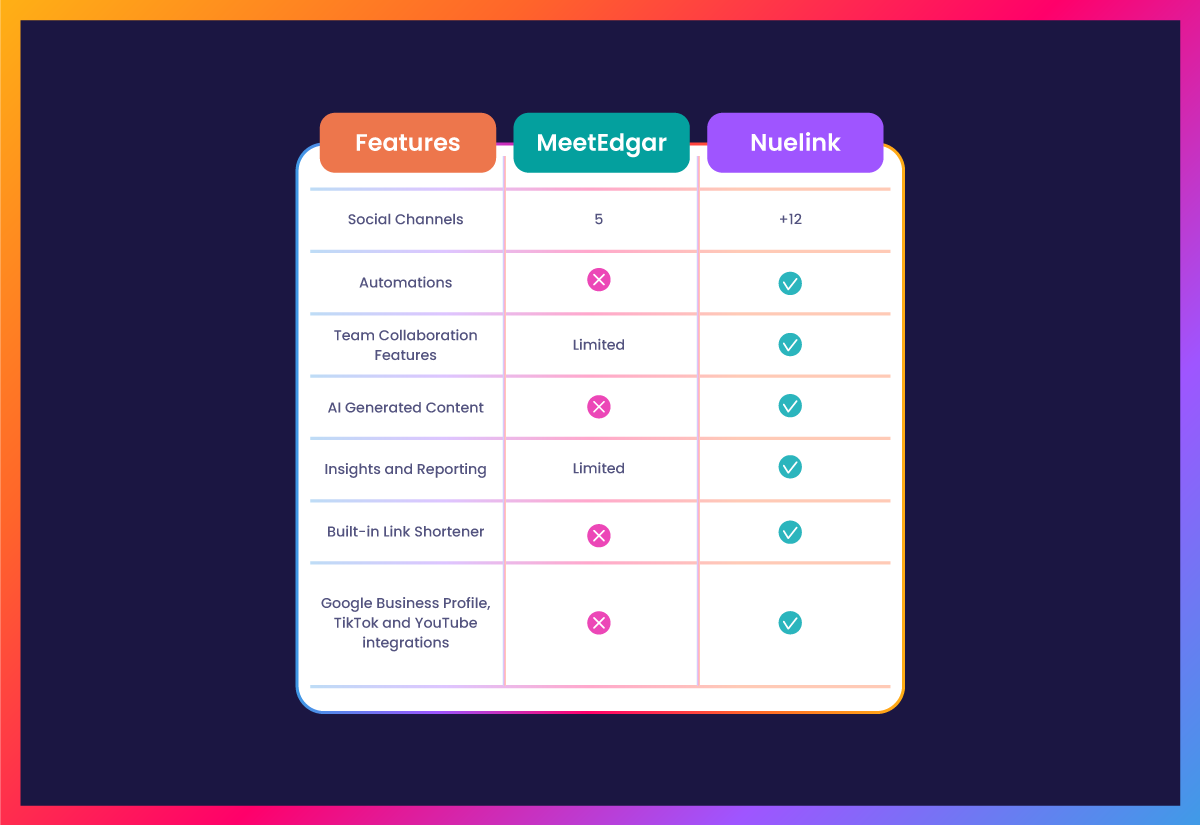 Rating and Reviews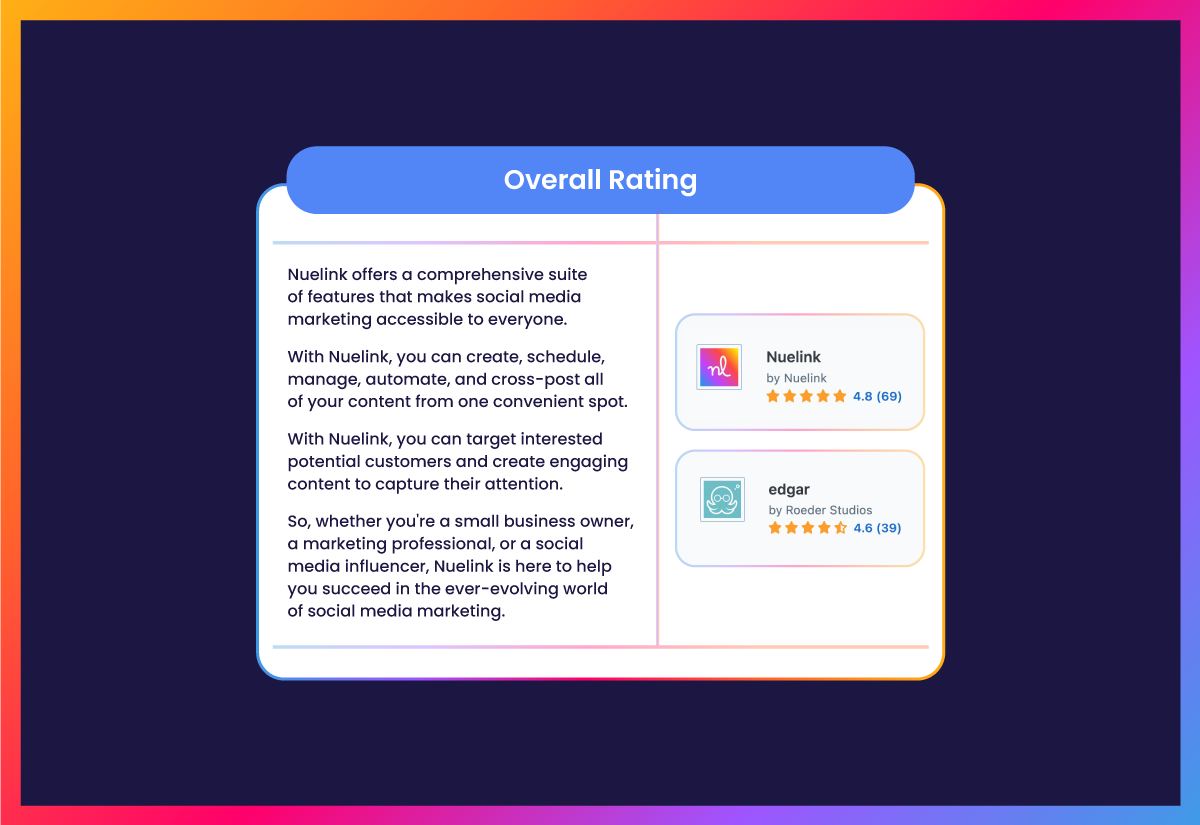 Schedule months of social content in minutes!
Nuelink helps you plan, automate and manage your social media and saves you time to focus on your business while your social media runs itself.
Integrated Automation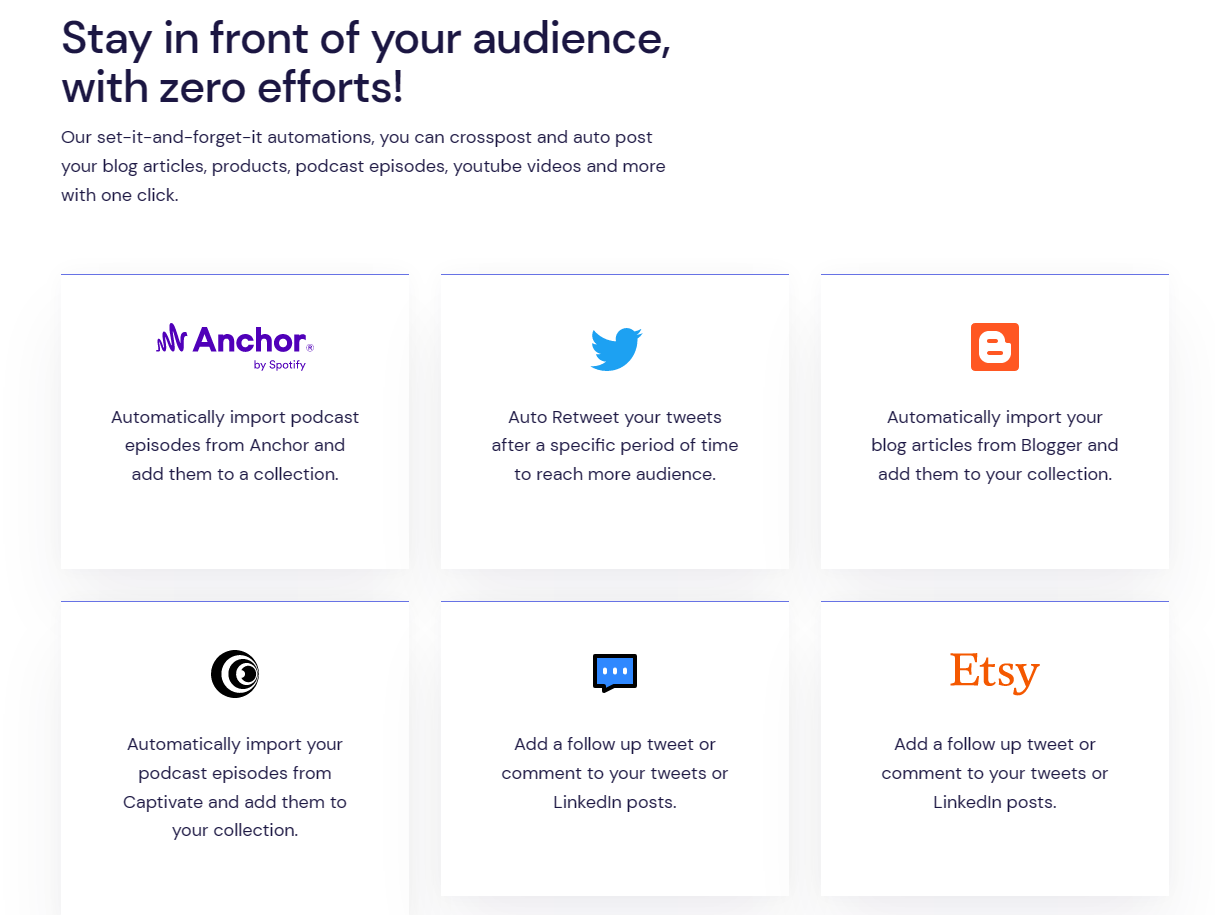 Social Media Automation for Bloggers: Auto-post your blog posts from WordPress Blogger, Ghost, RSS, Squarespace Blog, Substack…to Facebook, Instagram, Twitter, LinkedIn, and more than 8 social media channels.
Social Media Automation for E-commerce Sellers: Auto-post your product listings from Etsy, Shopify, Squarespace Shop, and Woocommerce… to Facebook, Instagram, Twitter, LinkedIn, and more than 8 social media channels.
Social Media Automation for Podcasters: Auto-post your podcasts from Anchor, Captive, SoundCloud, and Transistor…to Facebook, Instagram, Twitter, LinkedIn, and more than 8 social media channels.
Social Media Automation: Auto-retweet, Follow-up Comment, Tumblr, YouTubers…Other: IFTTT, Zapier…
The competition is stiff in the market, and MeetEdgar has obviously not been able to keep up with competitors. And with tools like Nuelink, you don't have to settle for average features to avoid paying an arm and a leg for social media tools the likes of Hootsuite and Buffer.