Best MeetEdgar Alternatives in 2022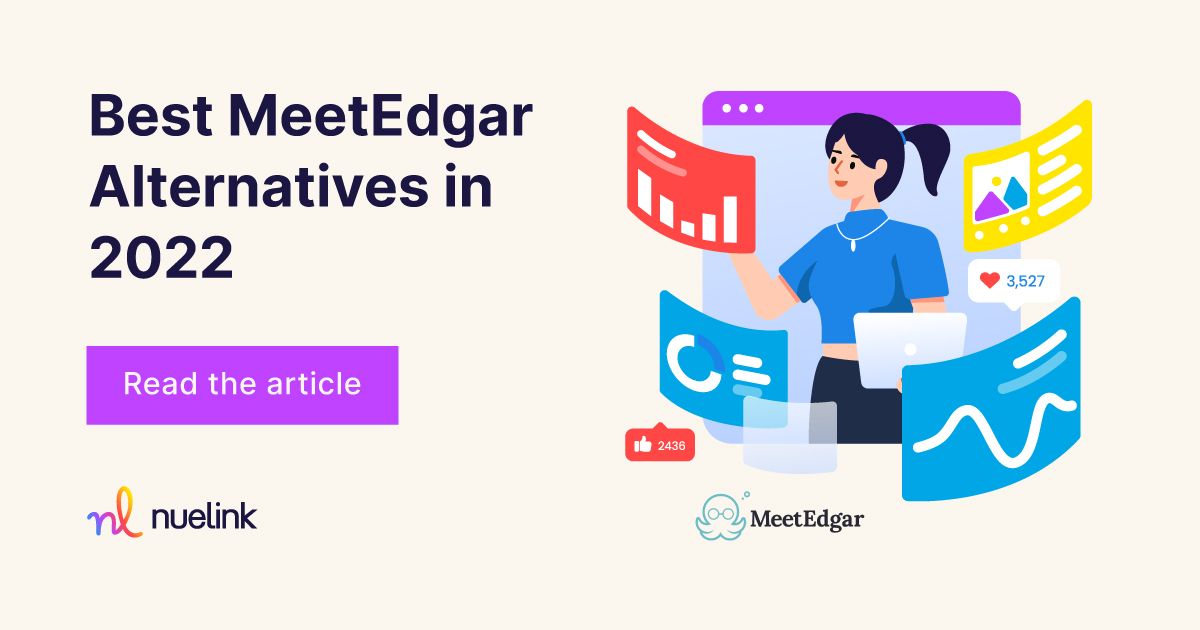 One of the hottest and most practical evergreen content scheduling tools available right now is MeetEdgar. It's a social media management tool that automates the entire process. From scheduling to curating and repurposing content, it does all odd jobs for you.  
However, MeetEdgar isn't the only tool for managing social media. We'll go over the many MeetEdgar alternatives and how to pick the best one for your requirements.
Why Consider Alternatives to MeetEdgar?
MeetEdgar may be one of the most sophisticated social media management tools in the market, still, it may not be the right social media management tool for many agencies or businesses.

MeetEdgar is not the only tool available that can help you automate and organize your posts on social media platforms like Facebook, Twitter, and LinkedIn. Other MeetEdgar alternatives offer similar features as MeetEdgar, but may cost more and have similar features.
The trick is figuring out which tool is going to offer you the best combination of price point and utility for your business.
Here is a list of the top MeetEdgar alternatives that will meet all of your requirements for social media management and make your job simpler.
MeetEdgar Alternatives
Nuelink
One of the most similar alternatives to MeetEdgar. Nuelink is a new social media scheduling tool created with startups and small enterprises in mind. For independent contractors and small enterprises, Nuelink aims to make social media publication straightforward and quick. And hence why, Nuelink offers a few intriguing automated tools that may reduce the need for social media planning and scheduling.
Along with allowing you to schedule your articles, update them, and publish them, the tool can also automatically find new blog pieces to use as social media material. Not only that, but Nuelink's key selling point is its readily available content library of social media posts arranged into categories and collections that can be utilized to plan out weeks' worth of social media postings.
ContentStudio
ContentStudio is one of the most powerful alternatives for MeetEdgar. A versatile tool that easily handles all activities connected to content marketing and social media administration.
The tool features amazing functionalities that help expand the audience and regularly help share the greatest content. Some of the key features of the tool are automated publishing and post-scheduling, social media monitoring, and customizable reports. ContentStudio is a one-stop shop for agencies, marketers, publishers, and startups.
Loomly
Another effective social media management tool, Loomly, makes it simple to plan and manage postings, analyze analytics, and keep tabs on interaction metrics. It is a social media management platform that helps you and your team create efficient branding.
With features like collaboration, publication, and analytics it will be easier to expand the reach and improve engagement.
Loomly also lets you optimize your content on social media with templates and tips. You don't need to switch to accounts and manage it all from a single dashboard.
Later
Later is a social media management tool that is made to make it easier for businesses and individuals to interact with their followers on well-known social media platforms like Facebook, Twitter, and Instagram.
It enables users to maximize their time and exposure on social media with a user-friendly dashboard that makes it simple to organize and schedule content. The platform also contains capabilities for photo tagging, hashtag recommendations, and numerous metrics, making it a crucial resource for any business or person trying to build a strong online presence.
SmarterQueue
SmartQueue is another great social media management platform that may be quite beneficial for anyone looking for a MeetEdgar alternative. It comes with a powerful analytics solution that enables customers to separate the material that is generating the most traffic from the content that is not doing so well.
It is an amazing tool that will serve as a bridge to close the gap between your social media activity and business outcomes if you are unable to receive the required results from your social media platforms. SmarterQueue implies that you can use this technology to quickly and easily make data-driven judgments.
Agorapulse
A completely functional social media management tool with a very user-friendly interface. It has a substantial amount of power, but it also offers a simple user interface, well-designed lessons, and a free certification to help you learn how to convert its capabilities into advantages.
Agorapulse offers a multitude of methods for publishing material, much like all of these social media management tools. You may view the social messages you have planned, queued, published, sent for approval, been assigned to you, or failed by selecting the default Publishing option, which opens a calendar with the current period (by default, monthly) and those that have been sent for approval.
Conclusion
MeetEdgar may be one of the most popular evergreen content management platforms, but that doesn't mean it's going to be the best solution for every brand, business, or marketer. There are many social media management tools and alternatives that can help you schedule posts for your different social media platforms. Which one of them will be the best for you? that's up to you to decide.