75 Cool Instagram Story Ideas to Engage Your Followers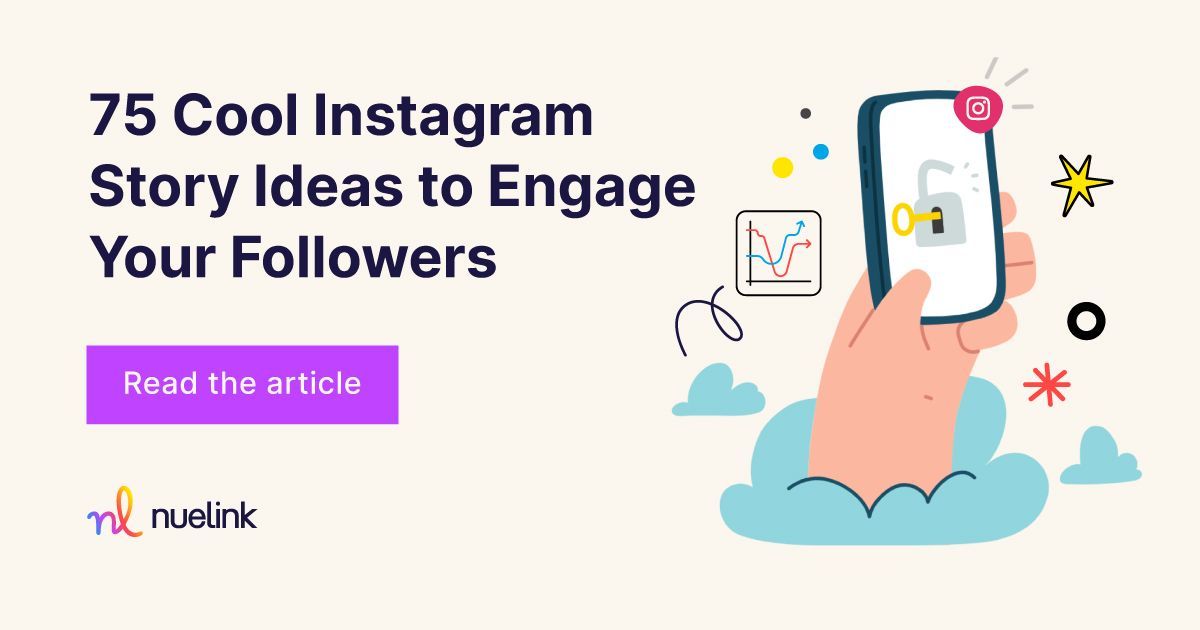 These days, social media is all about documentation. What you do, where you go, what you eat, and who you see are all important factors. These are the normal Instagram Stories content: brief peeks into people's lives that are shared for a 24-hour period. A fantastic method to update your followers on crucial information about your company or personal life.

Additionally, Instagram Stories are more well-liked than ever. Daily Instagram story viewing is done by more than 70% of users, and mobile video consumption doubles every year. This implies that you ought to start creating Instagram Stories if you haven't already.

But that may mean more content to create and take care of. But worry not! To help you create an endless flow of content that will help you stand out and spark engagement on Instagram, in this post, we share with you 75 cool Instagram Story ideas with you.


Before we jump into the list, and by now you should have learned more about Instagram stories and their importance. If not, check out our previous article to catch on: Instagram stories? your best way to help your business


75 Cool Instagram story ideas to get more views and engage with followers
Promote your latest Instagram posts.
Answer questions
Talk about your brand.
Promote your blog posts.
Introduce your team members.
Share expert tips and tricks related to your industry.
Promote products.
Create a shoppable story.
Go live.
Conduct a poll.
Use the question sticker.
Share testimonials or reviews from your customers.
Show before and after.
Show off the office.
Do a countdown for your upcoming events.
Share an inspirational quote.
Staff takeover.
Show your morning routine.
Take part in the #TBT.
Share your plans for the day.
Ask your followers to help with anything (food, clothes, presents, etc.).
Countdown to your live stream.
Create a contest or giveaway.
"Truth or Lie". Followers ask – you reply.
Ask your followers a random question about anything.
Try holding a poll or a quiz.
Do a tutorial.
Product demo.
Share questionnaires, and let your followers do the same!
Shout out to other accounts.
Tease an upcoming release.
Celebrate your wins and achievements.
Host a contest.
Go behind the scenes.
Highlight your customers and give them the spotlight.
Offer deals and discounts.
Show off Your skills
Get your own hashtag going
Re-purpose old content.
Start a content series.
Post breaking news about your industry.
Post footage of an office event.
Share user-generated content.
Link to your product pages.
Promote affiliate content.
Share styled photography.
Share memes, puns, or jokes.
Share career opportunities.
Ask for donations.
Interview an employee.
Post a comment or a statistic or some sort of information to start a conversation.
Post a fun message or notification post.
Share a promotional code or offer.
Slide into the DMs – encourage followers to DM you for more conversation.
Show how something is made.
Share a buying guide.
Collect feedback using emoji sliders.
Participate in a story trend.
Start a trend using the "Add Yours" sticker.
Share a contest or challenge.
Share your new year's resolutions.
Ask for song recommendations.
Share your workplace playlist.
Share what you're currently working on.
Congratulate or wish a happy birthday.
Share an original survey template for people to use.
Repost Stories that mention you.
Share monthly or holiday or celebration days.
Share the pics that didn't make the cut for the feed to your stories.
Start an 'Add yours' Instagram story thread.
Share favorite small businesses
Show your inspiration
Flash sale in stories.
Promote and drive attention to  "big" pieces of content.
Understand popular demand.