Instagram stories? your best way to help your business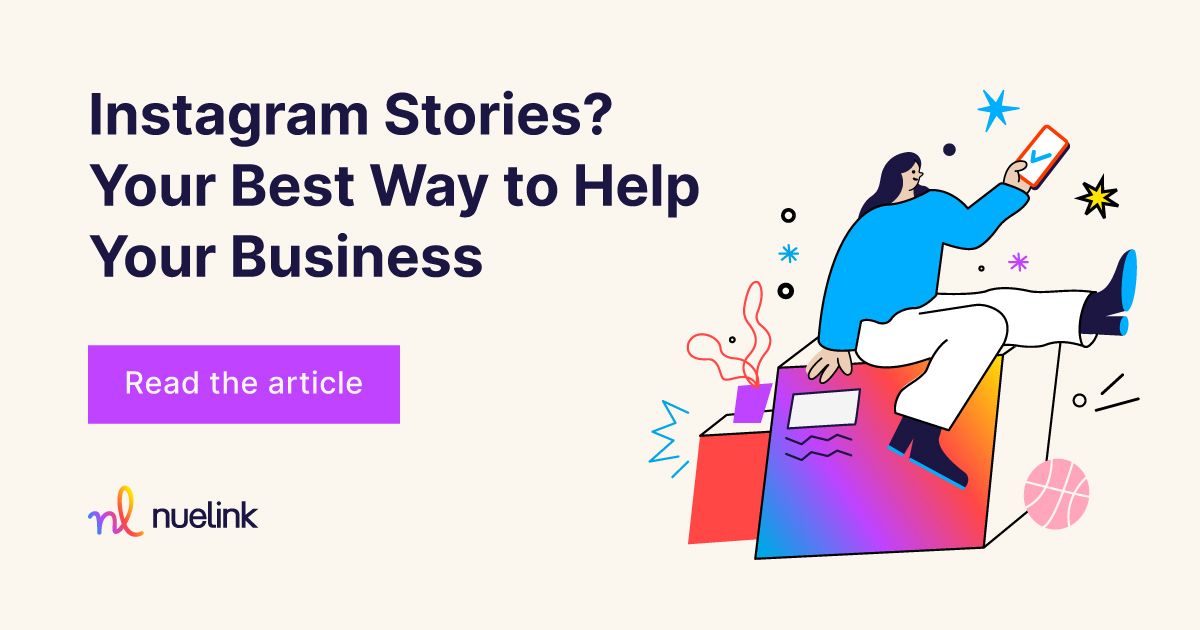 If you haven't started using Instagram stories for your business yet, then what are you waiting for? Now it's time to start, or you will be missing a mass of opportunities.

For the past few years, Instagram has been the perfect place to promote your business. And since introducing the Instagram Stories feature, it became a game-changer platform for any business owner. With a reported, 500 million daily Instagram stories users, Instagram has become the best market to sell your product, grow your engagement, and build brand awareness.

In this guide, we will outline Instagram stories, why should they be added to your marketing strategy, how to use them for your benefit, give you some tips and tricks to improve your experience, and let you know what are the latest new features added by Instagram.
Without further ado, Let's get started!

In this guide:

What is an Instagram story?
Why Instagram stories for business.
How to use Instagram stories for your benefit.



What is an Instagram story:

Instagram stories were first introduced back in 2016, and they got a lot of backlash saying that it is a copycat of Snapchat's feature. This feature allows you to share multiple photos and videos which are visible to your followers. This slideshow reel of pictures and videos will vanish after 24 hours, letting you share your day and your moments with your audience, without worrying that it will be displayed on your feed and ruin your theme.
With an unlimited number of tools, graphics, and filters, Instagram stories could be fun, entertaining, and creative. Nothing better than that could help you showcase your business.

Why Instagram Stories for your business:

According to surveys and as we mentioned before there are more than 500 million daily stories users, and about 1 billion active Instagram users every month, with approximately 200 million users visiting at least one business account in a day.

Also, as the term FOMO has been going around a lot recently, we are sure you know what it is or at least has heard of it before. FOMO is short for fear of missing out and it is that anxious feeling we all got when we think we are missing out on something. And Instagram stories are the best portrayal of the term as they do not last more than 24 hours. The short lifespan is what makes them special and tempts people to open them.

Still not convincing? Here, we have listed for you other reasons why Instagram stories are an important tool for any marketing strategy:


More engagement with your current users: Instagram provides you with an endless number of tools and content ideas to use to engage with your audience in a simple and easy way. This can help you grow your business and build a strong relationship with your followers.
Reach more Instagram users: Instagram stories' advantage is that they are discoverable. Not only your followers can view them but also those who don't follow you yet. In fact, 2/3rds of the Instagram stories visits are from non-followers who want to learn more about the products and businesses on Instagram.  
Drive Traffic to your Website: You can drive immense traffic to your website and increase engagement when adding links to your stories. You can also direct your followers to purchase products from your website by incorporating effective CTA's or by using the "Swipe Up" feature.
Humanize your brand: There ain't a better way to show the humane side of your brand than Instagram stories. With a short life span, no likes, and no comments, it is the best place for you to break free and step out of your comfort zone. Show your audience your workplace, the backstage, or the process, and give them a glimpse of yourself.

How to use Instagram stories to your benefit:
When it comes to Instagram stories, it's not only because of their addictive design that we are stuck watching tons of them for a long time than we planned to. It's also because of loads of easy-to-use features that increase audience engagement from polls and filters to GIFs and stickers. That's why it is the best for businesses to be.
Now, if you are bewildered about what you should post on your stories and looking for ideas, here are some brilliant ways to use Instagram stories to get the most out of them:

Announcements and countdowns: Keeping your followers updated on what your business is up to is a smart move. By using Instagram stories, you can announce sales, discounts, new products, giveaways, new blog posts..etc.
Polls stickers: A fun and quick way to engage your audience, by simply asking a question. Since their release, polls stickers were very popular among the users helping creators create a stronger sense of community on Instagram.
Story Highlights: A game-changer feature that was introduced to Instagram in late 2017, to extend the lifespan of the stories. Stories saved to Instagram stories Highlight are there to stay acting as an extension to the brand's bio and helping the visitors to easily discover the brand and its products.

Lives: Live videos have a lot of impacts and help boost instant engagement. As your followers get a notification every time you happen to go live and can connect with you. That's why you have to do it when you are ready and daring to be in front of an audience and able to answer non-predicted questions.



Know how to use Instagram's algorithm to know more about how to use Instagram stories to your benefit: Understand Instagram's Algorithm first
Without a doubt, Instagram stories have proven themselves to be an immensely valuable addition to the business world in recent years. As many brands have already taken advantage of these tools and realized the benefits, it's now your turn if you haven't already. Don't wait too long - or else this opportunity may slip through your fingers!