76 Engaging Instagram Posts Ideas for Small Businesses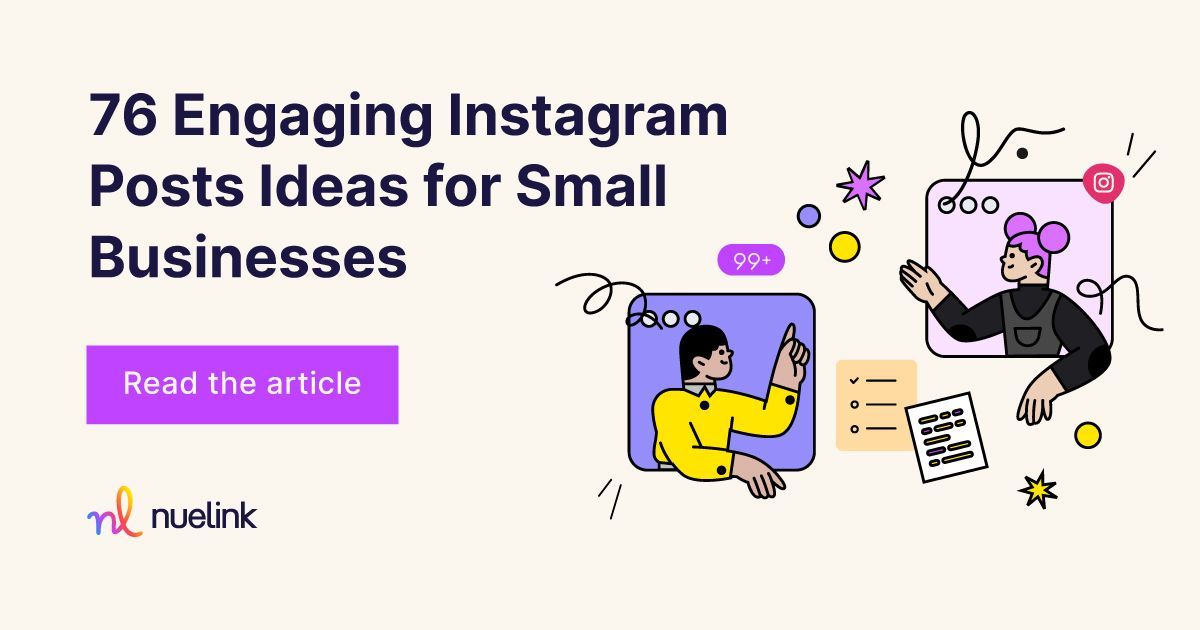 Instagram is considered a powerhouse when it comes to social media marketing, and it's pretty much expected that your brand will be on Instagram at this point.

But Instagram is more than just a photo-sharing platform. From advertising to giving knowledgeable guidance and inspiration to holding contests and developing relationships with your followers, Instagram can be used for all of that.

In spite of that,  it can be challenging to come up with Instagram content that aligns with your business goals whether you're brand new to the platform or have been active for a long time.

There are so many tools, options, and kinds of material that may help you interact with your audience and expand your Instagram following. This article will outline different sorts of Instagram posts and provide engaging ideas for your Instagram feed that will benefit your followers, drive traffic to your website, and keep people interested in your business.

76 great Instagram post ideas
Not sure what to post on Instagram or want some ideas to get started? Here are some Instagram post ideas to make making content easier than ever.
There are several options available here! Some are simple and quick. Others will need planning, such as running a contest.
Let's start:
Introduce yourself and your business.
Help your audience with tips and tricks posts.
Share your New year's resolutions.
Celebrate the past year's achievement.
Share the coming year's goals to achieve.
Share some small wins.
Educate through How-to posts.
Bring some throwbacks to your timeline.
Make tutorial videos.
Share your work environment through videos.
Broadcast instructional Live videos.
Get real with Reels.
Announce an event.
Make some Collaborations.
Share posts you have been featured in.
Post some behind-the-scenes.
Promote recent projects.
Collaborate with a brand or another influencer.
Share a holiday post.
Give a glimpse of your daily routine.
Show your followers some good and healthy habits.
Announce a new project.
Celebrate your achievements.
Host a giveaway.
Demonstrate your products or your work.
Share interesting statistics related to your niche.
Offer organization tips.
Celebrate your culture and heritage.
Celebrate a national holiday from your heritage.
Request some feedback.
Share a discount.
Answer some FAQs live or in the comments.
Take part in a weekly or monthly challenge.
Give some time management tips.
Share bad habits you've broken.
Share a challenge you've overcome.
Unveil a new product.
Introduce your team and co-workers.
Share your work process.
Talk about a situation that inspired you.
Share snippets of your daily life or work.
Open up about your struggles.
Talk (or show) about what your days off look like.
Talk about your favorite books/courses/content related to your field.
Talk about your proudest moment.
One of the best images you've ever shot.
A photo from a memorable photo shoot.
Offer a discount.
Feature an employee.
Talk about production and manufacturing.
Talk about your brand story, name, and how you come up with it.
Repost a customer's photo, result or testimonial.
Talk about a memory from your childhood.
Talk about a defining moment in your life.
Share rarely known hacks.
Make some freebie or content upgrade.
Share some outtakes.
Share memes, of course!
Online store walkthrough.
Game challenges.
Repost some social media content from your followers.
Talk about a social cause you care about.
Share your community involvement.
Partner with influencers for content.
Spur some of your creative processes.
Share some encouragement.
Point people back to your blog through your Instagram posts.
Share your podcast episodes.
Show your to-do list.
Follow it with a post on your progress.
Give an inside look at what you've been up to.
Share a piece of your business journey story in an Instagram post.
Celebrate anniversaries.
Share a company's culture post.
Share some "work in the wild" posts.
Make some before and after transformation posts.