Instagram Creator vs. Business Account, Which One Is Right for You?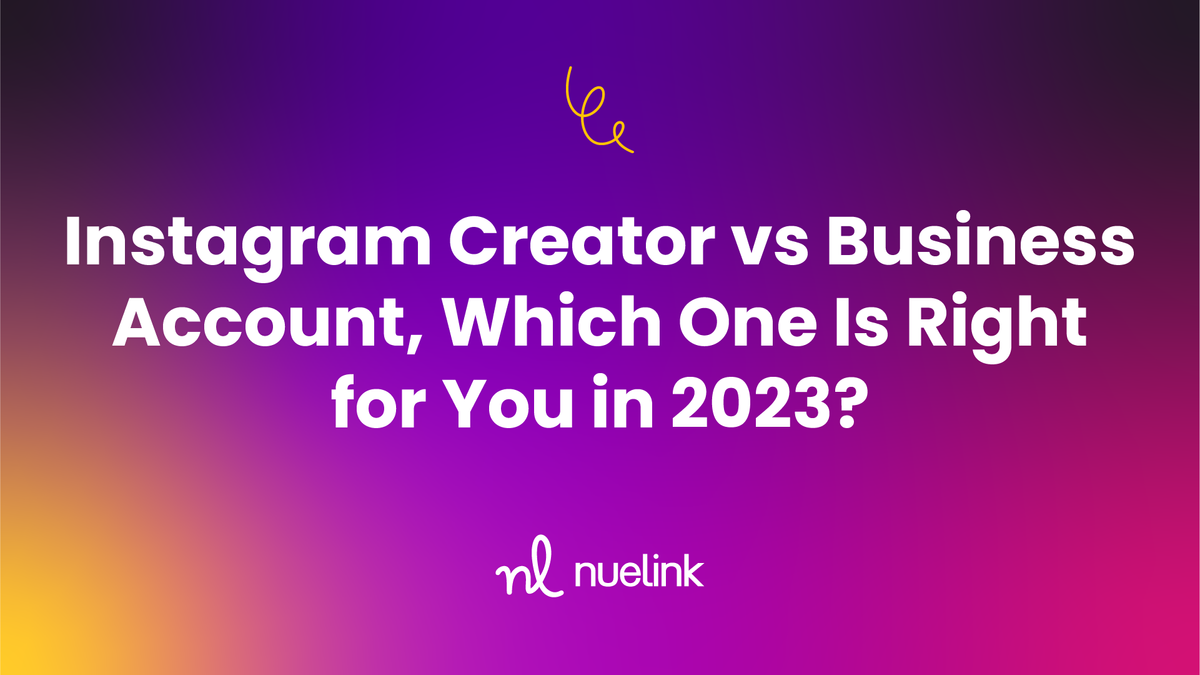 Instagram has become a powerful tool for individuals and businesses to connect with their audience and share their stories. With its growing popularity, Instagram has introduced different account types to cater to the unique needs of its users.
What Are the Types of Instagram Accounts?
Personal account
Business account
Creator account
What is an Instagram personal account?
Personal account: An Instagram Personal Account is the regular account that everyone gets by default. It is the best option for people who just want to share their daily life with friends, family, and followers. It is not for people that interested in monetization or selling goods to their audience.
---
The features offered in a personal account are straightforward and simple, allowing for easy navigation and use for the average Instagram user.
However, personal accounts lack advanced features and tools that are available in Instagram's Business and Creator accounts. These advanced accounts cater to individuals and organizations who use Instagram as a platform to promote their personal brand or business.
Instagram personal account Pros:
Privacy control: You can control who can view your posts, stories, and profile
You are allowed to use the Instagram Music library for Stories and Reels.
Instagram personal account Cons:
Limited Reach: Limitations in terms of reach and visibility
Limited Analytics: Instagram personal accounts have limited access to analytics and insights about post performance, audience demographics, and engagement metrics.
What is an Instagram creator account?
Instagram creator account is a professional account specifically for content creators who make their living through creating and sharing content online. It provides content creators with the tools and resources necessary to build their personal brand, grow their fan base, and engage with potential brand partners within their niche industry.
---
In mid-2019, Instagram introduced the Creator account option to cater to the needs of content creators. The goal of the Creator account is to provide content creators with the tools and resources necessary to build their personal brand, grow their fan base, and engage with potential brand partners within their niche industry.
Creator accounts offer several unique features that set them apart from traditional business profiles. One of the key benefits of a Creator account is access to detailed insights into your audience and performance metrics. This includes information on your audience demographics, the best times to post, and other important metrics. This information can help you make informed decisions about your content and reach your goals more effectively.
Another benefit of a Creator account is the ability to add contact options with Call-to-Action buttons. Although creators have fewer button options than Business accounts, they can still add a variety of calls to action to their profiles, such as "Contact" or "Book Now." Additionally, Creator accounts provide daily data on follows and unfollows, allowing creators to track the performance of their content and adjust their strategy accordingly.
The Creator Studio is another valuable tool for Creator account users. This platform consolidates all of your account data and analytics into one convenient location, providing you with a comprehensive view of your account's performance. Additionally, Creator accounts also include inbox sorting, which allows you to sort your direct messages into Primary, General, and Request boxes, making it easier to manage your inbox and respond to your followers.
Creator accounts also feature a label beneath your display name, highlighting your niche or specialty, and providing visitors with a clear understanding of what you're all about. Overall, the Creator account is a valuable resource for content creators who are looking to grow their brand and engage with their audience on Instagram.
Instagram creator accounts Pros:
Access to Insights and Analytics: You can gain valuable information about your audience demographics, engagement metrics, reach, and impressions
DM-filtering: This is game-changing for everyone who wants to manage their messages more efficiently. With this feature, you can filter your messages by read, unread, flagged, or subscribers…
Instagram creator accounts Cons:
Low organic reach: In recent years, Instagram has significantly reduced the reach of posts from creator accounts in order to maximize revenue from paid advertising and sponsored content.
Scheduling problems: Currently, you can't connect your creator account to a third-party tool like Nuelink, to schedule, manage, and automate your posts. You have to do everything manually using Creator Studio.
What kind of people should use a Creator Instagram account?
This includes but is not limited to.
Artists
Designers
Photographers and Videographers
Writers and Bloggers
Models and Influencers
What is an Instagram business account?
Instagram Business accounts are specifically designed for brands and businesses to help them achieve their marketing goals. They come equipped with a range of features and tools that make it easier for businesses to reach their target audience and engage with their customers.
---
One of the key features of Instagram Business accounts is the ability to add Call-to-Action buttons to your profile. This allows visitors to your profile to easily get in touch with your business, book appointments, make reservations or contact customer service with just a single click. This can help increase conversion rates and drive sales for your business.
Another great feature of Instagram Business accounts is the detailed insights they provide into your audience and content performance. You can see information such as the demographics of your followers, the best times to post, and various metrics on your post engagement. This data can help you make informed decisions about your content strategy and optimize your posting schedule for maximum reach and engagement.
Instagram Business accounts also offer integrations with third-party tools, so you can automate certain aspects of your social media marketing. For example, you can use a social media management tool like Nuelink to save time and streamline your workflow. Additionally, you can promote your posts as ads, which can help you reach a wider audience and drive more traffic to your profile.
The label beneath your display name is another useful feature of Instagram Business accounts. This label provides a clear and concise description of what your business is about, making it easier for your audience to understand your brand and what you offer. Additionally, if you have an e-commerce store, you can sync it with Instagram to take advantage of shoppable posts. This allows your followers to purchase products directly from your Instagram posts, making it easier for them to shop for your goods.
Lastly, Instagram Business accounts provide better access to influencer networks. This means that you can reach out to influencers in your niche and work with them to promote your brand, reach a wider audience, and increase conversions.
Instagram business account Pros:
Shoppable posts: This is a specific kind of post that allows the business owner to tag products directly in feed posts, Instagram Stories, IGTV videos, Reels, Guides, and Live broadcasts.
Advertising: Business Accounts can create and run ads on Instagram to reach a larger audience.
Instagram business account Cons:
The price per ad is a little high: The elevated ad prices may limit the accessibility of advertising options for smaller businesses or individuals with limited budgets.
Instagram's SWIPE UP feature, which allows users to add external links to their stories, is currently restricted to accounts with 10,000 or more followers.
How to check your Instagram profile type:
To check your Instagram profile type:
Open the Instagram app and go to your profile.
Tap the three horizontal lines at the top right.
Select "Settings" and go to "Account."
Identify your profile type: Personal, Business, or Creator.
Business or Creator: Which one is better for your brand?
Choosing the right account for your brand is not a 'whatever' step; it is a crucial step. Because in the process of increasing your brand visibility, each small detail matters.
However, it's important to note that both account types have become increasingly similar in terms of their available features.
For more details, here is a list of the different features available at each account:
An Instagram business account may be better than a creator account largely due to its ability to integrate with third-party tools such as Buffer, Nuelink, and Hootsuite.
Which makes creating content on Instagram less time-consuming.
One of the main reasons Instagram offers both Creator and Business accounts is to cater to the unique needs of each group. For example, creators may prefer the artistic and creative freedom offered by the Creator account, while businesses may prioritize the more convenient and data-driven approach of the Business account.
Switching to a Business account can provide a range of valuable insights and tools that can help you grow and succeed on the platform. These insights include analytics on your followers, engagement rates, and post-performance, as well as the ability to create and run ads.
Another important point to consider is that what may be better today does not necessarily guarantee the same tomorrow, especially in the ever-evolving social media landscape where new updates emerge regularly. Therefore, regardless of the type of account you currently use (or plan to use), it is crucial to stay up-to-date with the latest social media news.
You are the only one who can determine which account is more suitable for his needs. However here is another list that you should consider before making the decision:
Goals and Objectives: Why you are using Instagram? What objectives you are planning to achieve for your business by using Instagram? Do you want to create a personal brand or promote products?...
Features and Tools: Are there any tools you are planning to integrate with your Instagram account? Does your current account allow you to do that?
Verification: Are you planning to get the blue verification badge?
Insights: How significant are Instagram insights in informing your business decisions? Do you rely on them as a reliable metric to assess your business progress accurately?