Nuelink: A Powerful and Affordable Hootsuite Alternative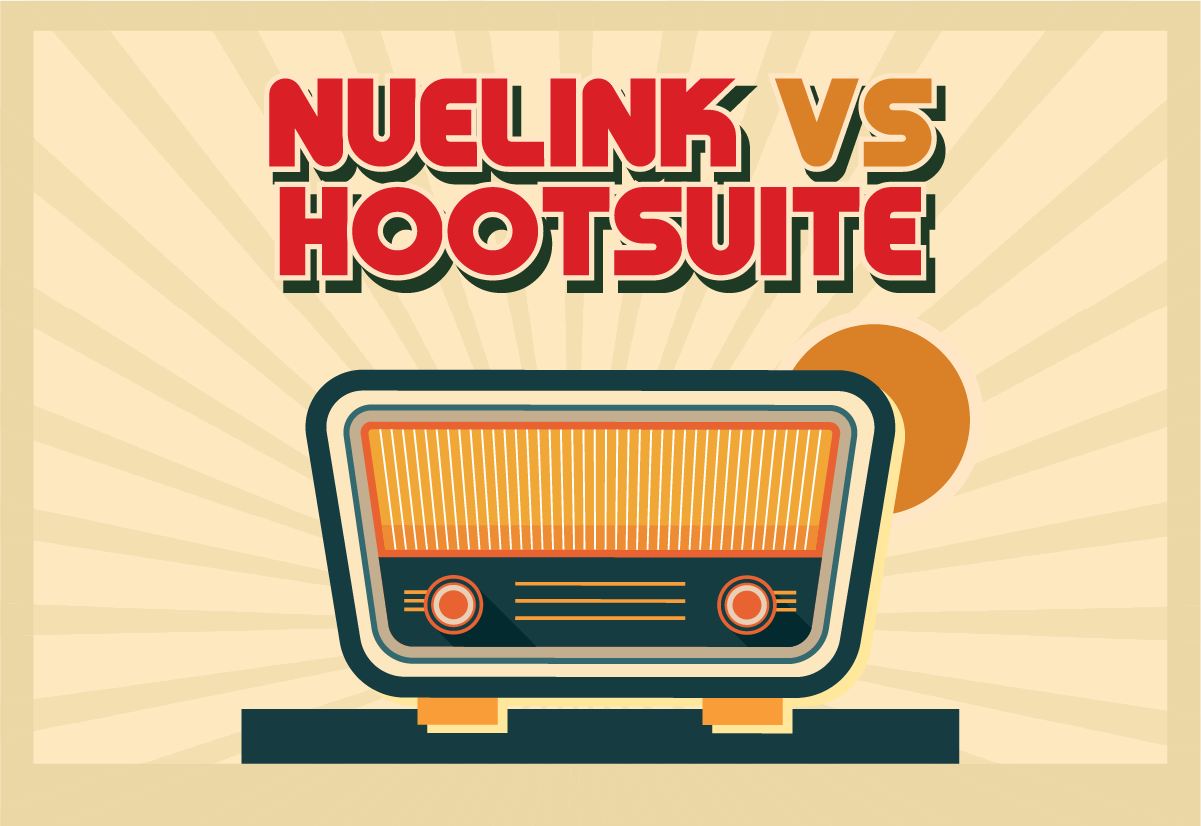 When you go looking for a social media management tool, the first one listed is often Hootsuite, and that makes sense.
Hootsuite has been on the market for some time now offering social media managers and agencies a place to manage all of their social media channels. And, for a time it was one of the best on the market.
But, that train has left the station. Lately, Hootsuite has suffered from a lack of creativity as the tool fails to keep up with the rest of the industry and continues to up its prices.
Nowadays, there are a bunch of Hootsuite alternatives that will not make you compromise on features for a more affordable and reasonable price.
Let's find out about a Hootsuite alternative that is more bang for your buck.
Why Investing in Hootsuite is not worth it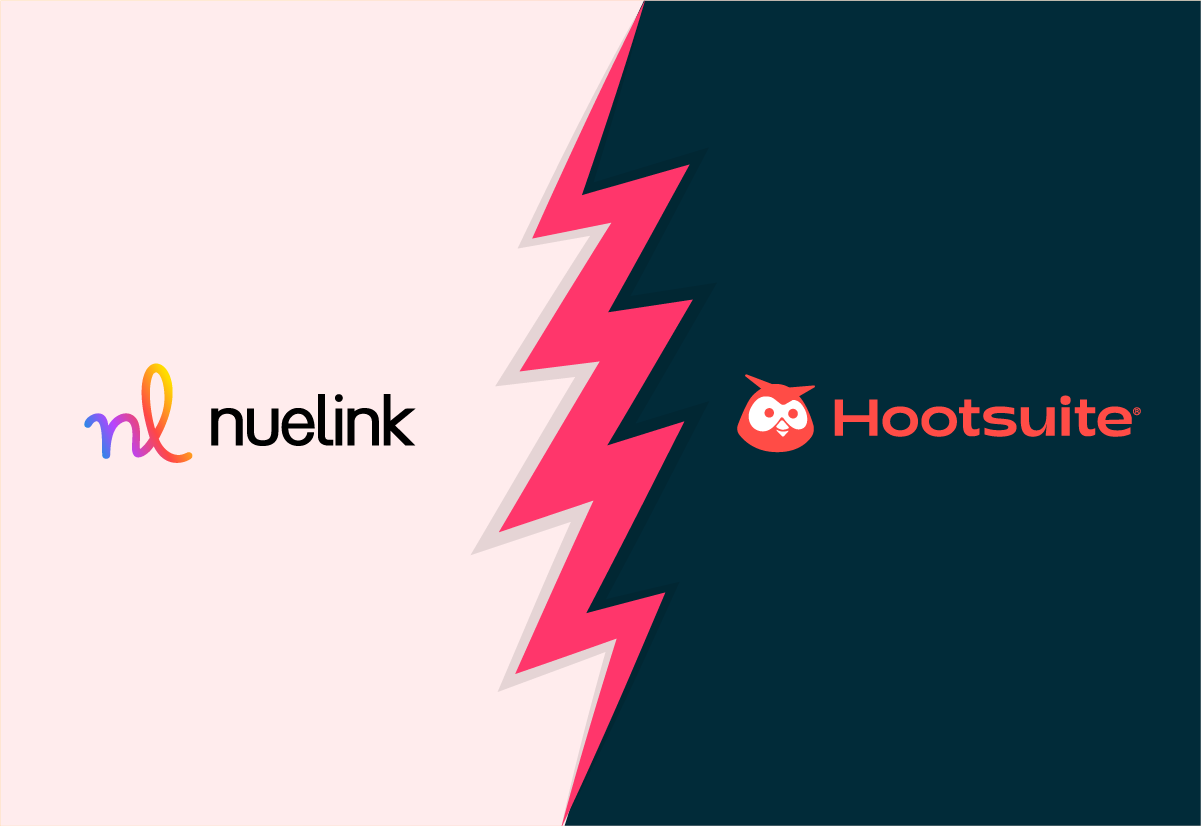 Hootsuite was expensive, to begin with, but with the latest price spike, it is literally not worth the price tag. Their base plan of minimal social media features is $99/mo.
Their social media automation offerings are lacking and not nearly enough to reduce your workload.
Even their more expensive plan which is priced at a whopping $739 set limits on all features, and users have to pay extra for anything else on top of that.
It's not suitable for agencies as it doesn't streamline collaboration between team members and clients.
Inviting team members and their built-in content library are only available for their biggest plans, the cheapest starting at $739/mo.
If you don't pay a minimum of $739/mo, forget about customer service.
It offers limited insights and data on your brand's performance.

Here's a side-to-side comparison between Hootsuite and one of the best alternatives on the market, Nuelink.
Nuelink vs Hootsuite
Best social media management tools going head to head...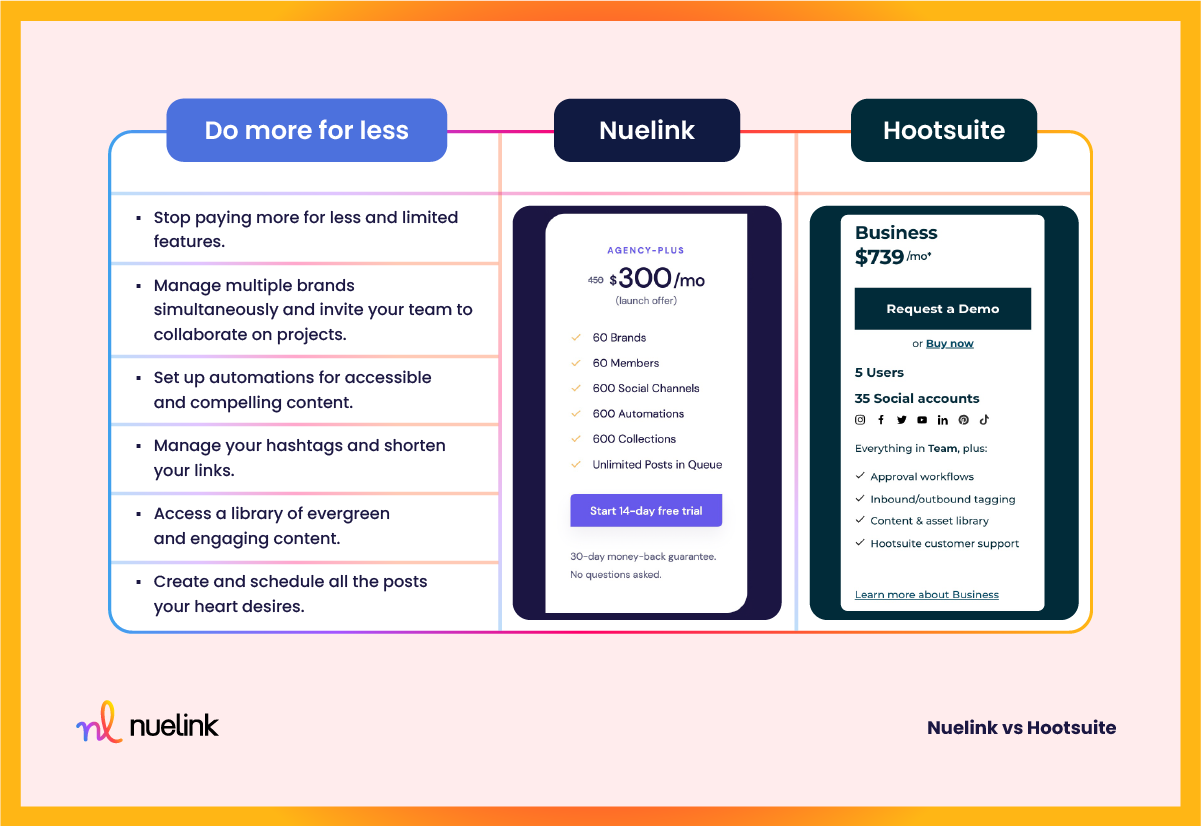 Nuelink's Top Features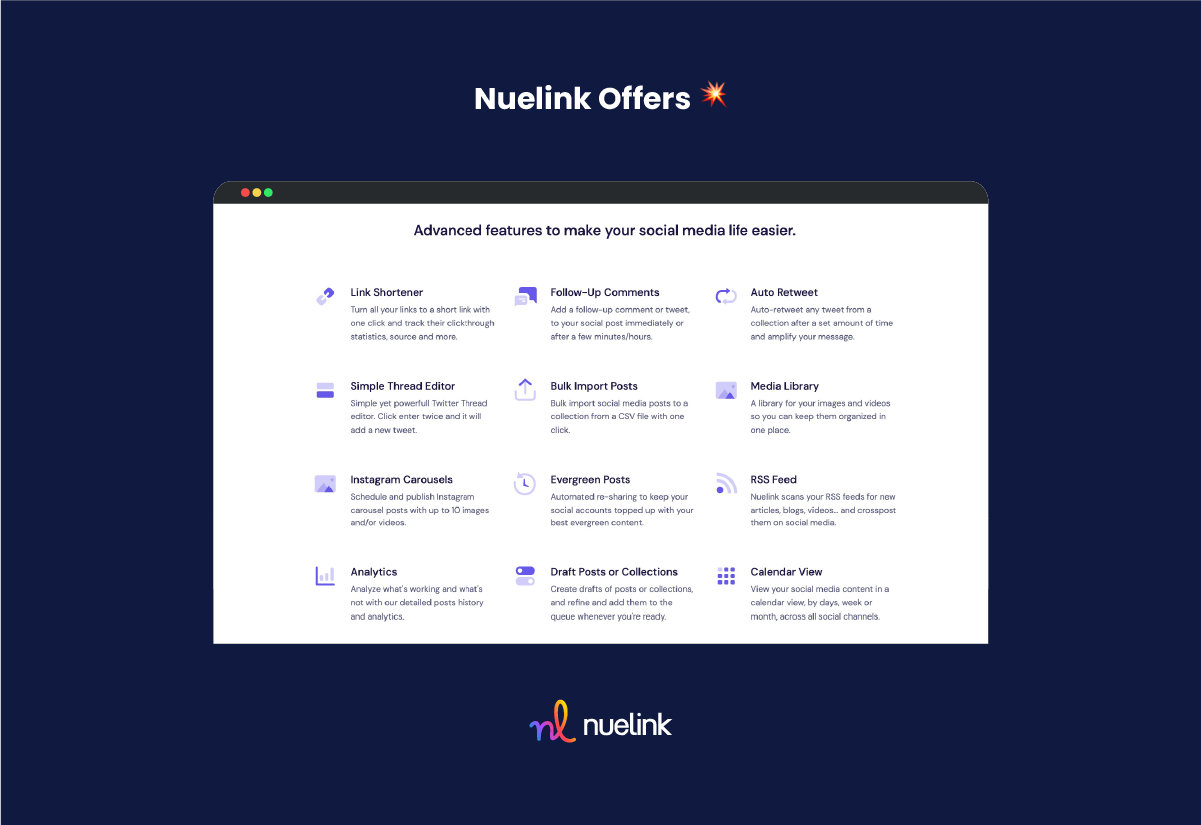 Manage your social media channels from one user-friendly dashboard
With Nuelink, you can access all of your social media channels in one user-friendly dashboard. Users can create and manage different collections that allow them to sort their posts and schedule content in any given collection.
Agency Features
Nuelink offers many features for teams and agencies to collaborate on their social media marketing campaigns. These features allow social media managers to manage each client's social media content on a different dashboard called Brand. To encourage teamwork, Nuelink also offers a Members' feature that facilitates collaboration in creating amazing content.
Social Media Automation
Whether you are a blogger, E-commerce seller, podcaster, or YouTuber, you can cut down on your workload with Nuelink by automating many different platforms to auto-post to more than 8 social media channels. Once you set up your automation of choice, Nuelink will check your platforms hourly and create social media posts of your products' listings, blogs, podcasts…
Social Media Cross-posting
Nuelink also offers social media cross-posting that enables you to auto-post social media content from one channel to all other channels. It supports cross-posting of various content types and currently offers Instagram Crossposting, LinkedIn Crossposting, Pinterest Crossposting, and Twitter Crossposting. This feature is one of a kind.
Smart Content Creation Features
Nuelink allows users to set their content to Evergreen to make the most of it. It supports various content types such as Twitter Threads, Polls, TikToks, and Carousels. Users can also upload an entire library of content as a CSV file with a single click, and use the hashtag generator and Unsplash to enhance their posts. Nuelink also offers a link shortener tool that automatically shortens any links shared via Nuelink and provides users with analytics and data about their shared links.
Social Media Analytics and Insights
Nuelink provides analytical features for tracking various metrics such as likes, shares, comments, impressions, engagements, clicks, views, and shares. Recently, they introduced the Insights feature that offers detailed data on users' social media metrics for each of their platforms.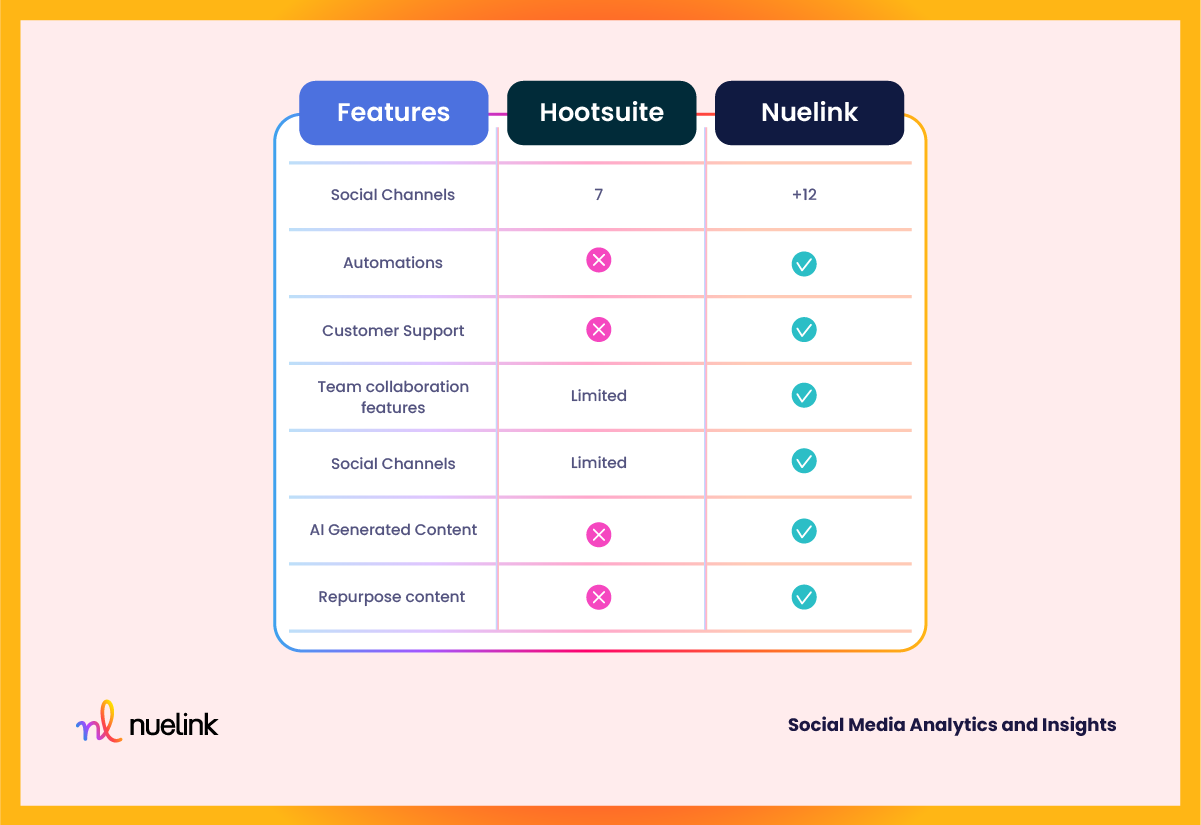 Rating and Reviews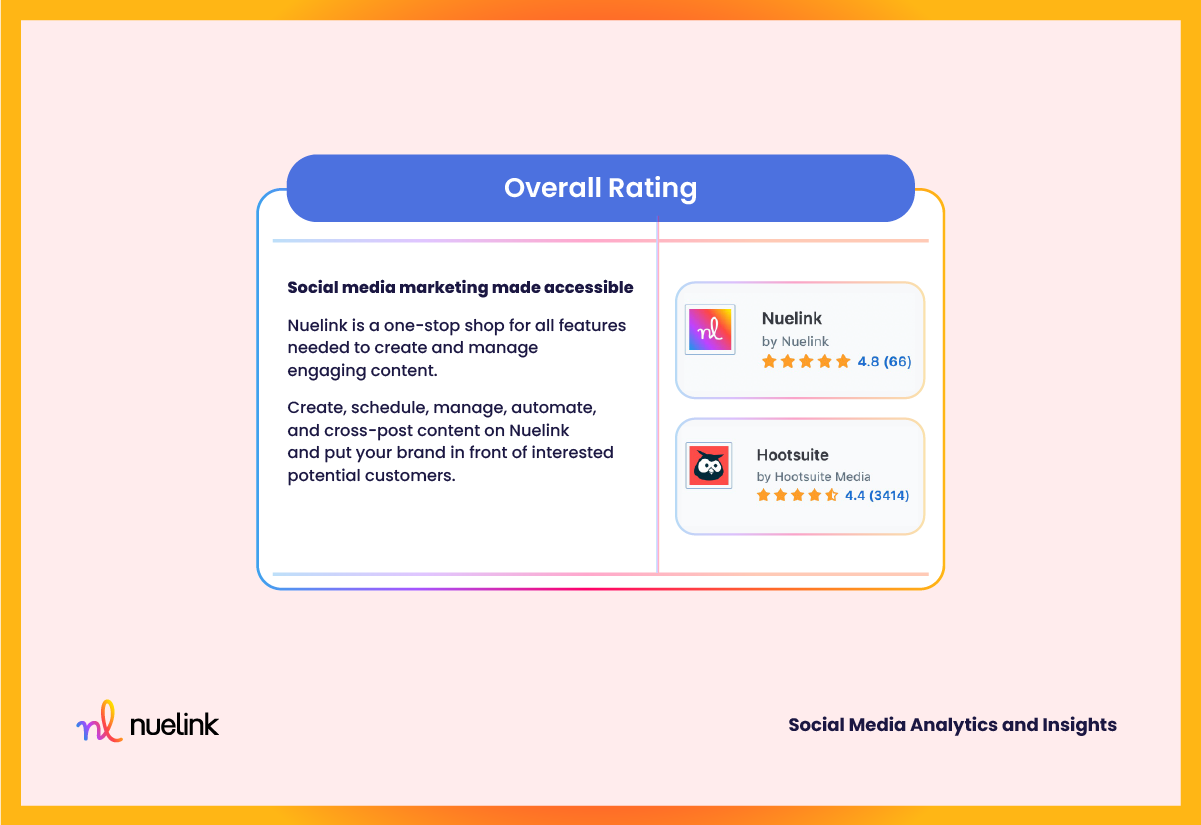 Schedule months of social content in minutes with Nuelink!
Nuelink helps you plan, automate and manage your social media and saves you time to focus on your business while your social media runs itself.
Integrated Automation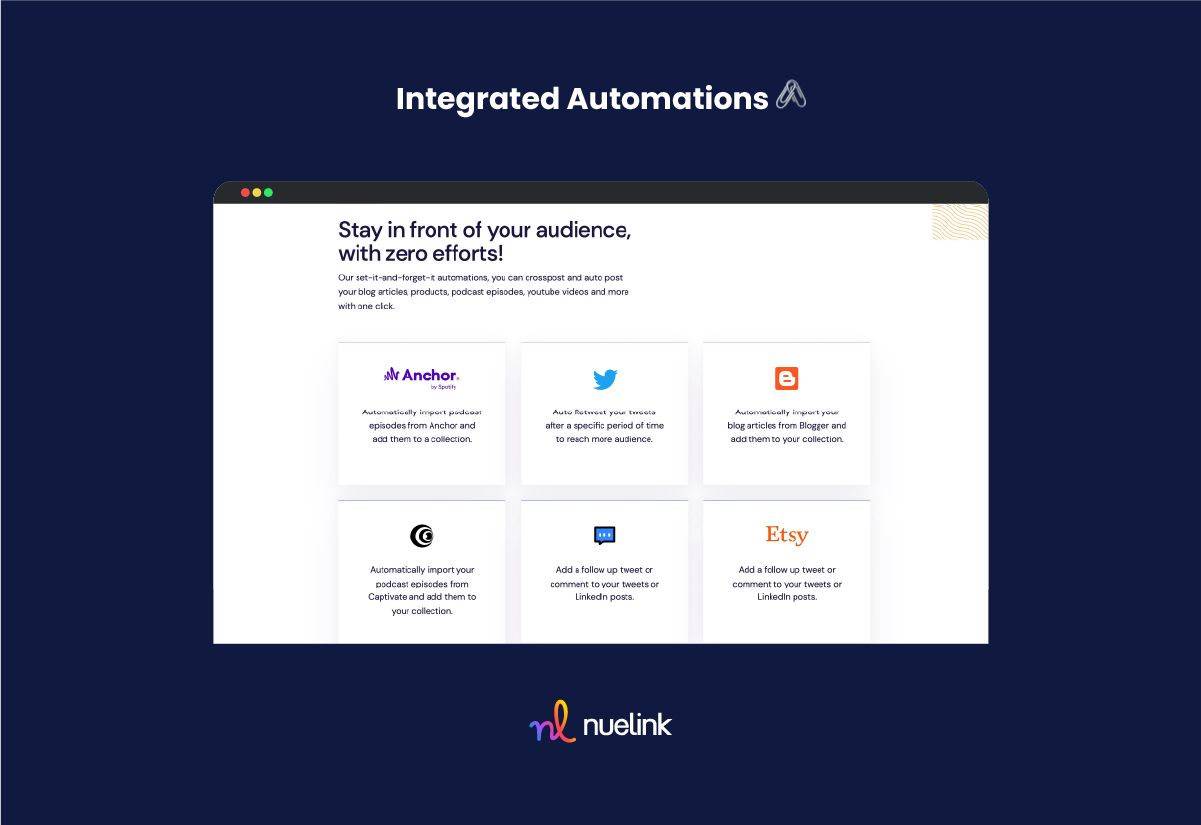 Social Media Automation for Bloggers: Auto-post your blog posts from WordPress Blogger, Ghost, RSS, Squarespace Blog, Substack…to Facebook, Instagram, Twitter, LinkedIn, and more than 8 social media channels.
Social Media Automation for E-commerce Sellers: Auto-post your product listings from Etsy, Shopify, Squarespace Shop, and Woocommerce… to Facebook, Instagram, Twitter, LinkedIn, and more than 8 social media channels.
Social Media Automation for Podcasters: Auto-post your podcasts from Anchor, Captive, SoundCloud, and Transistor…to Facebook, Instagram, Twitter, LinkedIn, and more than 8 social media channels.
Social Media Automation: Auto-retweet, Follow-up Comment, Tumblr, YouTubers…Other: IFTTT, Zapier…
You don't have to splurge on expensive social media management tools like Hootsuite to grow your social media marketing agency. All you have to do is to find the tool that is right for your brand.