Ghost Blog Automation: How to Automate Social Media Posts for Your Ghost Blog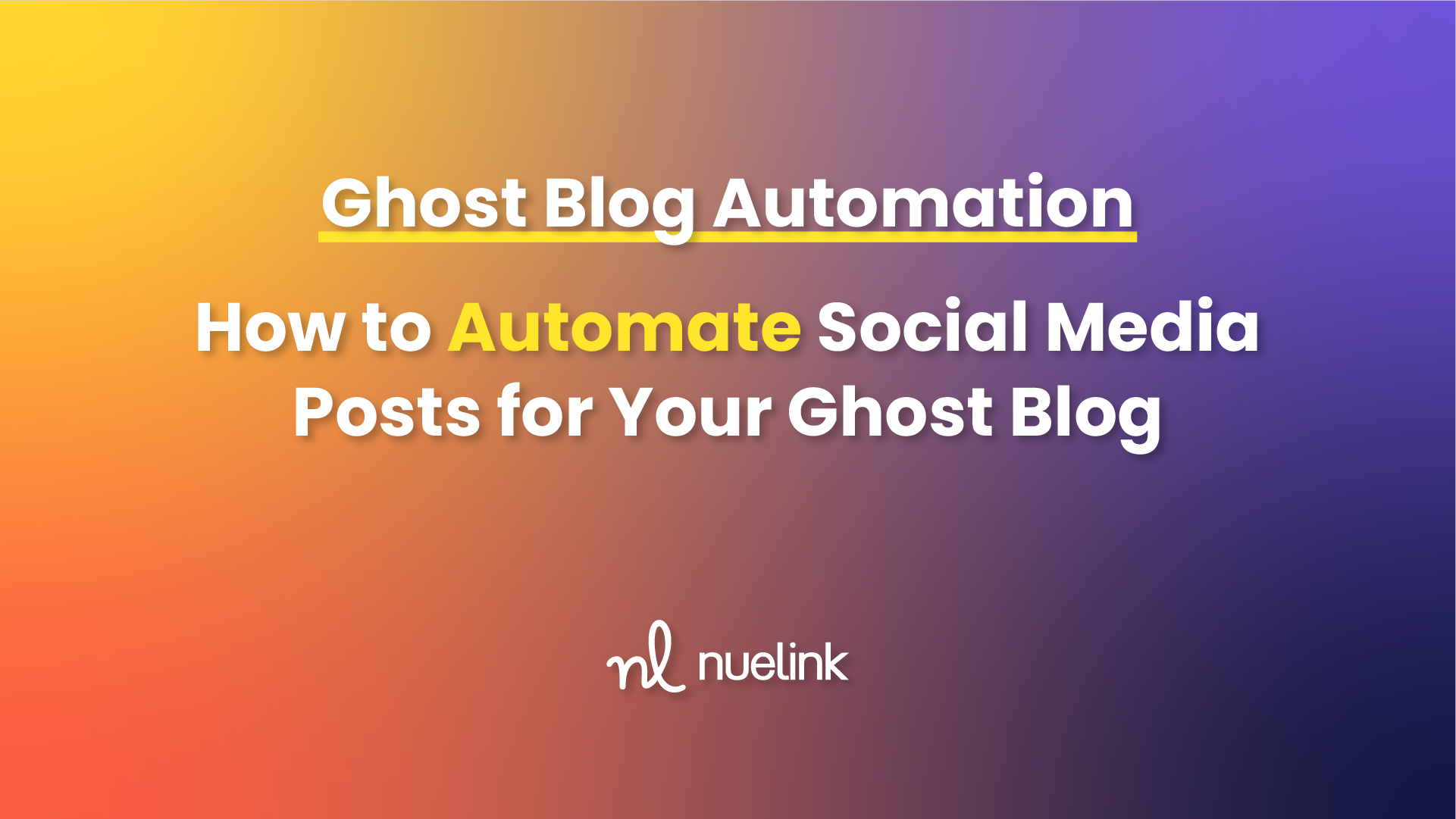 There are a variety of influential factors as to why 54% of the Fortune Top 500 companies have dedicated public blogs on their respective websites. The benefits of blogging are huge.
However, there is a fact that should be highlighted boldly about blogging: Just writing excellent blog articles won't benefit your business at all.
Just writing excellent articles and publishing them on your website won't get you traffic, customers, or opportunities.
Contrary to what the majority believe, the role of blogging is not actually to attract any of these. It's for building a relationship of trust with customers, potential partners, and search engines by providing free value.
Do you know how many blogs are on the internet today? Over 600 million blogs as of 2023.
This means competition is super high, which means you need to find sources for traffic to your blog.
Which one of them is the best? You already know the answer—it is social media.
"Yes, but I don't have time to keep up with social media. I need a lot of time to write creatively for my blog articles."
Exactly, this is the point of Ghost Blog Automation.
---
Are you not using Ghost? Check this out to learn how to automate your blogging platform:
---
What Is Ghost Social Media Automation?
Ghost social media automation refers to the process of using automation tools and plugins to create, schedule, and auto-post your Ghost blog's posts as social media content.
Ghost is a popular blogging platform that enables users to build websites and blogs, create and publish content, and share their expertise with a wide range of audiences.
With Ghost social media automation, businesses and bloggers can streamline their social media marketing efforts and manage everything from one central location. Instead of wasting a significant amount of time working on repetitive tasks related to social media, which affects their creative time to produce high-quality articles, they can rely on an automation tool.
As an example, let's say your business is publishing 4 blog articles per week. To attract traffic to these articles through social media you need to publish each one of them, create its own captions, and a lot of boring steps.
However, if you utilize an automation tool, all of these concerns will be eliminated. The tool will automatically publish your article to all the social media platforms you want as soon as you add it to the blog, adhering to the specific settings you establish for automation, such as timing, captions, hashtags, and more.
Why Should You Automate Your Ghost Blog?
With the AI hype and the fact that anybody can 'create' content using AI tools in 60 seconds or less, the only way to ensure your or your business's success in the realm of blogging is by producing creative, 100% original content with a distinctly human touch that cannot be replicated by AI.
To achieve this, you need ample time (a lot of time). Social media automation tools can create that time for you by eliminating shallow, distracting, and duplicated tasks from your to-do list, allowing you to focus solely on what sets you apart: productivity.
Additionally, consistency is the key. Also, consistency is super hard. Especially, in the social media world, the number of platforms is rising, and the importance of each one of them for grabbing the attention and the traffic for your blog is rising also. Keeping up with all of them is a daunting task.
With these tools, you can dedicate around 90 seconds to set up automation for your blog, and you will never be in need to care about anything related to social media.
How to Automate Your Ghost Social Media Automation?
If you are still new to the Ghost game, or at least, new to the 'Ghost Social Media Automation' game. Here is a brief list of initial steps to follow:
Choose wisely your automation tool
Set up and verify your automation tool
Connect your Ghost blog with the automation tool
Link your social media channels to the automation tool.
Execute an automation process tailored to align with your marketing strategy.
---
What if I am already a Nuelink user? How can I set up automation for my Ghost store?
Glad to hear that you are one of our beloved users! Now let me assist you to set up Ghost automation to auto-post your products to social media.
1. First, Click on Automation on the navbar on the left side of the screen.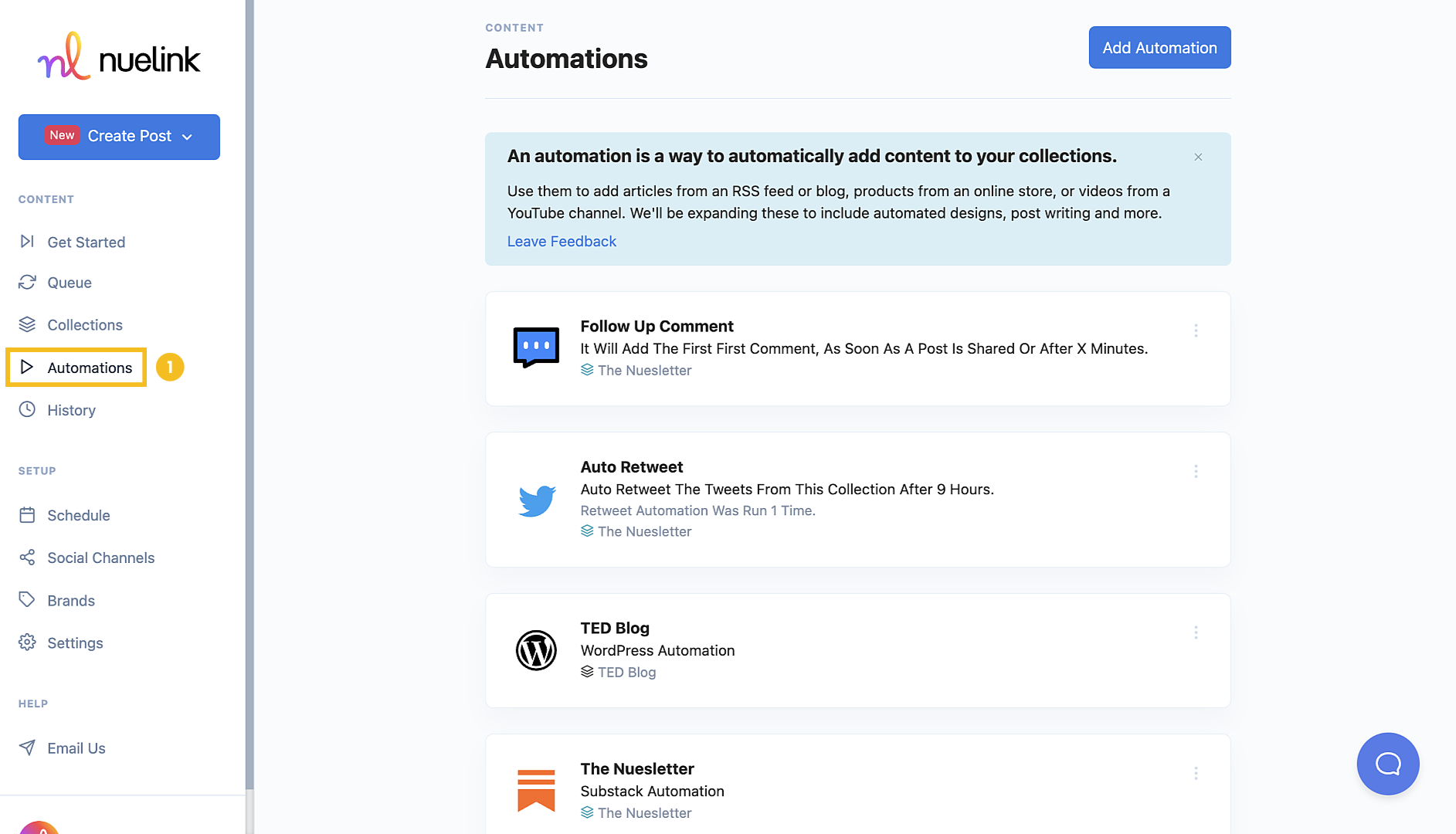 2. Then, Click on Add Automation button on the top right of the screen.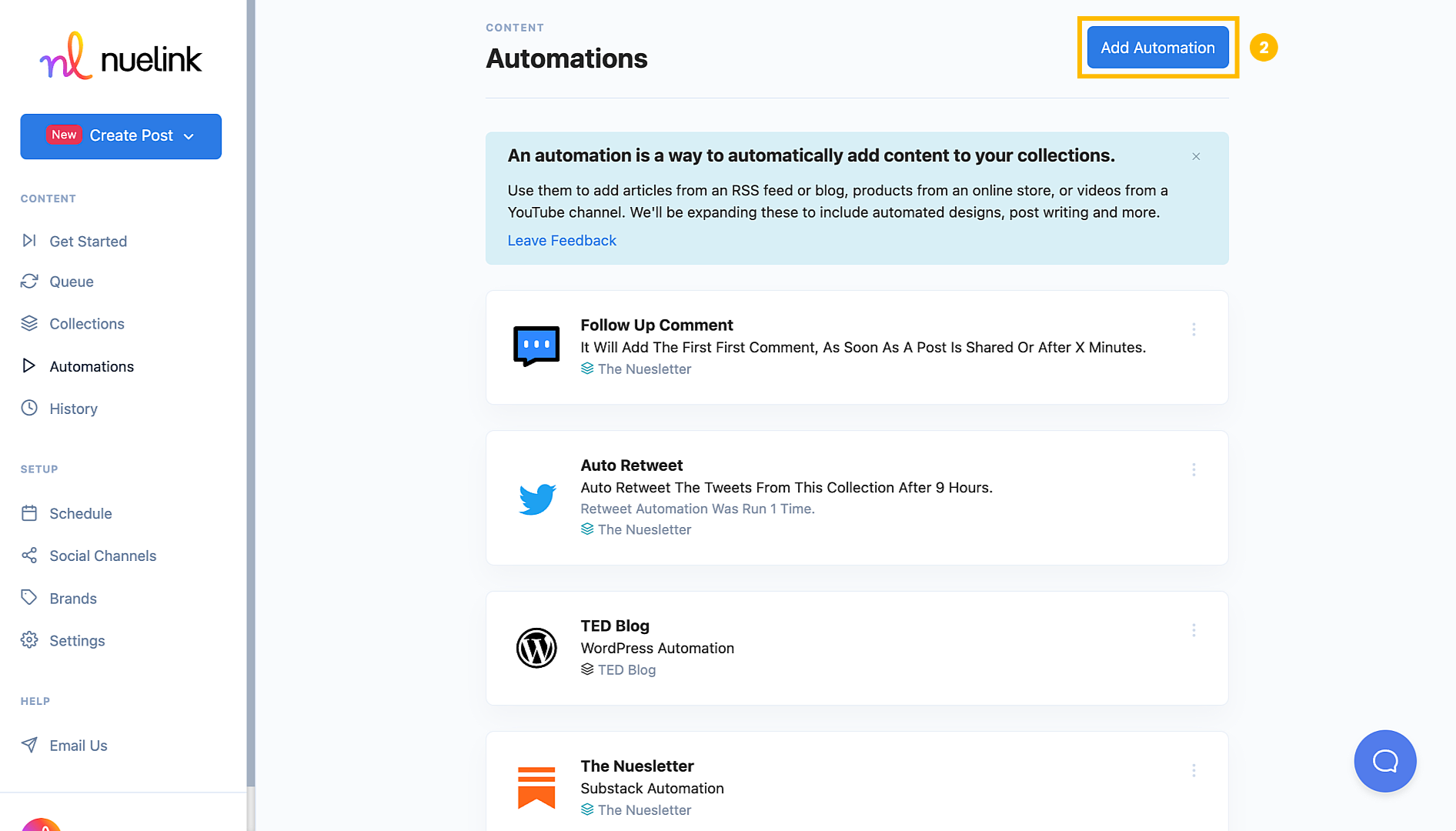 3. Scroll down to find Ghost and click on Add Automation.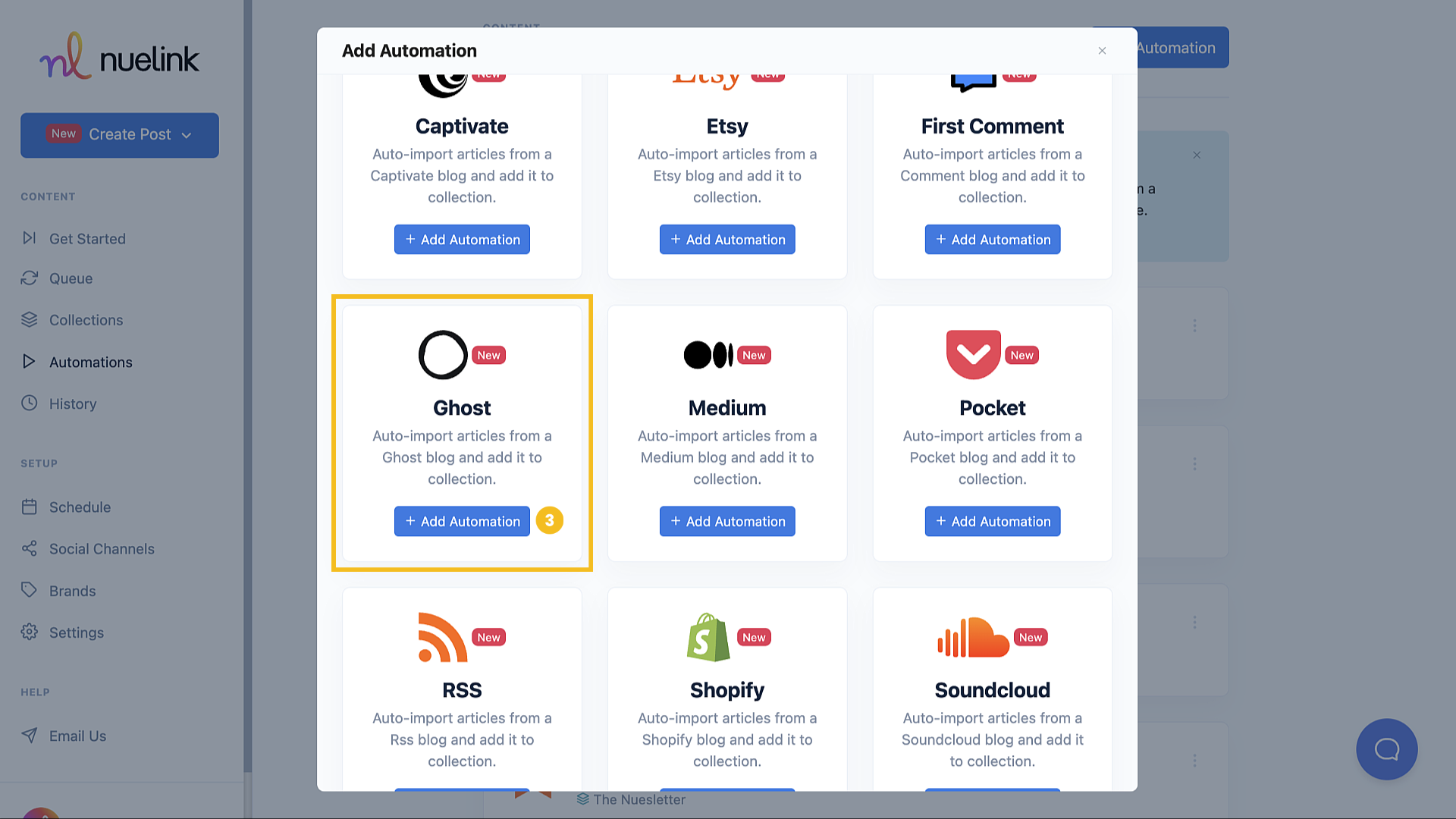 4. Paste a link to your Ghost Blog and select your channels. Finally, click on Add Ghost Automation.
5. Click on Add Ghost Automation and you are done.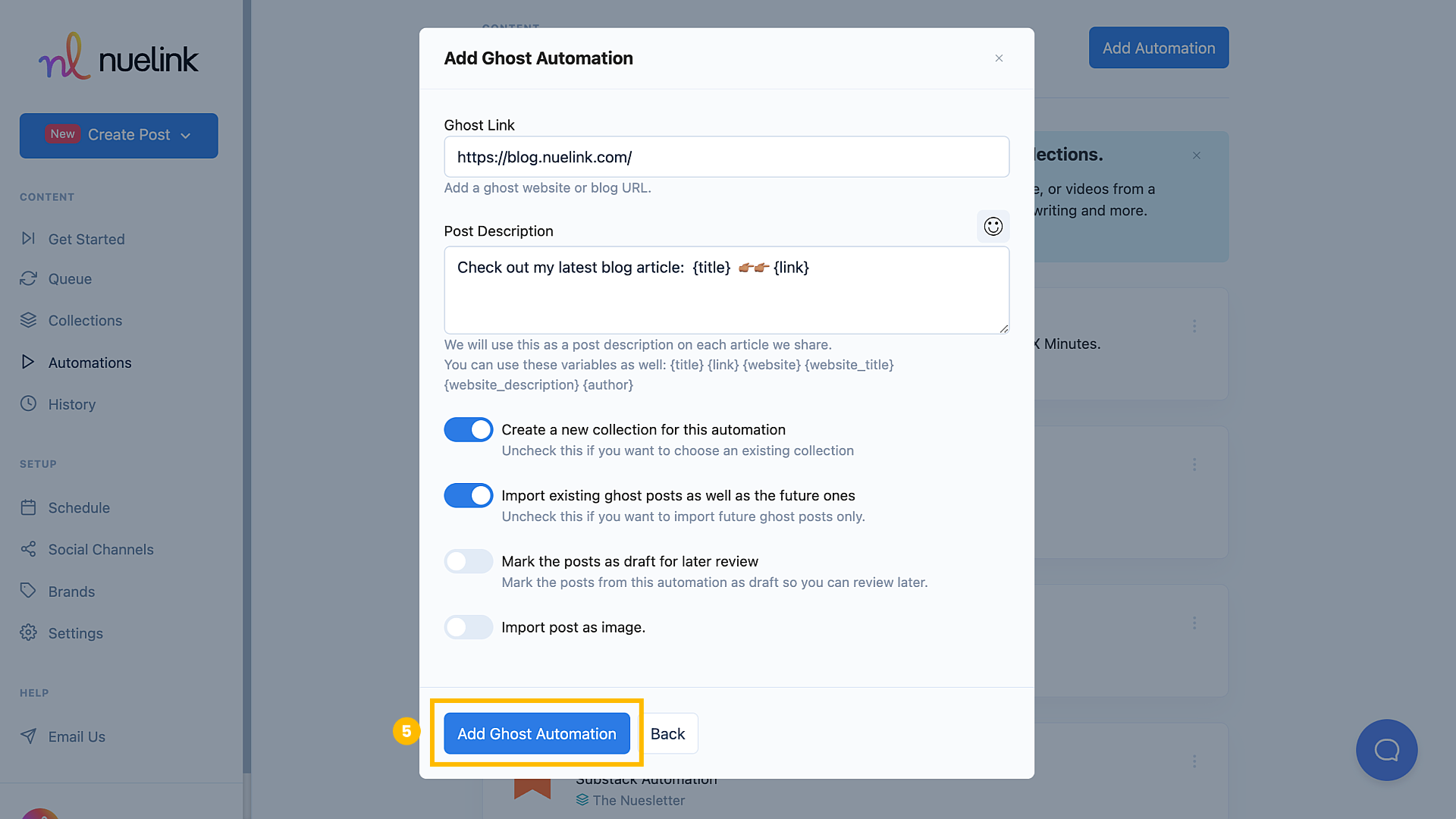 Once your automation is set up, Nuelink checks your blog hourly for new content and creates a post for each one of your existing and future blog posts with an easy link to the posts.