12 Post ideas to boost engagement on your Facebook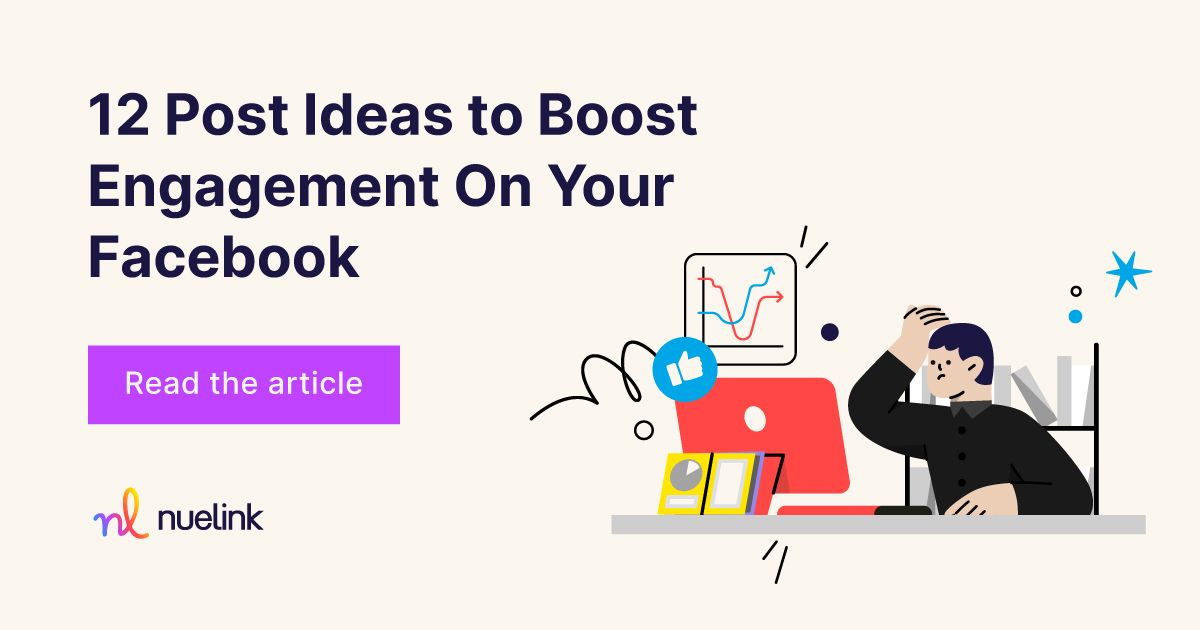 Even after 18 years of its launch, Facebook is still the most popular and widely used social media platform in the world With roughly 2.91 billion monthly active users as of the fourth quarter of 2021.
While the site was originally designed to connect individuals, it is now used by corporations, non-profit organizations and communities, and public figures for network connections, information sharing, and even product and service promotion.
It is a wonderful platform for companies since many customers use it to connect with the brands they like. Given this, it's important to understand how to use the platform to fulfill your business needs. And more importantly how to boost your engagement.
Engagement is a critical business aim that should be prioritized, especially given the large audience reach of social media platforms such as Facebook. However, getting the audience to like and engage with your postings is not as simple as it may look.
In this post, we'll share with you some ways to increase your Facebook Page engagement, many of which are tried and true.

What is Facebook Engagement?

Facebook engagement is a method of tracking how your audience reacts to the content you upload. Likes, comments, shares, and clicks on your post content are all examples of Facebook engagement metrics. It can also include checking in to your business's location, tagging you in a post, watching videos, or reacting to your My Day or Story posts.

Why is Facebook Engagement important?

Social media platforms like Facebook are tools that help you and assist you in developing relationships with your customers. By implying that every time a customer interacts with your posts it shows how much they are interested in what you have to say. And a better social media interaction indicates that your clients have a more positive relationship with your brand. As a result, you'll have more opportunities to boost sales, brand loyalty, and word-of-mouth referrals.

Measuring social media engagement is crucial because it tells you how well your content is resonating with your clients. You may use this data to optimize future postings or to improve your goods and services. It also provides you with a measurable statistic to track your progress over time.
Ideas for Effective Facebook Engagement Posts:
From likes to shares, engagement is all about helping brands measure how well their content is received by their target audience. The more people who interact with your material, the more probable it is that they will take valuable action, such as purchasing your new items or signing up for your latest services.

All of that being said, it isn't an easy task to come up with new and creative content, and the types of posts that your audience will appreciate, and moreover engage with it. It is definitely a challenging process!

So, if you are looking for ways to revamp your Facebook strategy, and you're curious about what you should post on your business Facebook Page that will resonate with your audience, then you've come to the right place.
We've brought to you what you are looking for! A list of 12 different Facebook post ideas that are guaranteed to help you increase engagement.

Let's dive in!

1. Know the perfect time for you:

When posting content on Facebook, knowing the perfect time to post it is almost as important as the content itself. That's because the best time to post depends on several factors.
You can know the best time for you through Facebook insights. You can quickly monitor your social media numbers using Facebook Insights to see when your audience is most active, so you can schedule your posts properly and get positive results. You can also try out different posting on different times and dates first and see what garners the most reach or engagement.
Facebook doesn't have a universal "Time to post", that's why you can keep testing and noting your best results!

2. Tell a story:

A great way to engage with your audience on Facebook is by telling a story. Because stories resonate with people, they remember them and they relate to them. That's why being honest and genuine with your followers will help you create a deeper connection with them.

3. Ask questions:

Another great way to generate engagement is to ask questions. It seems so simple and basic, yet it is very effective. it is a powerful method that is based on two-way communication between brands and their target audiences. By including a question in your post, you urge your readers to participate in the discussion and connect with your business. This boosts your chances of increasing your Facebook audience reach and keeping you relevant in that consumer's feed.

4. Behind-the-Scenes:

Sharing behind-the-scenes content from your workplace is another way to be more relatable. You can take random pictures when working on a new project, a campaign, introducing your employees, or anything similar. You can even stock some pictures to share on days when you have nothing else to post in case of an emergency.


5. Trending Topics:

One of the best ways to increase engagement is to post about trending topics people are talking about. Actually, social media content about trending topics is rewarded by the news feed algorithm. So, by posting about trending topics or joining trending conversations, you will have an opportunity to interact with your audience and increase your chances of appearing in feeds.

6. Videos:

There's simply no better way to keep your audience connecting and interacting with your content than video marketing. Videos are the hottest commodity on social media. It even has an entire watch section dedicated to videos only. That's why videos perform best on Facebook in terms of reach and engagement. whether they're informational videos, educational videos, or any other type of videos altogether.

7. Inspirational quotes:

Not each one of your posts is supposed to promote your products or to drive website traffic. If you are intending to build a nice relationship with your audience adding inspiring posts to your Facebook marketing strategy would be the best decision.
Regardless of your content or your target audience, inspirational quotes tend to perform well on Facebook. They are short, easy to read, and relatable, and it takes the least amount of time to come up with the post. But an excellent way to keep your Facebook page up and running.

8. Memes:
We all love to have a good laugh, who wouldn't. And social media is the place where good and fun entertainment is all over the place. So you should take advantage of that. By taking advantage of trending memes, revise them to make them relevant to your work, and post them on Facebook. Like that, you won't just have the appreciation of your audience, go viral, but also you'll keep them giggling.

9. Host a Contest:
Giveaways and contests are fantastic ways to generate engagement and interact with your audience on Facebook. To gain the greatest interaction, have your competition rules include liking the post, commenting with a friend's name, sharing, and even liking your page. This will certainly leverage the number of engagement activities and help you grow your Facebook following.

10. Promote Your Blog:

Your post blog might have content that gives your audience a ton of value. if you do, then why don't you leverage this interesting content on your social media pages. Post the links on your Facebook page! This will help you increase engagement both on your page and your website and enhance your website's SEO quality. Like that, you kill two birds with one stone.

11. Customers Testimonials:

One of the best Facebook post ideas, which you could recycle as many times as you want in the future is customer testimonials. Many customers believe the testimonials and regard them as references when considering purchasing something from your brand.
Testimonials could also be in many forms; they could be written, videos, photo testimonials with wording, or before and after kind of testimonials. Thus, you should take up the opportunity and put up as many testimonials on the page as possible while staying honest and straightforward.
12. Always Reply:

If you want your audience to engage with you, then you have to reply to all their comments. It's a very simple act but with a great effect.  A brief exchange may greatly help in the building of a positive relationship between you and your audience. This will make them feel heard and encourage them to comment on your future Facebook posts.


Conclusion:

All-in-all, these are a handful of ideas you can use to increase engagement on Facebook and they are not the only options you have to generate high engagement from. Because there is so much you could do with your Facebook business page and the possibilities are endless. But the list of ideas shared on this post will surely help you get started on your way to more likes, shares, comments, etc.
We hope this will help you create an engaging Facebook business page that your audience visits to learn more about what you have to offer and develop.