Nuelink: The Perfect dlvr.it Alternative for Social Media Automation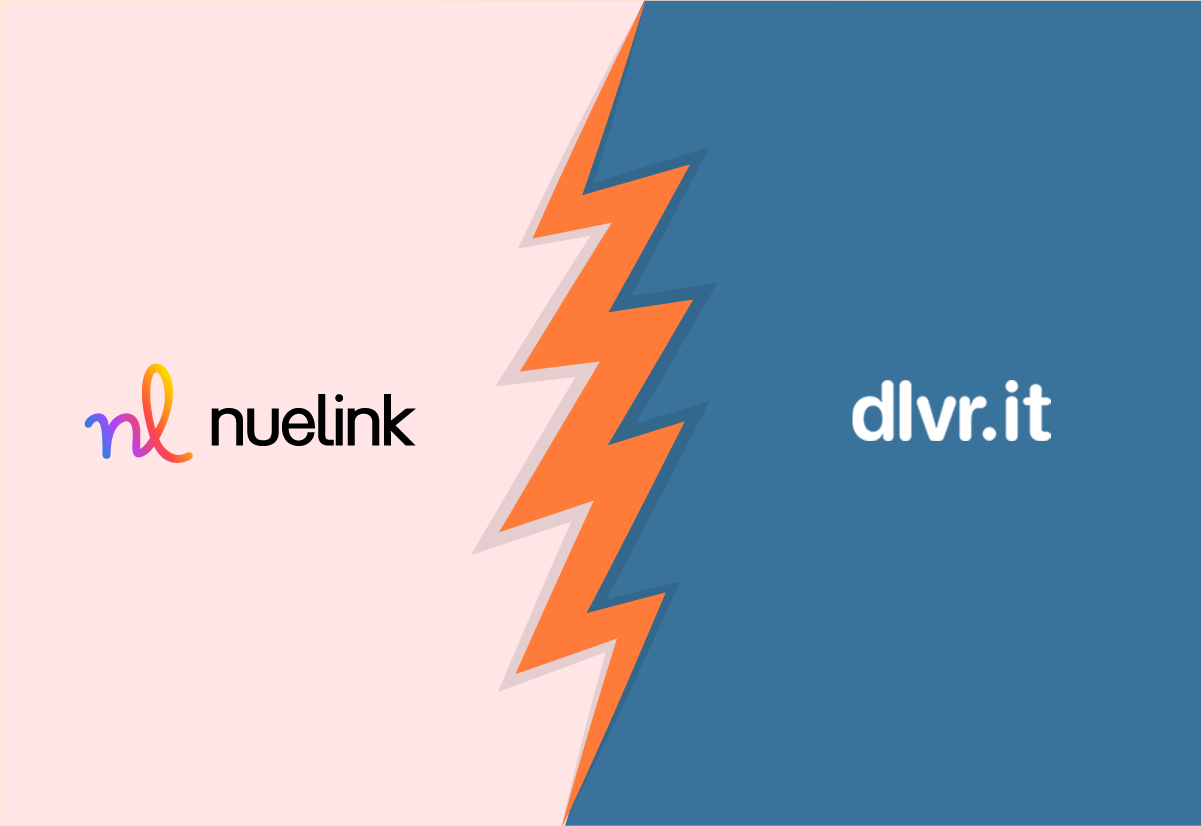 Established back in 2010, dlvr.it brought to the table something no other social media tool could offer back then, social media automation. It was one of the first tools that allowed you to auto-post content from other platforms like WordPress to social media.
Although, to dlvr.it's credit, they were one of the first tools to introduce social media automation to the market, they failed to perfect it and move from the bugs that still plague the site until this day and expand to other markets such as e-commerce.
Now in 2023, you don't have to actually choose between dealing with bugs day in and day out or forgoing social media automation altogether. Other social media management and automation tools have seen the potential these features can bring to agencies and businesses and carried the flag to the finish line.
In today's blog post, we will cover how a certain social media automation and management tool did what dlvr.it failed to accomplish.
Why dlvr.it is not right for your agency
dlvr.it was expensive to begin with for agencies looking for affordable options at $149.99/mo, but now at $199.99/mo, it is just outrageous.
From the offset, you will think that their social media automation offering is extensive, but don't be fooled. More often than not your posts fail to upload and you are left to do the work yourself.
If you want to try dlvr.it for yourself, you cannot. Well, not entirely at least. Their free plan is so limited in features it's almost impossible for users to test the tool for themselves before investing their hard-earned money.
It's not suitable for agencies as it doesn't streamline collaboration between team members and clients. Especially, for larger social media agencies since you cannot invite many members.
The interface could do better, especially when creating collections and for bulk post-scheduling.
No matter what plan you have, dlvr.it is plagued with bugs, and its customer support is not apt at handling these issues.
It offers limited insights and data on your brand's performance.
See for yourself how investing in dlvr.it is literally money down the drain. Here's a side-to-side comparison between dlvr.it and Nuelink.
Nuelink vs dlvr.it
Who does social media automation best?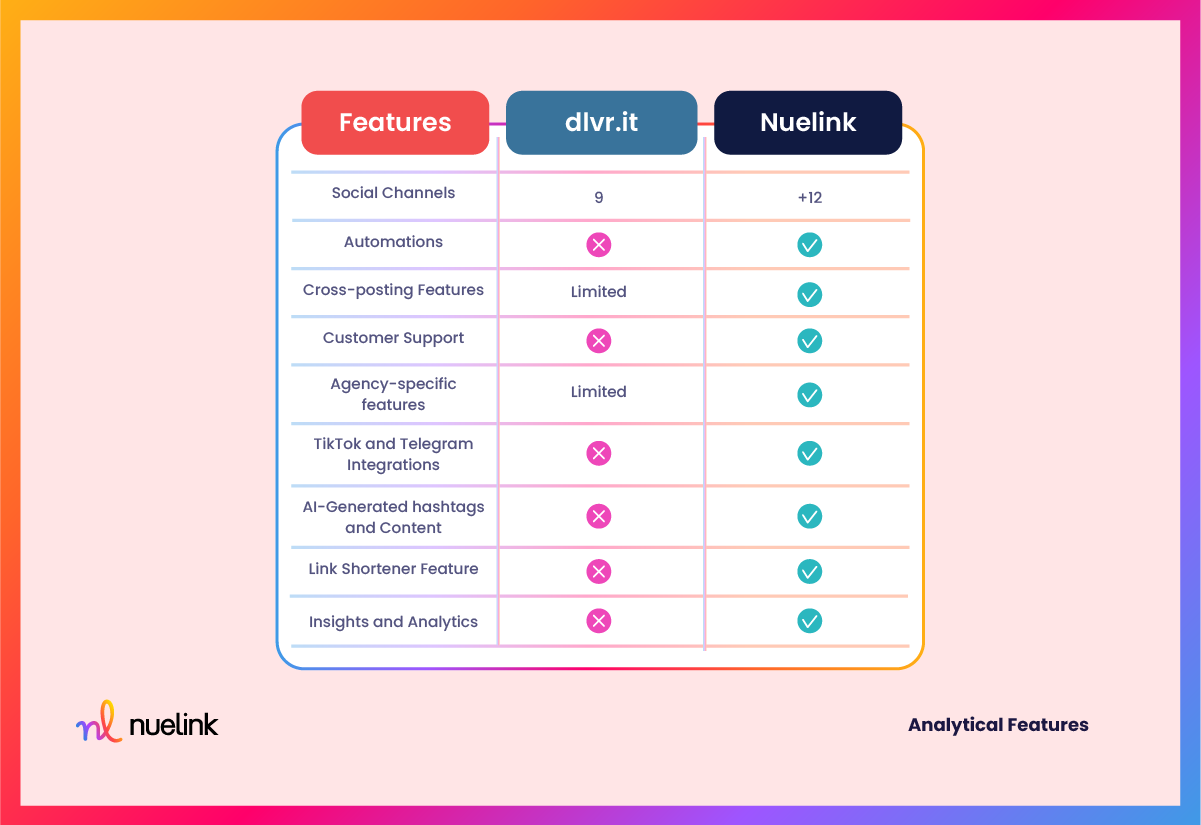 Nuelink's Top Features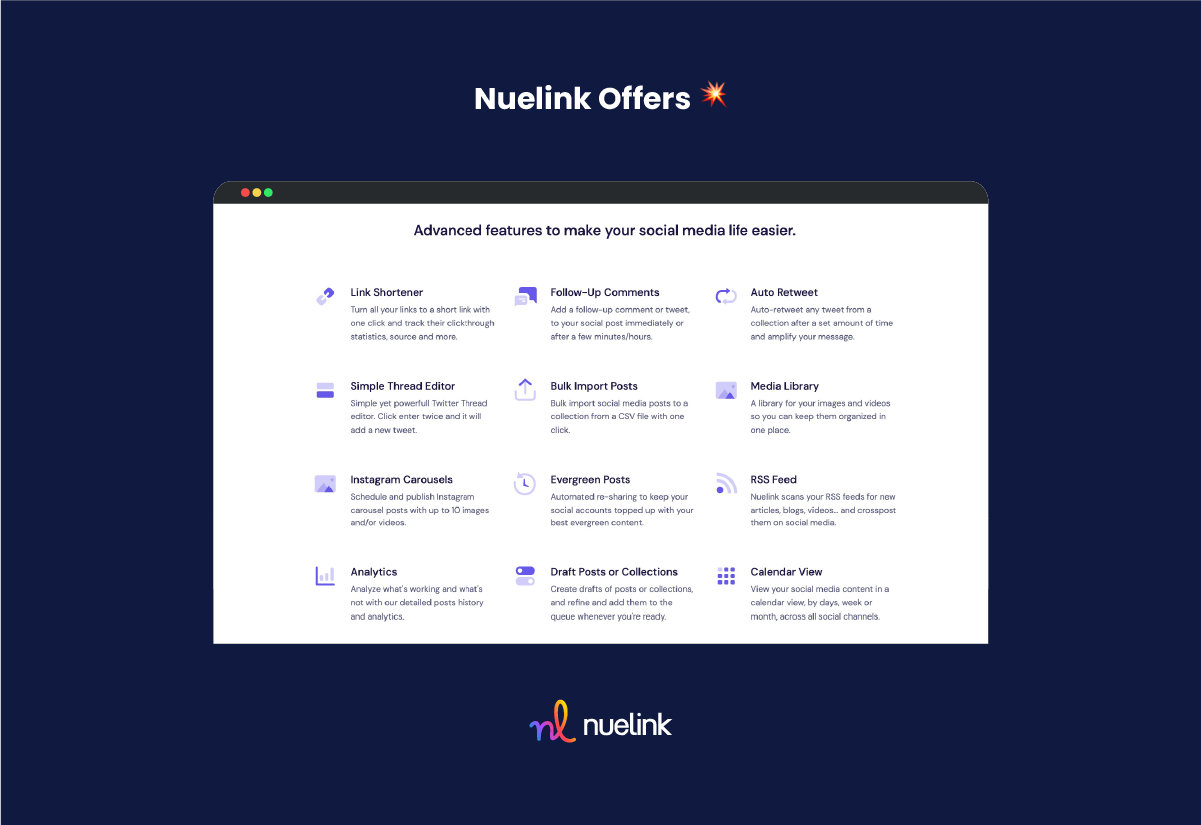 Social Media Management
Access all your social media channels conveniently from a single, user-friendly dashboard with Nuelink. Create and manage collections to organize and schedule your content effortlessly.
Agency Features
For agencies and teams, Nuelink offers a range of features to collaborate on social media campaigns. The Brand dashboard allows social media managers to handle each client's content separately, while the Members' feature promotes teamwork and content creation collaboration.
Social Media Automation
Reduce your workload with Nuelink's social media automation. Whether you're a blogger, e-commerce seller, podcaster, or YouTuber, automate posting to over 12 social media channels. Nuelink regularly checks your platforms, generating social media posts from your product listings, blogs, podcasts, and more.
Social Media Cross-posting
Take advantage of Nuelink's social media cross-posting feature enabling you to automatically share content across multiple channels. Instagram Crossposting, LinkedIn Crossposting, Pinterest Crossposting, and Twitter Crossposting are fully supported, making this feature truly unique.
Smart Content Creation Features
Nuelink's smart content creation features offer versatility. Set content to Evergreen for maximum exposure. Utilize Twitter Threads, Polls, TikToks, and Carousels, and upload content libraries with a single click. Enhance posts with the hashtag generator and Unsplash integration. Additionally, Nuelink's link shortener tool automatically shortens shared links, providing analytics and data.
Social Media Analytics and Insights
Track your social media performance with Nuelink's comprehensive analytics. Monitor metrics such as likes, shares, comments, impressions, engagements, clicks, views, and shares. With the recently introduced Insights feature, gain detailed data on social media metrics for each platform you use.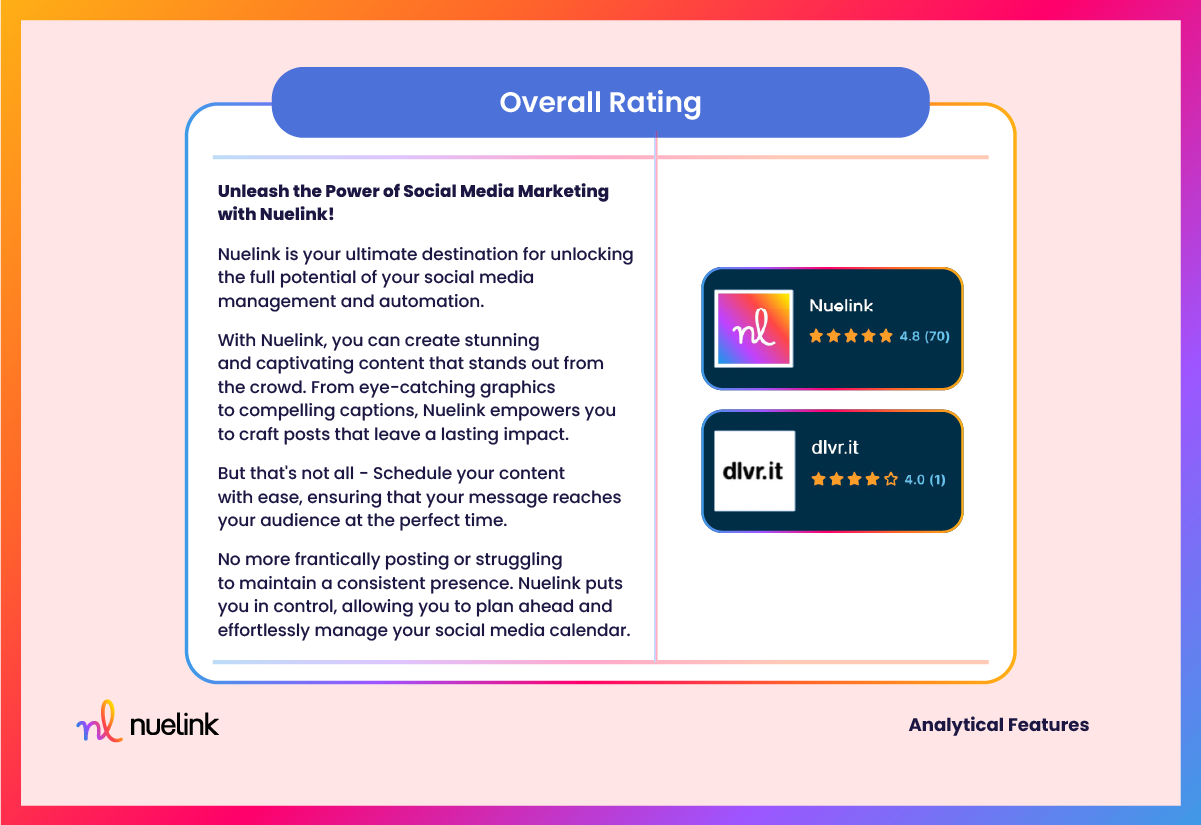 Pricing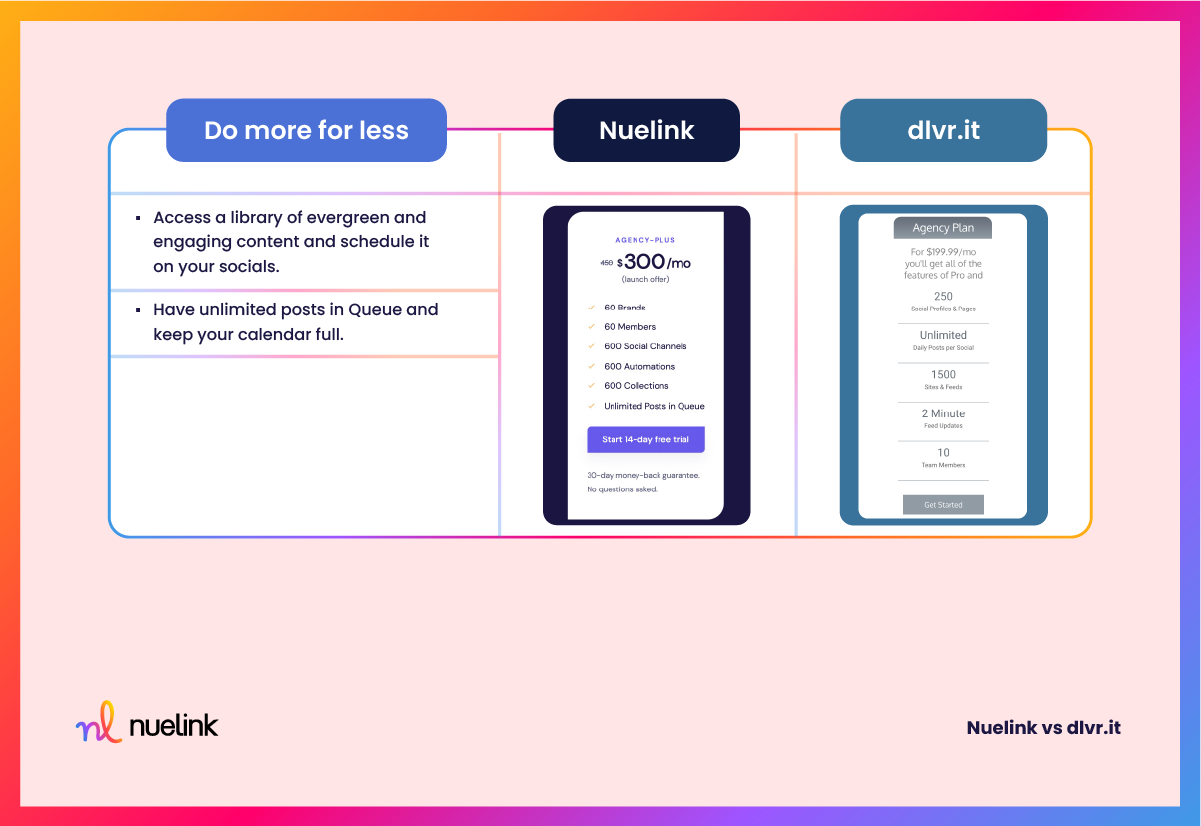 Schedule months of social content in minutes with Nuelink!
Nuelink helps you plan, automate and manage your social media and saves you time to focus on your business while your social media runs itself.
Integrated Automation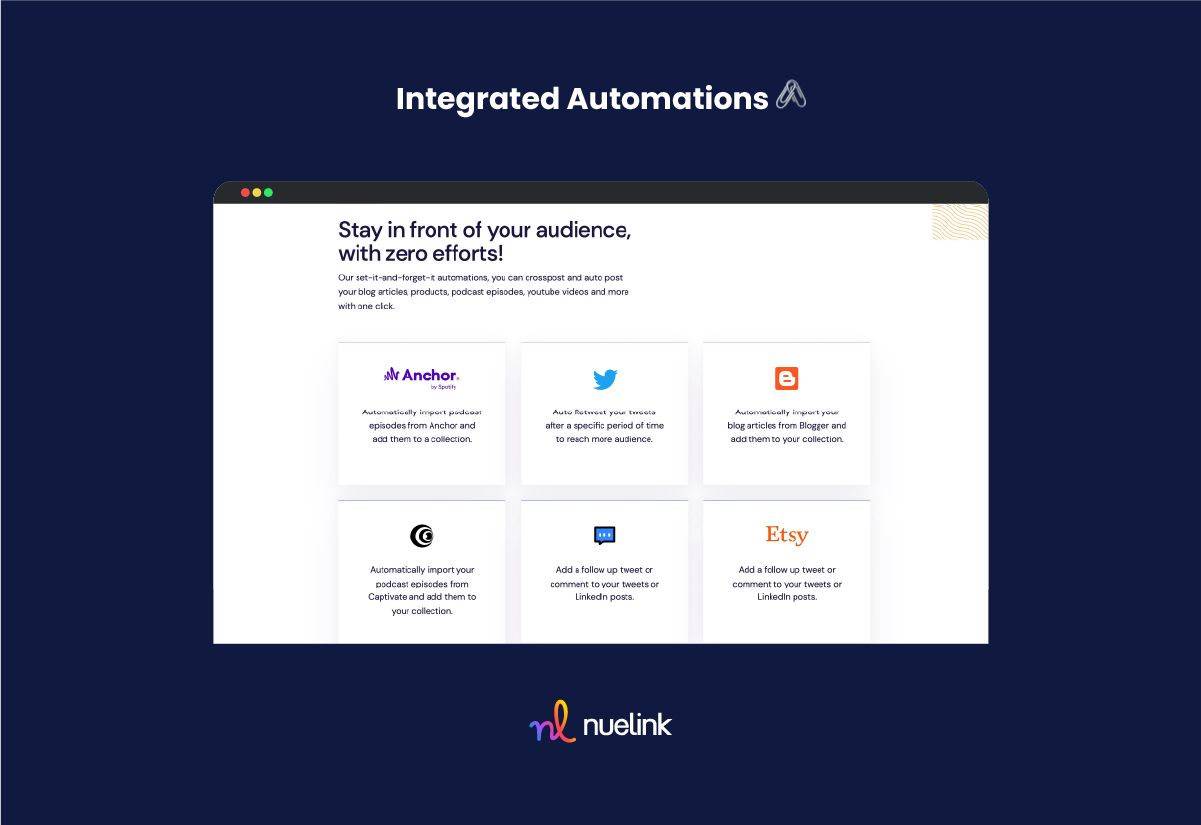 Since this is the battle of automation tools, this is why you are here. Nuelink is hoping to automate not only the blogger space but any and all tools and sites that can provide content for social media. Here's what they currently have to offer.
Social Media Automation for Bloggers: Auto-post your blog posts from WordPress Blogger, Ghost, RSS, Squarespace Blog, Substack…to Facebook, Instagram, Twitter, LinkedIn, and over 12 social media channels.
Social Media Automation for E-commerce Sellers: Auto-post your product listings from Etsy, Shopify, Squarespace Shop, and Woocommerce… to Facebook, Instagram, Twitter, LinkedIn, and over 12 social media channels.
Social Media Automation for Podcasters: Auto-post your podcasts from Anchor, Captive, SoundCloud, and Transistor…to Facebook, Instagram, Twitter, LinkedIn, and over 12 social media channels.
Social Media Automation: Auto-retweet, Follow-up Comment, Tumblr, YouTubers…Other: IFTTT, Zapier…
Along with AI content features, social media automation is among the top social media management features that are making an impact on the time you spend curating and scheduling content for your brand. With the right social media automation tool under your belt, you will be set on your content as you continue to pursue the projects that matter most to you.