Nuelink: An All-in-one Buffer Alternative to Boost Social Media Presence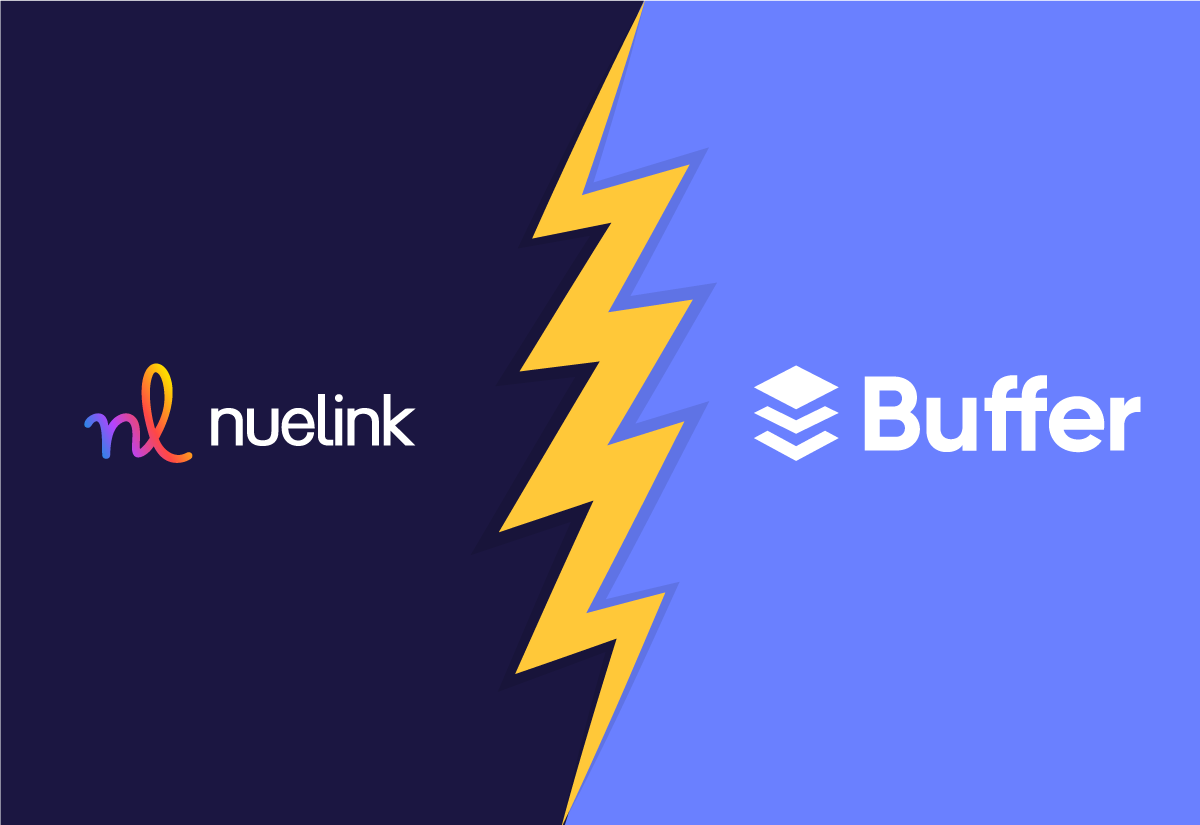 Buffer has long been on top of many social media agencies and managers' lists with the likes of tools such as Hootsuite as the "it" tool to boost social media presence.
But, is it really a suitable choice for your social media agency? The short answer is NO.
Buffer features are all put behind a paid wall that even the highest plan cannot get you access to, and their many subscriptions are bound to make you want to pull your hair.
With platforms like Buffer and Hootsuite continuing to up their prices, it's time for social media agencies to stop settling for limited features while paying a premium price. Because believe it or not, there are better offers out there.
Let's find out how you don't have to pay big money for average services.
Why a Buffer's investment is not worth your while
Buffer's costs can pile up, especially for social media agencies requiring multiple subscriptions for each one of their features.
Buffer falls short as a complete social media tool since it lacks many other important features that you can find elsewhere for a fraction of the price, especially automation.
It's a well-known fact that Buffer tends to glitch when trying to connect to Instagram.
It's better suited for promoting one brand, and agencies may face difficulties juggling multiple brands simultaneously.
Only offers limited plans and users have to pay $60/yr on top of the $1200/yr price tag per every extra channel.
Buffer has arbitrary character limits for Facebook, and Twitter which can be a big problem.
It offers limited insights and social listening features that give you feedback on your brand's performance.
Here's how Nuelink tops Buffer all across the board.
Nuelink vs Buffer
Best social media management tools battling it out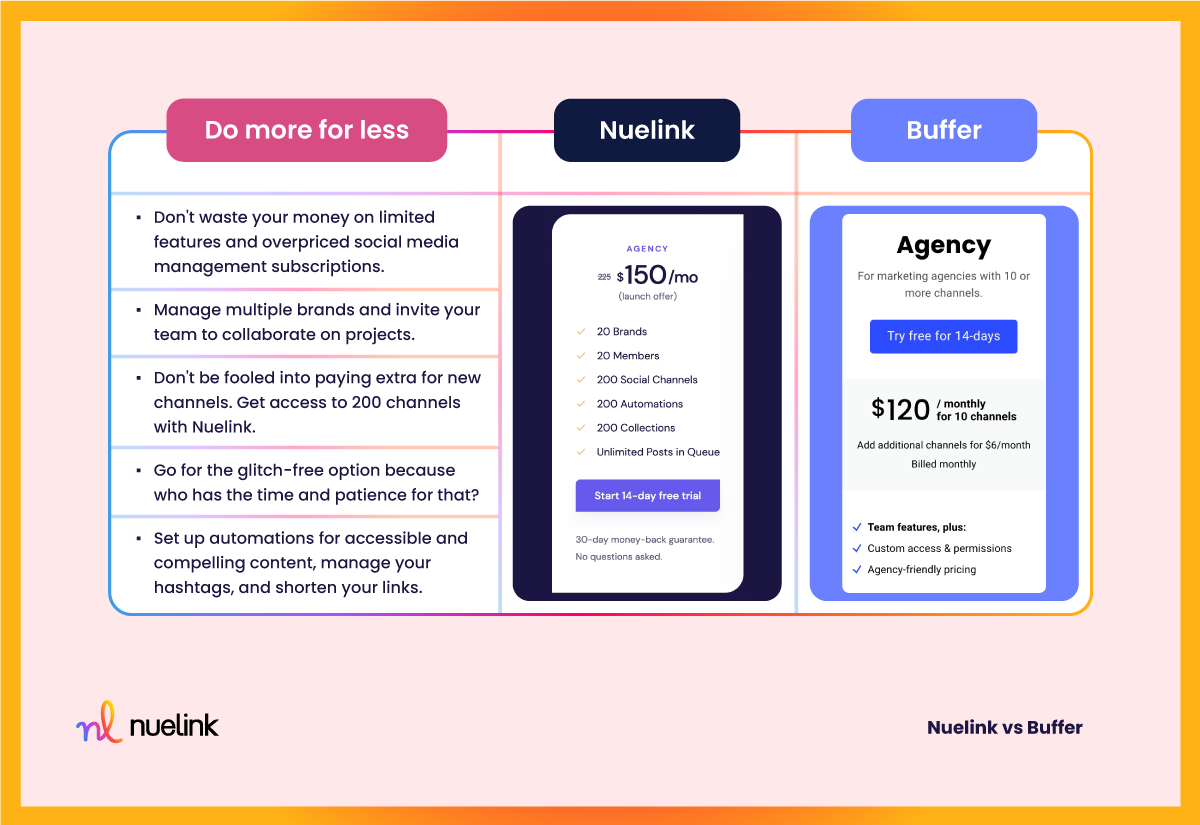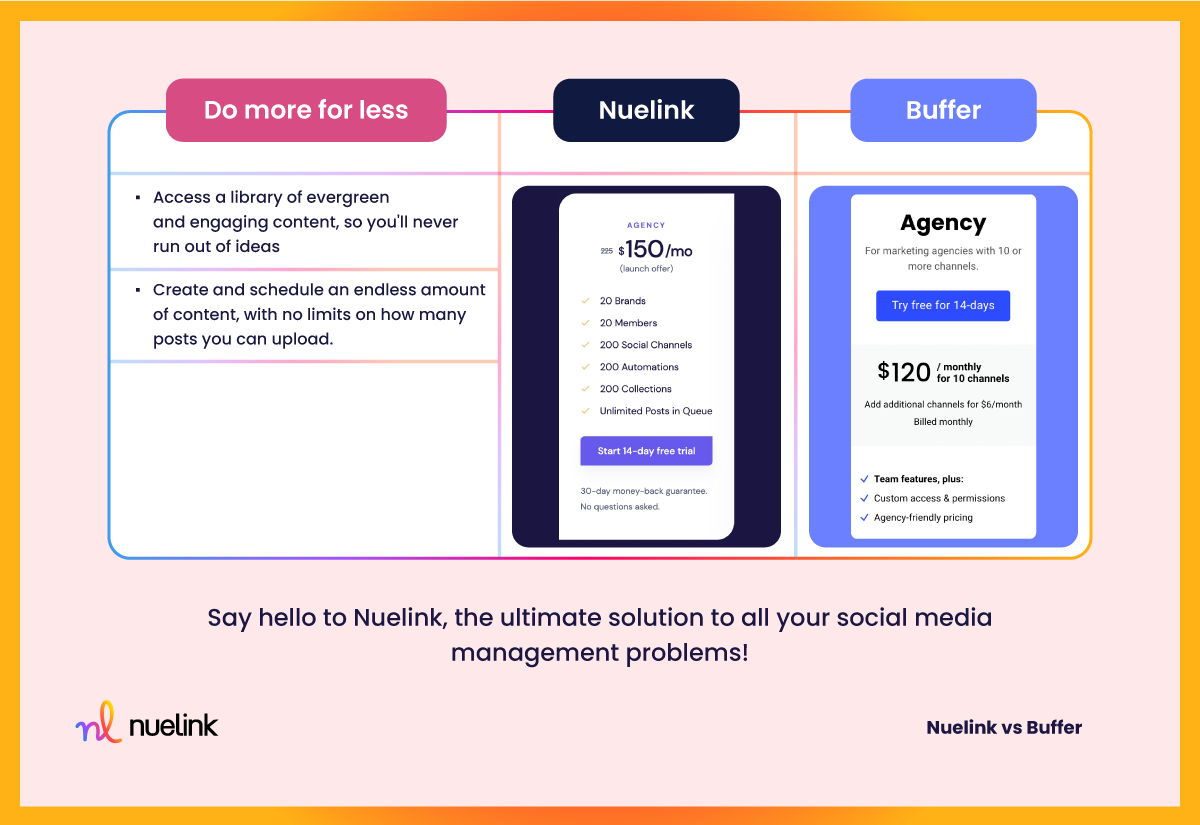 Nuelink's Features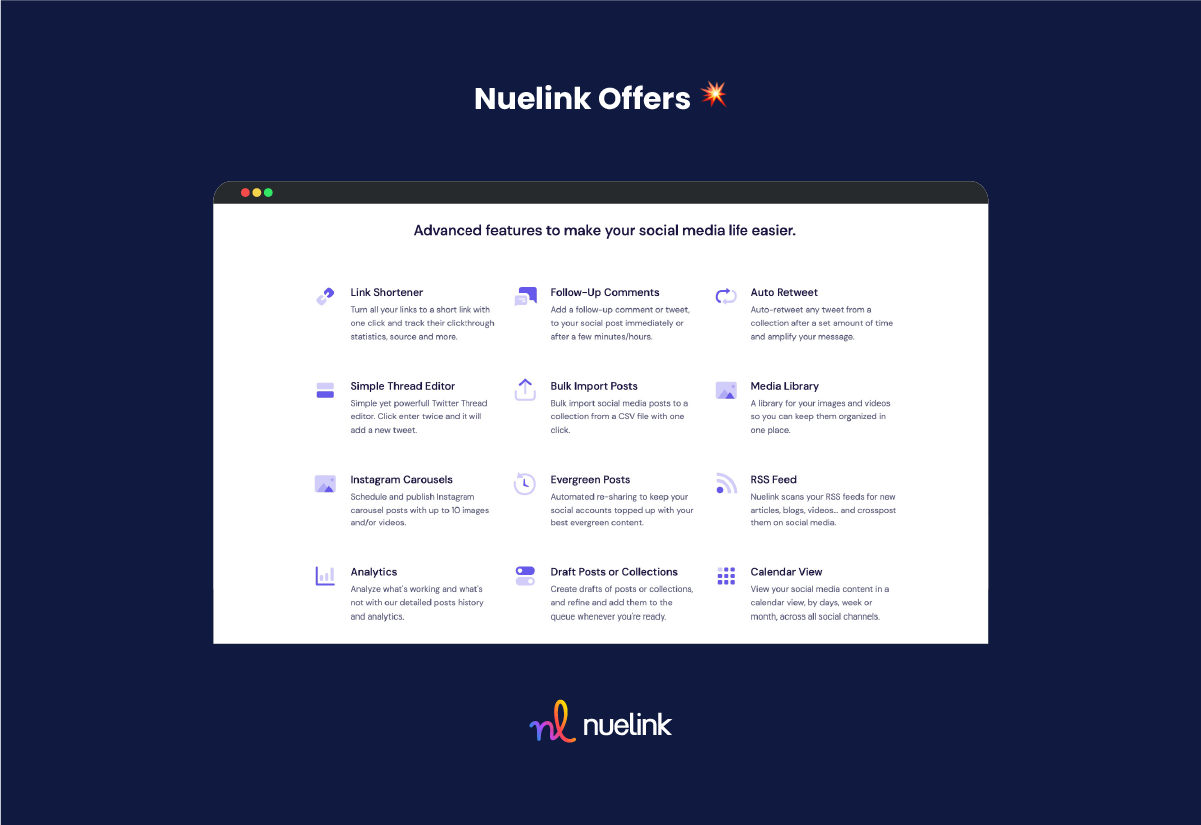 Manage your social media channels from one dashboard
With Nuelink, you can access all your social media channels from one convenient and user-friendly dashboard. Plus, you can easily sort your posts and schedule content in various collections.
Agency Features
But that's not all! Nuelink is also perfect for agencies and teams, with its specialized features allowing for seamless collaboration on social media marketing campaigns. With the Brand and Members features, social media managers can manage clients' content with ease, while encouraging teamwork and creativity.
Social Media Crossposting
Say goodbye to the endless loop of posting the same content to different platforms. Nuelink also offers social media crossposting that enables you to auto-post social media content from one channel to all other channels. It supports crossposting of various content types and currently offers Instagram Crossposting, LinkedIn Crossposting, Pinterest Crossposting, and Twitter Crossposting.
Social Media Automation
Automate posting to over eight different social media channels, and let Nuelink do the rest! You can promote your blog, podcast, E-commerce businesses, and any other type of site under the sun.
Automated Content Creation Features
Nuelink also offers smart content creation features, allowing you to set your content to Evergreen and make the most of it. Whether Twitter threads, polls, TikToks, or carousels, Nuelink supports various content types. And with the hashtag generator and Unsplash, you can easily enhance your posts.
Social Media Analytics and Insights
But wait, there's more! Nuelink also provides analytics and insights for tracking various metrics such as likes, comments, impressions, engagements, clicks, views, and shares. With the Insights feature, you can access detailed data on your social media metrics for each platform.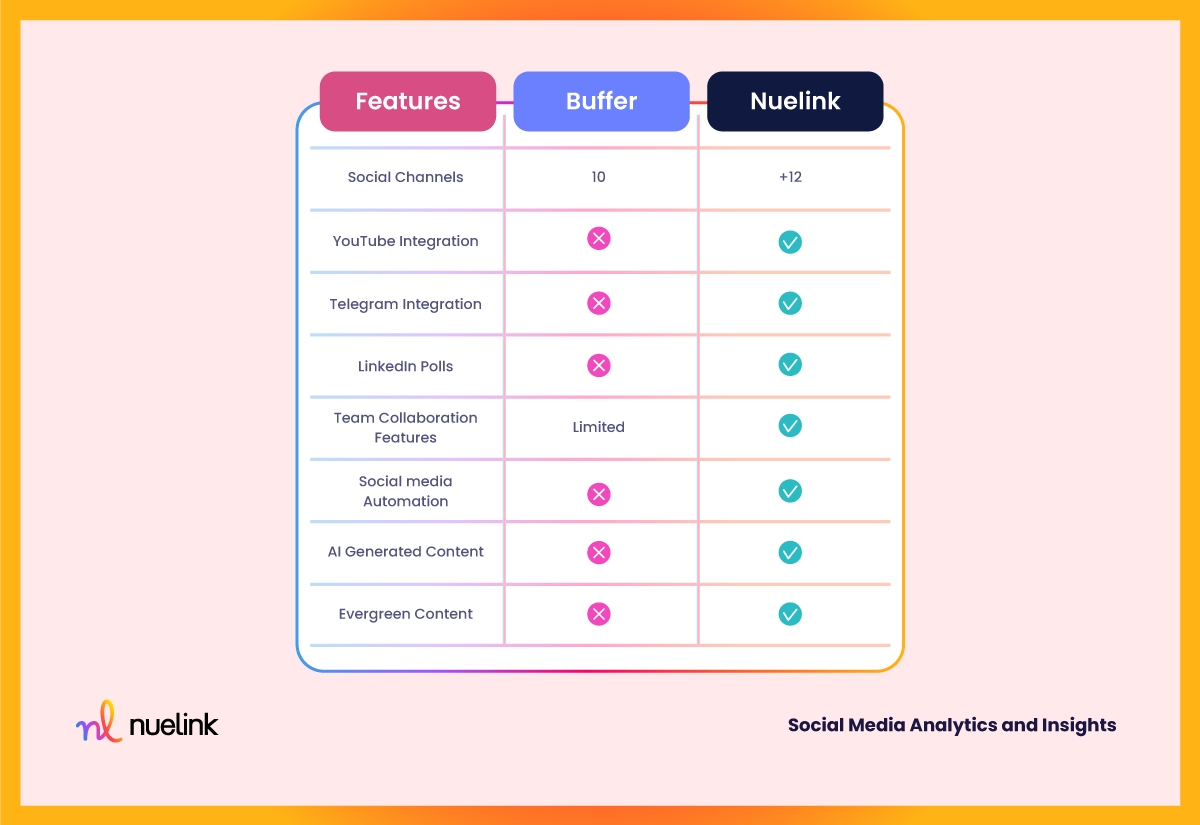 Rating and Reviews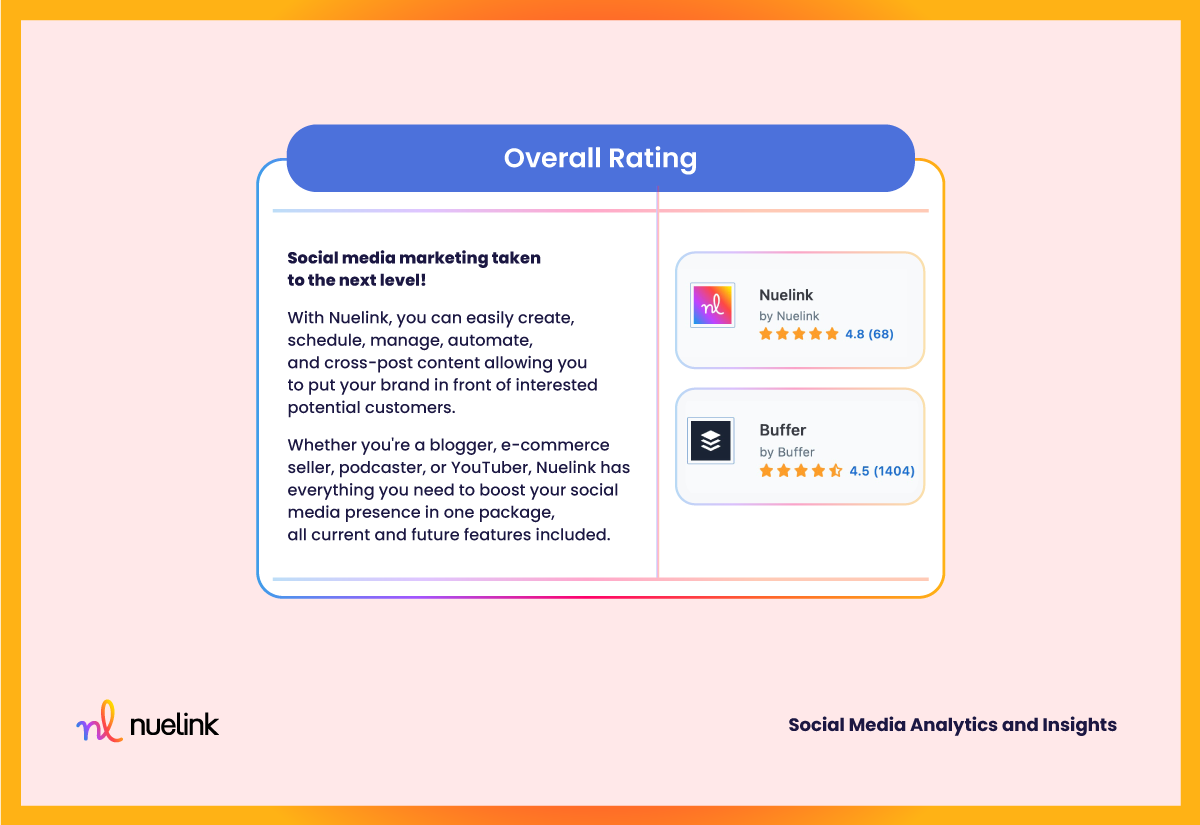 Schedule months of social content in minutes!
Nuelink helps you plan, automate and manage your social media and saves you time to focus on your business while your social media runs itself.
Integrated Automation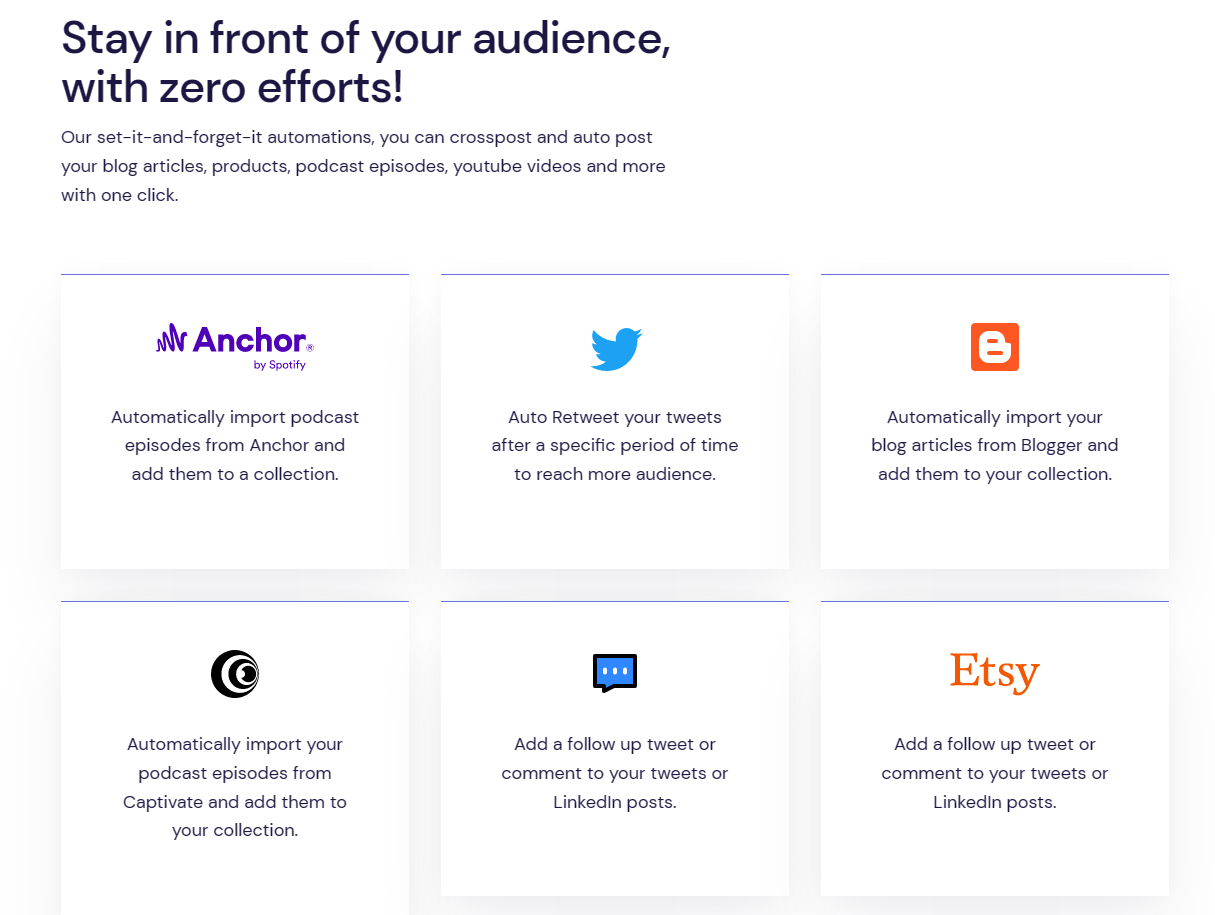 Social Media Automation for Bloggers: Auto-post your blog posts from WordPress Blogger, Ghost, RSS, Squarespace Blog, Substack…to Facebook, Instagram, Twitter, LinkedIn, and more than 8 social media channels.
Social Media Automation for E-commerce Sellers: Auto-post your product listings from Etsy, Shopify, Squarespace Shop, and Woocommerce… to Facebook, Instagram, Twitter, LinkedIn, and more than 8 social media channels.
Social Media Automation for Podcasters: Auto-post your podcasts from Anchor, Captive, SoundCloud, and Transistor…to Facebook, Instagram, Twitter, LinkedIn, and more than 8 social media channels.
Social Media Automation: Auto-retweet, Follow-up Comment, Tumblr, YouTubers…Other: IFTTT, Zapier…
With the bombardment of sponsored content on established names in the market, it could feel like there's no escaping Hootsuite or Buffer. However, new and upcoming tools are almost always a better fit for social media managers and agencies since they connect and understand the needs of their users and adapt accordingly. Give Nuelink a go, and let us know what you think.