The Best Black Friday Deals on Digital Marketing Tools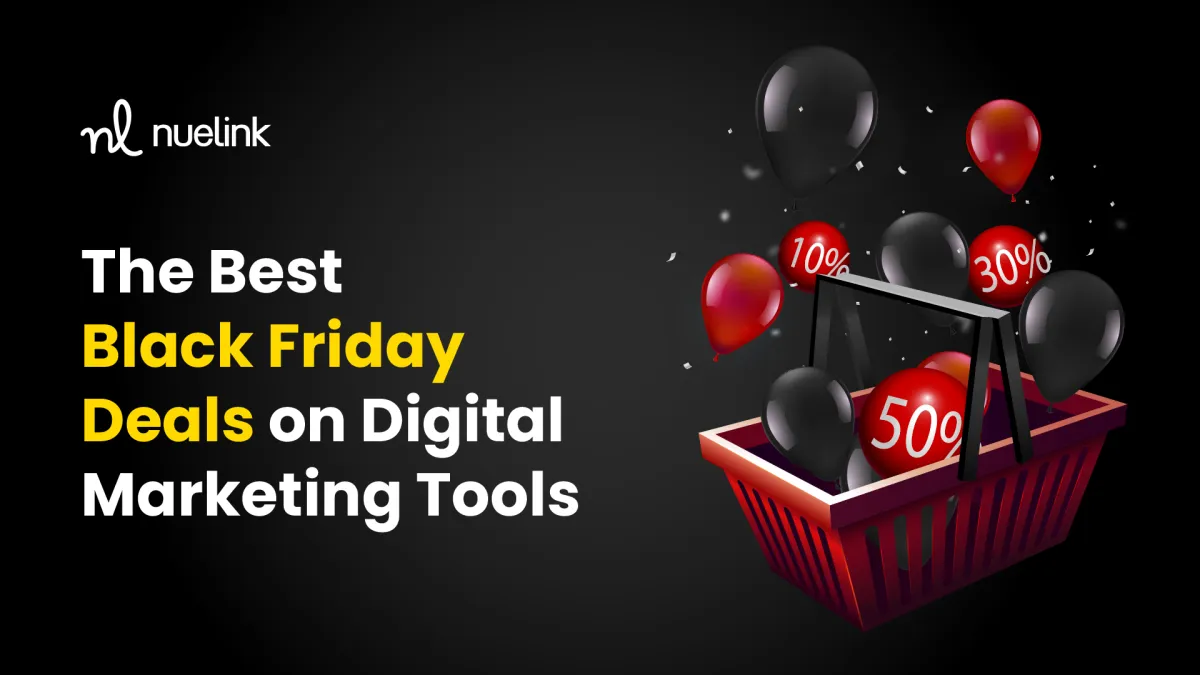 Hello there! 👋
How is it going?
– Hold on a minute, articles usually don't start with 'hello.' This looks like a cold email. –
Nevertheless, I have a feeling in my gut that you are a digital marketer.
Social Media Manager, SEO specialist, Email Marketer, it doesn't matter.
Did you know that during the Black Friday period, loads of digital marketing tools are offering unbelievable offers? 50% OFF, Lifetime deals, and more...
I thought maybe I could gather all the great ones in one place for you... Making things easier, you know 😉
Friendly Note:
Got an awesome Black Friday deal that's just screaming to be shared? Go ahead, and fill out this form. If it's as great as you say, you'll see it magically pop up on our list! 🌟✨
---
Social Media Tools: Black Friday Offers
Nuelink: Social Media Management and Automation
Nuelink, your beloved social media management and automation tool, you already know it, the tool that allows you to automate everything.
Social media managers, podcasters, e-commerce brands, bloggers, and other professionals can automate their social media strategy with ease.
Offer: Up to 75% OFF on all plans when you pay yearly!
Availability: The offer will only be available until the end of this month.
Grab the deal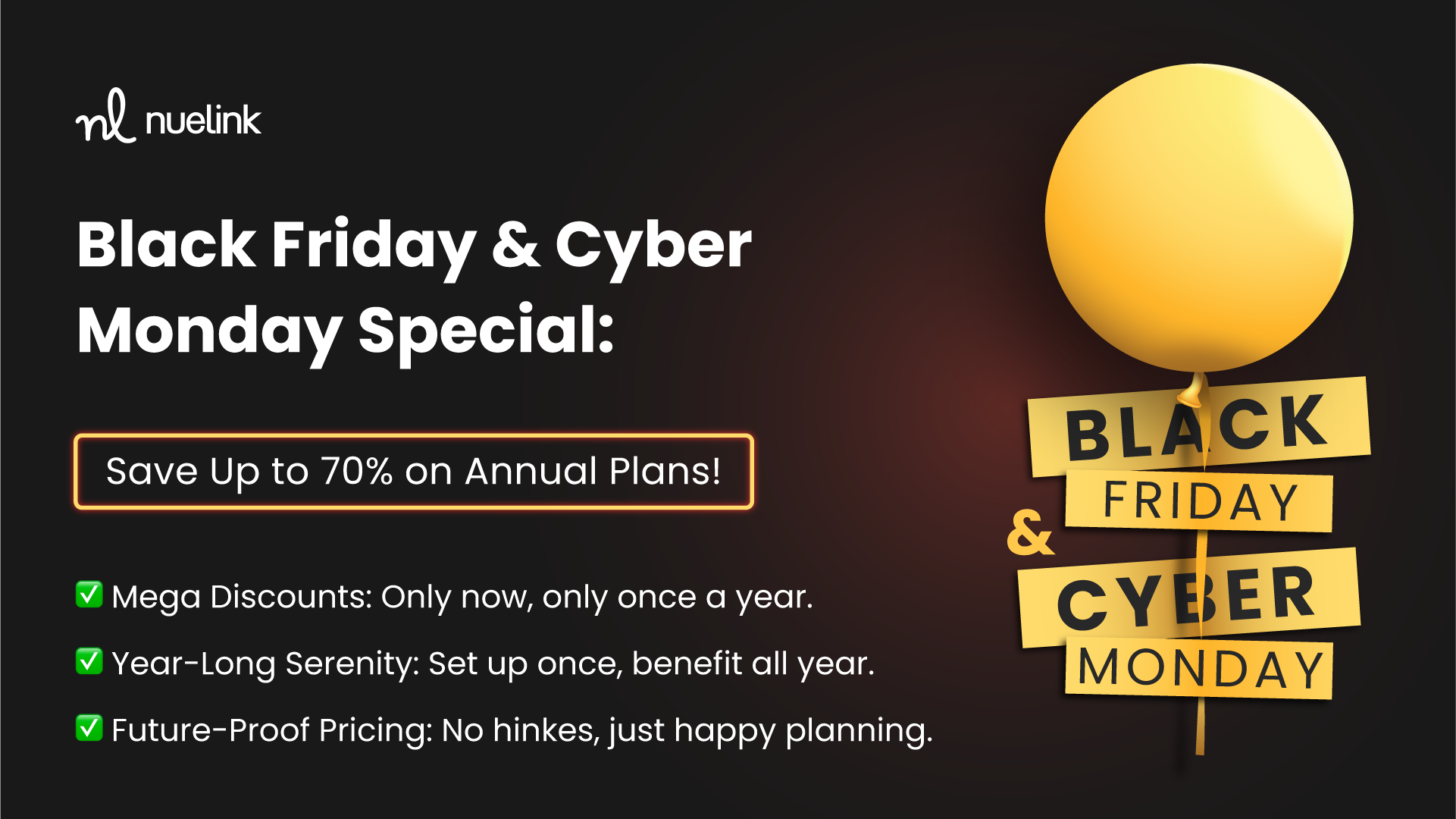 Groupboss: Facebook Group Lead Generation Tool
Groupboss is a tool that enables users to generate an unlimited number of free leads from Facebook groups by efficiently saving responses to group qualifying questions with a single click. Additionally, Groupboss facilitates the execution of email campaigns, thereby allowing users to convert their Facebook group into a highly productive source of revenue.
Offer: Groupboss is currently offering a 25% discount on all plans. Use the code "MONDAY25" during checkout to redeem this offer.
Grab the deal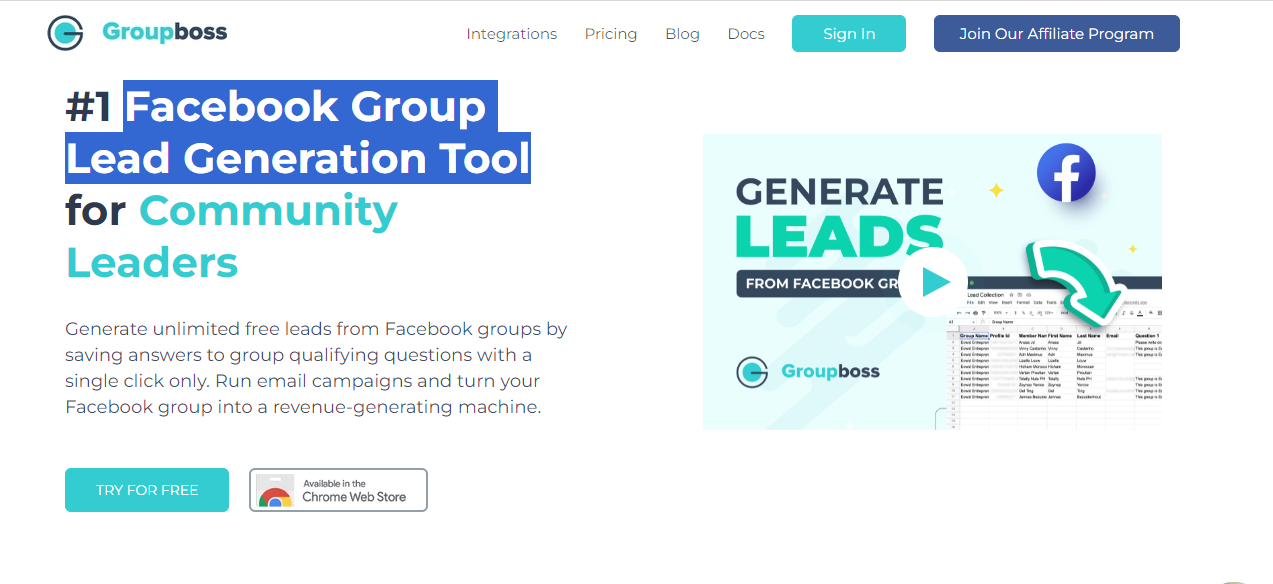 Email Marketing Tools: Black Friday Offers
Snov.io: Email Outreach Automation  
Snov.io is an all-in-one platform for email outreach and sales automation, providing email finding, verification, drip campaigns, deliverability features, a free sales CRM, and 5,000+ integrations.
Offer: Snov.io is offering a 50% discount on all premium annual plans exclusively for Black Friday. To get the discount, use the coupon code BLACKFRIDAY23 during checkout.
Availability: This offer is valid from November 20 until December 1.
Grab the deal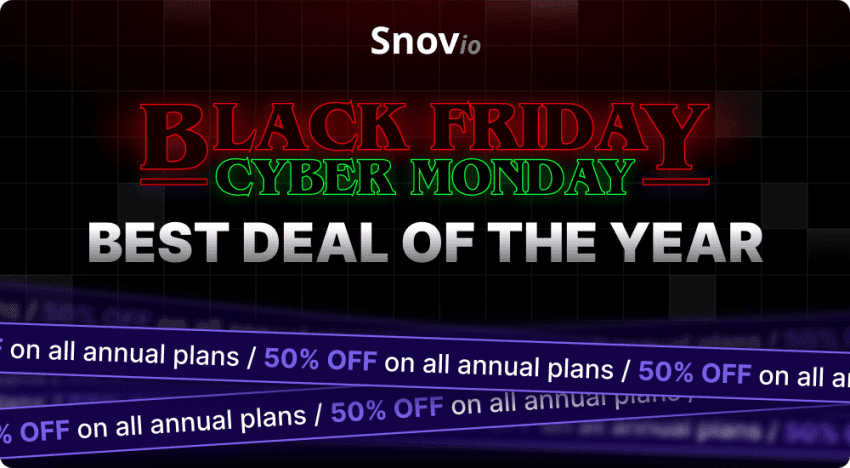 MySignature: Email Signature Platform
MySignature is an all-in-one platform for email signature creation and email tracking, helping you create professional email signatures to enhance your business emails.
Offer: 50% discount on the first payment for all yearly plans. To get the discount, use the coupon code SigFriday2023.
Availability: This offer is available for a limited time, specifically from November 20 to November 30.
Grab the deal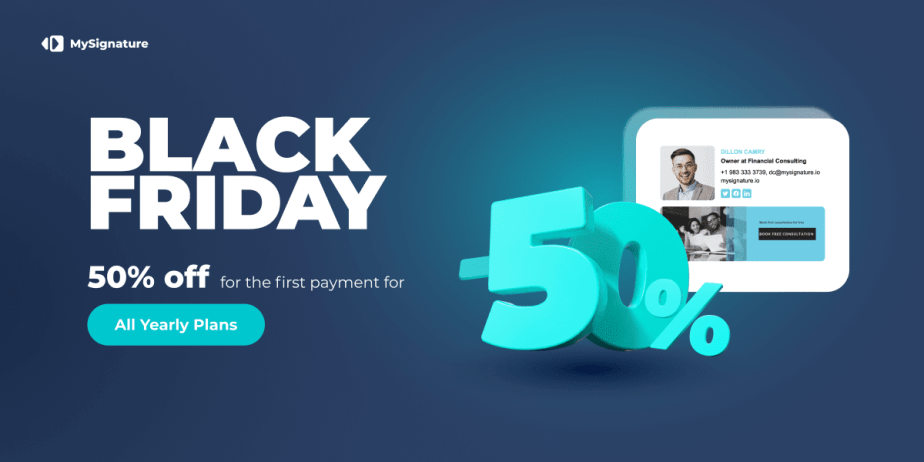 SmartReach.io: Cold Outreach Software
SmartReach.io is a sales engagement platform that helps you reach prospects across multiple channels, including email, LinkedIn, WhatsApp, SMS, and calls. It also has a shared inbox for team collaboration, AI content recommendations, and integrations with popular CRM and marketing automation platforms. This makes it easy to send personalized outreach messages, track progress, and streamline your workflow so you can focus on selling. Whether you want to grow your brand, find new customers, or keep existing ones happy, SmartReach.io has the right tools for successful marketing.
Offer: 20% Off on All Annual Plans for the First Year
Availability: 3rd December 2023
Get the deal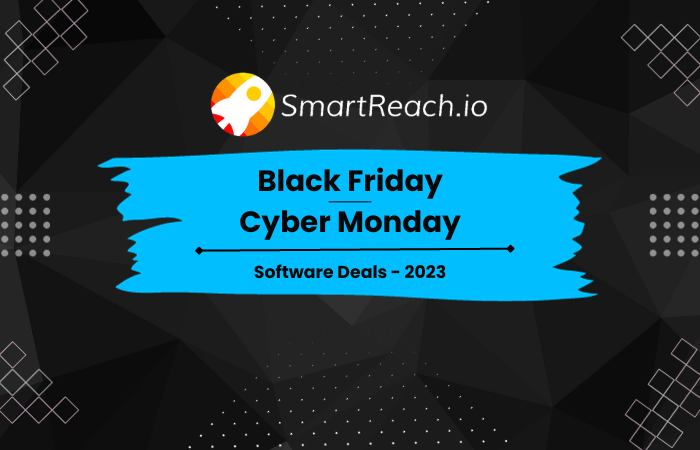 Lemlist: Cold Outreach Software
Lemlist is the only cold outreach tool that helps you reach inboxes and get replies. Build your lead list with verified emails, write and personalize at scale, and automate cold emails and LinkedIn messages that actually get customers.
Offer:
1- $400 per seat per year instead of $600 (33% OFF for the Standard plan (email outreach)
2- $596 per seat per year instead of $996 (40% OFF for the Pro plan (email + LinkedIn + call outreach)
Coupon Code: BLACKFRIDAY2023LEMLIST during checkout in the app.
Availability: The offer will expire on 1-12-2023
Get the deal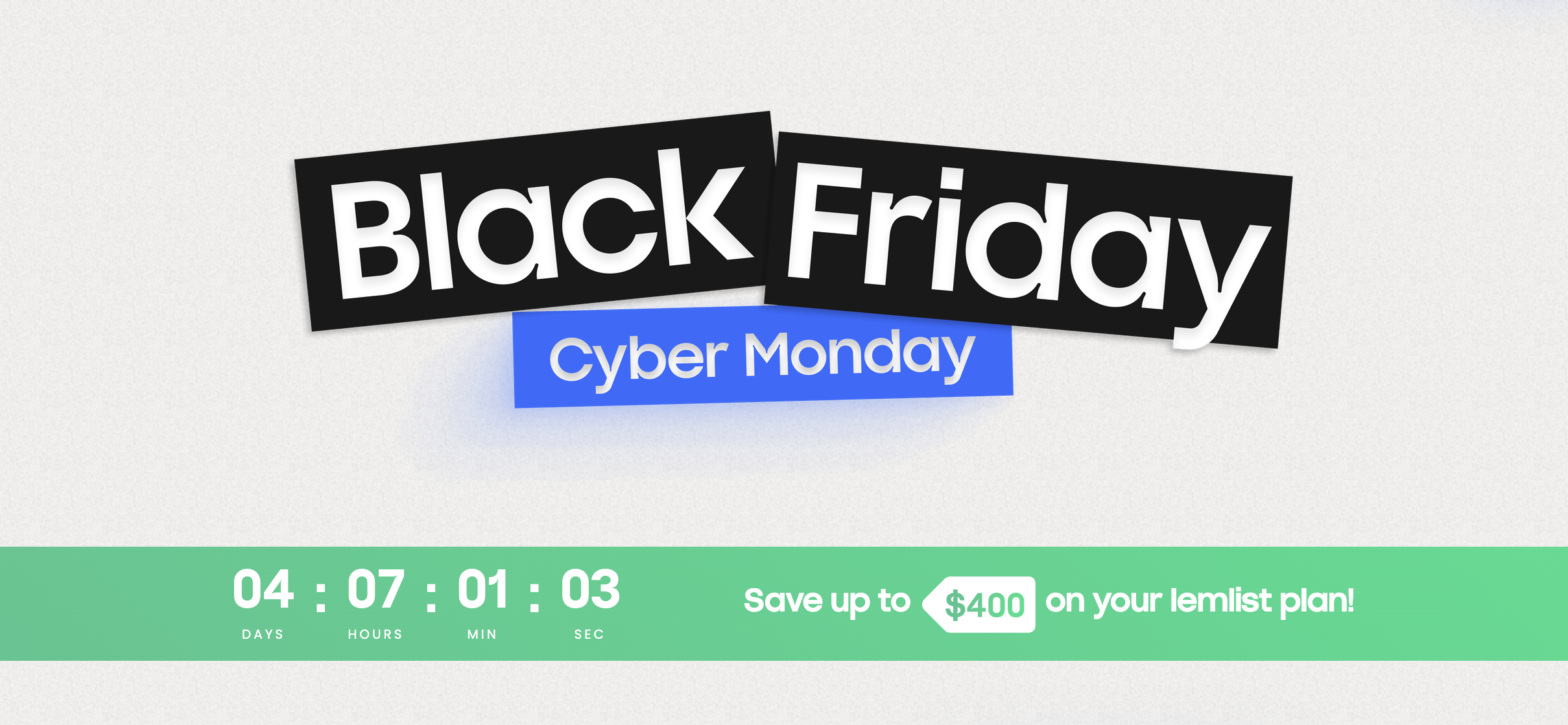 SalesBlink: Cold Email Outreach
SalesBlink is an AI-powered cold email outreach solution using which you can search for prospects, put your cold email sequences on autopilot, and view stats and reports for opens, clicks, replies, and more effortlessly.
BlinkGPT is SalesBlink's in-house Generative AI that lets you write emails, create sales sequences, and much more with just a few clicks.
Integrates natively with Hubspot, Pipedrive, Zoho CRM & Slack
Offer: 50% off on Scale and Business Plans for the next 1 year for both Yearly and Monthly Plans
Coupon Code: Use "BlackFriday2023" on checkout
Availability: From 1st November to 31 December 2023
Get the deal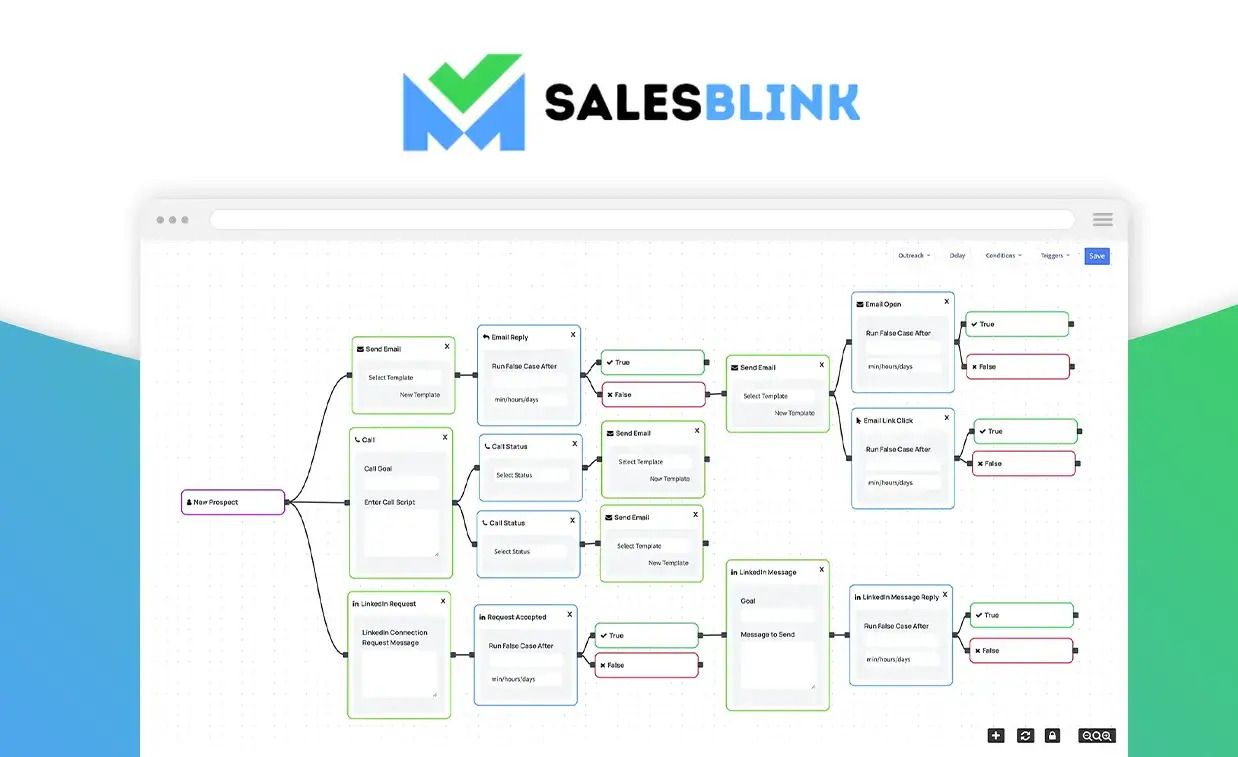 Retainful: Email Marketing Automation
Retainful is an all-encompassing email marketing automation platform, empowering Woocommerce and Shopify stores to boost sales through features like abandoned cart recovery, automated emails with dynamic coupons, and a flexible drag-and-drop editor. Enhanced with real-time analytics, exit-intent popups, a robust referral program, broadcast and segmentation tools, Retainful delivers personalized, strategic communication to optimize customer engagement and increase revenue. Trusted globally by over 15,000 store owners, it's acclaimed as one of the top tools for Woocommerce and Shopify stores.
Offer: Flat 30% off on all Premium Plans.
Coupon: BFCM2023
Availability: 8 Nov 2023 - 5 Dec 2023
Get the deal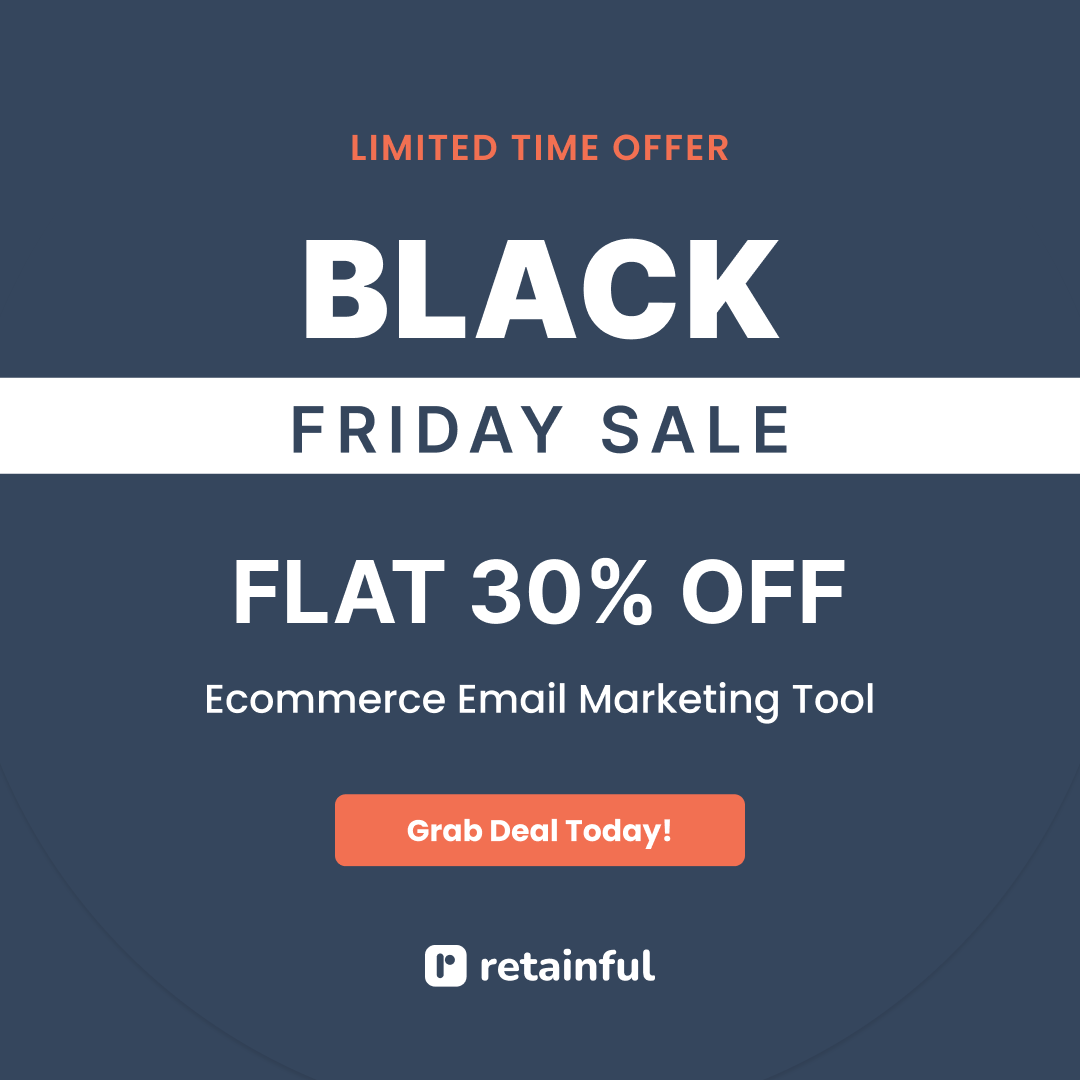 SEO Tools: Black Friday Offers
SE Ranking: Search Engine Optimization Tool
SE Ranking is a comprehensive SEO tool for professionals that helps automate tasks like competitive research, backlink analysis, website auditing, and SEO reporting. It also offers features like Local Marketing, Insights, AI Writing Assistant, and improved organic traffic estimation accuracy.
Offer: SE Ranking is offering a 20% discount on annual subscriptions and add-ons for Black Friday.
Availability: This deal is available from November 20 until December 4.
Grab the deal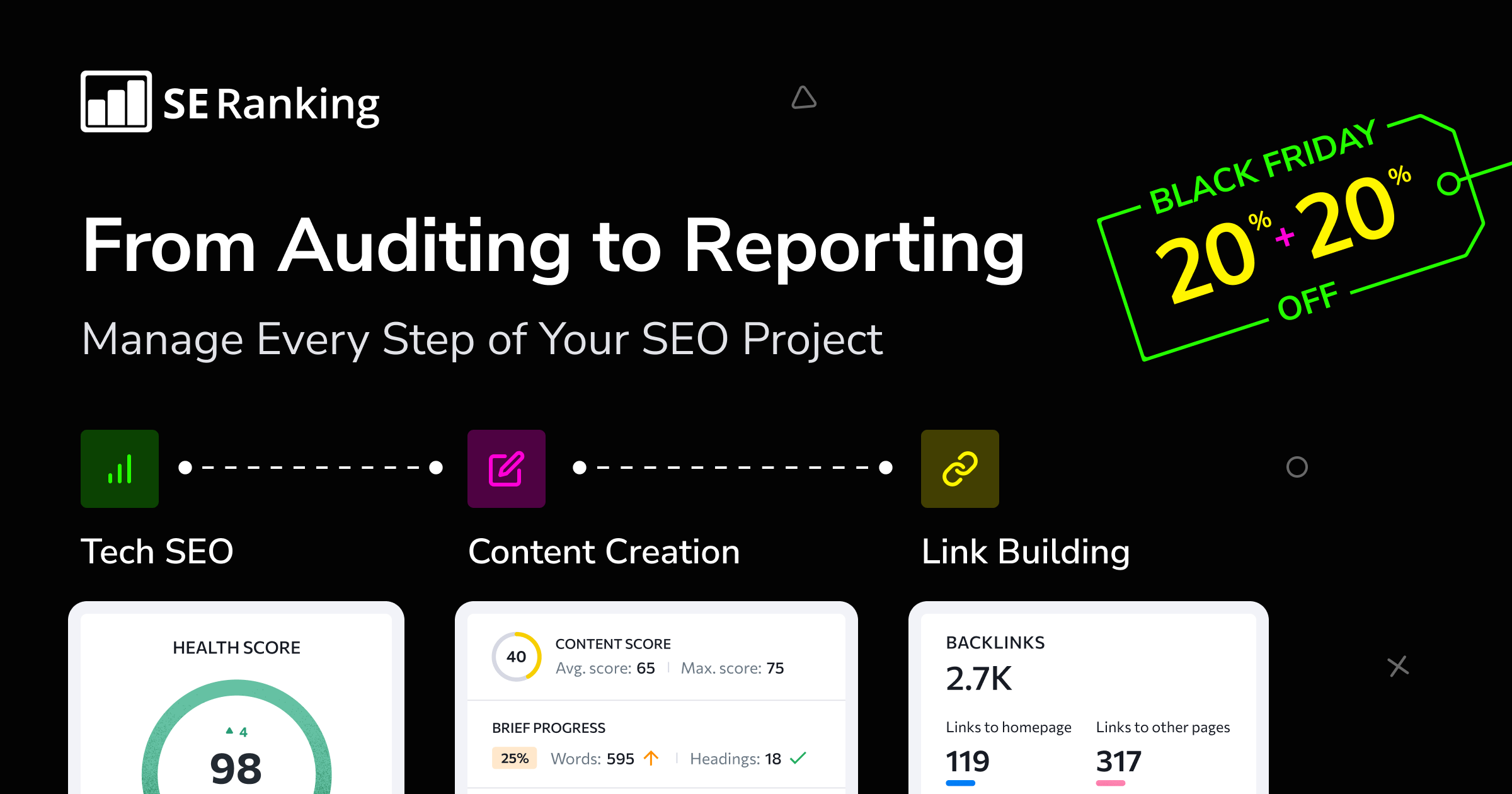 Scalenut: Search Engine Optimaztion Tool
Scalenut is an all-in-one AI SEO tool for marketers, and SEO professionals, and business founders. It streamlines content planning, creation, optimization, and monitoring, simplifying the entire content lifecycle and brand-building process.
Offer: For the Black Friday, Scalenut offering 60% off plus 3X limits
Availability: November 21 - December 1, 2023
Grab the deal

Productivity Tools: Black Friday Offers
Cheqmark: Checklist Maker Tool
Cheqmark is a user-friendly checklist-maker tool that aims to enhance your daily routines and transform your productivity. Whether you're managing tasks, projects, or personal goals, Cheqmark simplifies the process, ensuring you stay organized and efficient.
Offer: Get 40% off Cheqmark's Premium yearly subscription this Black Friday. The code: BF2023CQM. Use it at checkout.
Availability: The Cheqmark Black Friday discount is available until December 5, 2023.
Grab the deal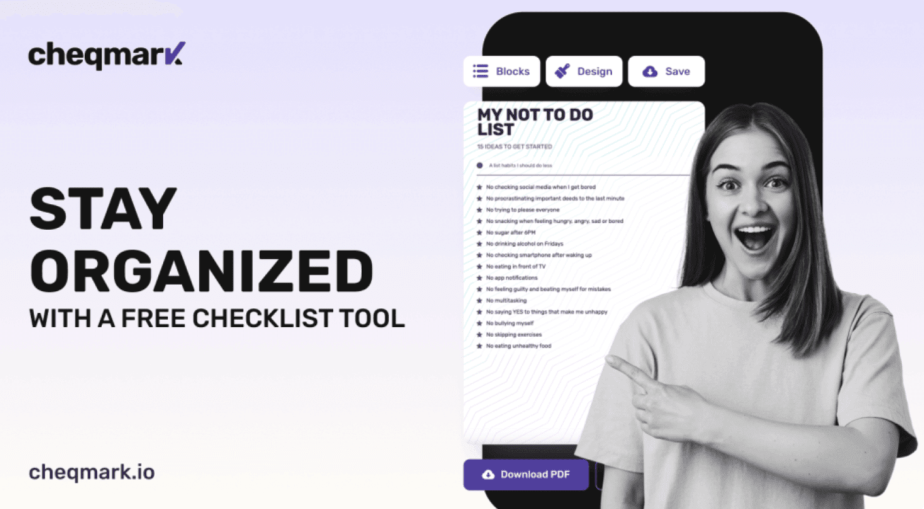 Userguiding: User Onboarding Platform
UserGuiding is a comprehensive platform designed to enhance customer experience through a variety of interactive elements like guides, checklists, and surveys, all without the need for coding. It stands out as a no-code tool specifically geared towards user onboarding.
Offer: 50% off on all plans for 12 months.
Deal Code: BLACKFRIDAY23
Get the deal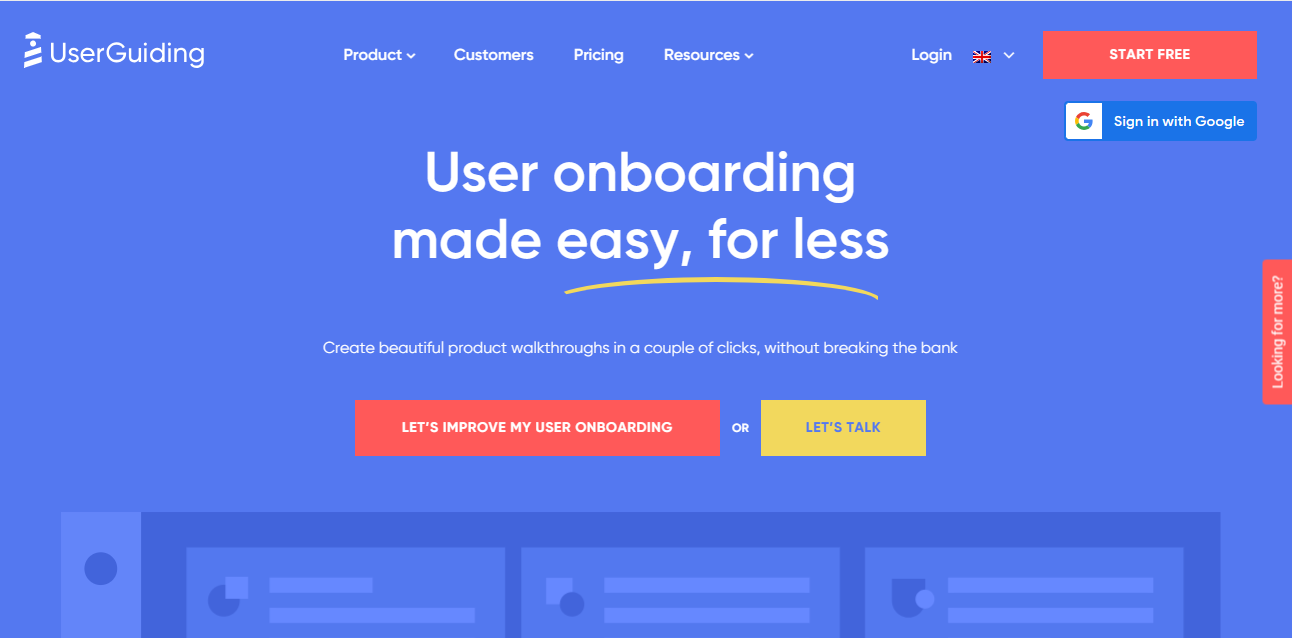 Retable: Online spreadsheet, productivity, data management
Retable is an online spreadsheet tool to help you organize your workflows, projects, teams and business operations. With a user-friendly spreadsheet-like UI, Retable offers you real-time collaboration and easy-to-use rich features to manage your projects and business workflows.
Offer: 50% off for all plans with the RTBLBF50 coupon code. it's available for both monthly and annual subscriptions.
Availability: 31st December, 2023
Get the deal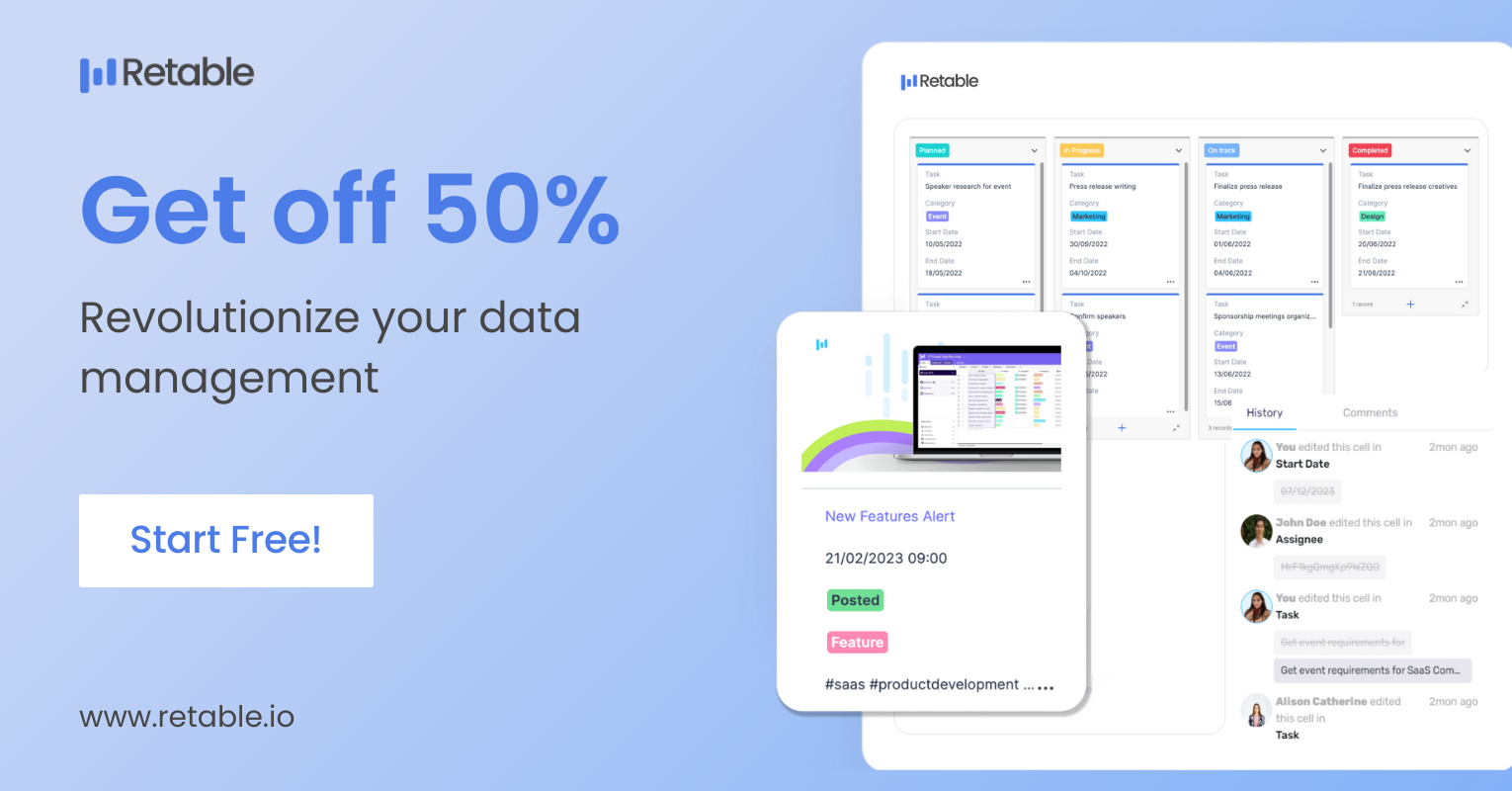 Apploye is a powerful employee monitoring and time-tracking solution that simplifies the management of in-house, and remote teams through a unified dashboard. Apploye includes features such as timesheet, screenshots, app, URL tracking, activity levels, payroll, invoicing, scheduling, team, projects & budgets, shift management, and attendance. It is suitable for small to large businesses, especially for remote teams.
Offer: Cyber Monday, Apploye presents a special 25% lifetime discount on all plans, whether you opt for monthly or annual subscriptions.
Availability: 30 November 2023
Get the deal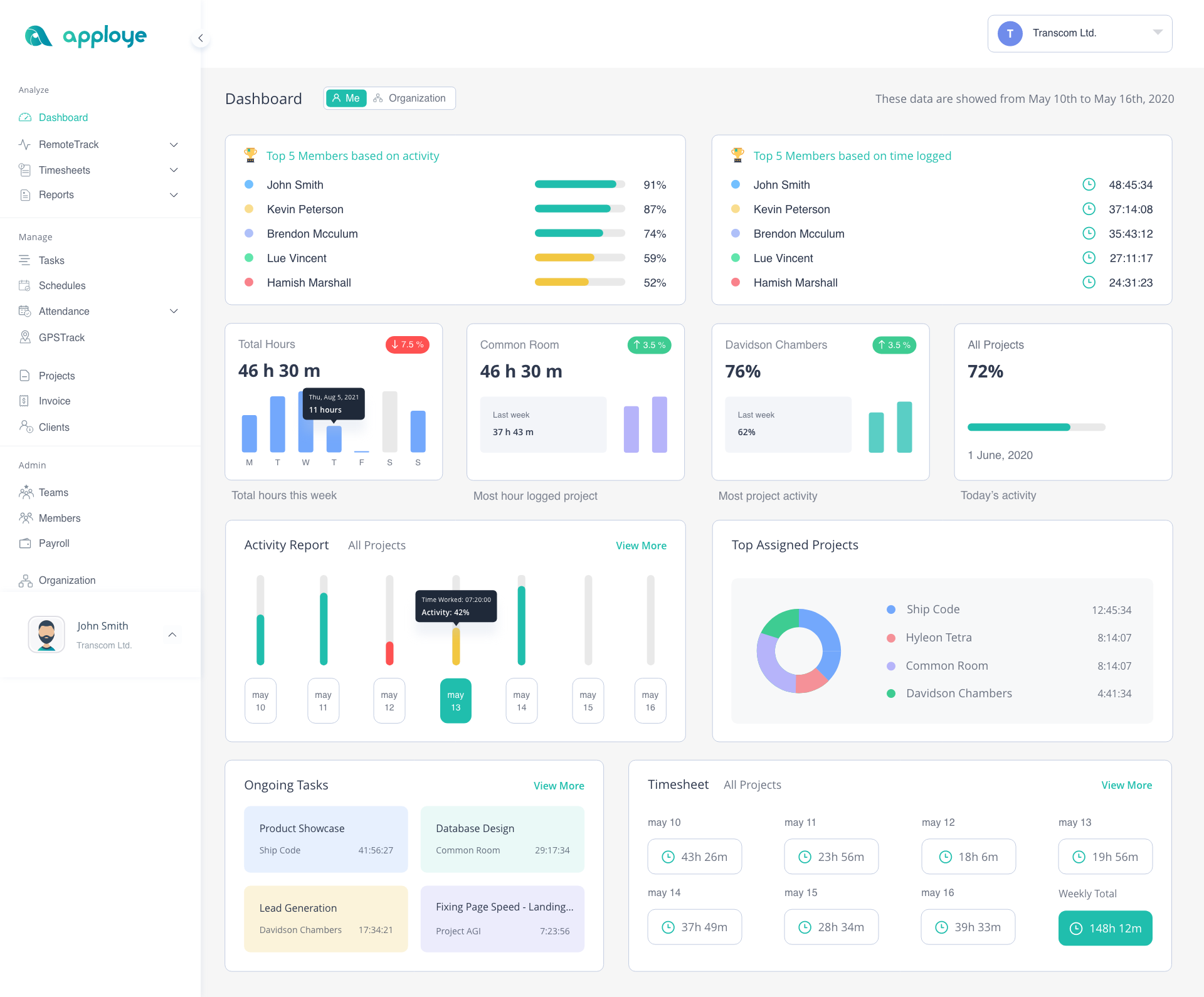 Reviews Tools: Black Friday Offers
OSI Reviews: Review Management Tool
Enhance your Wix online store with OSI Reviews, a cutting-edge Wix app designed to effortlessly gather and showcase customer reviews. Boost your brand's credibility and increase conversions by letting your satisfied customers speak for you.
Offer: 20% discount on all OSI Reviews plans
Availability: NA
Get the deal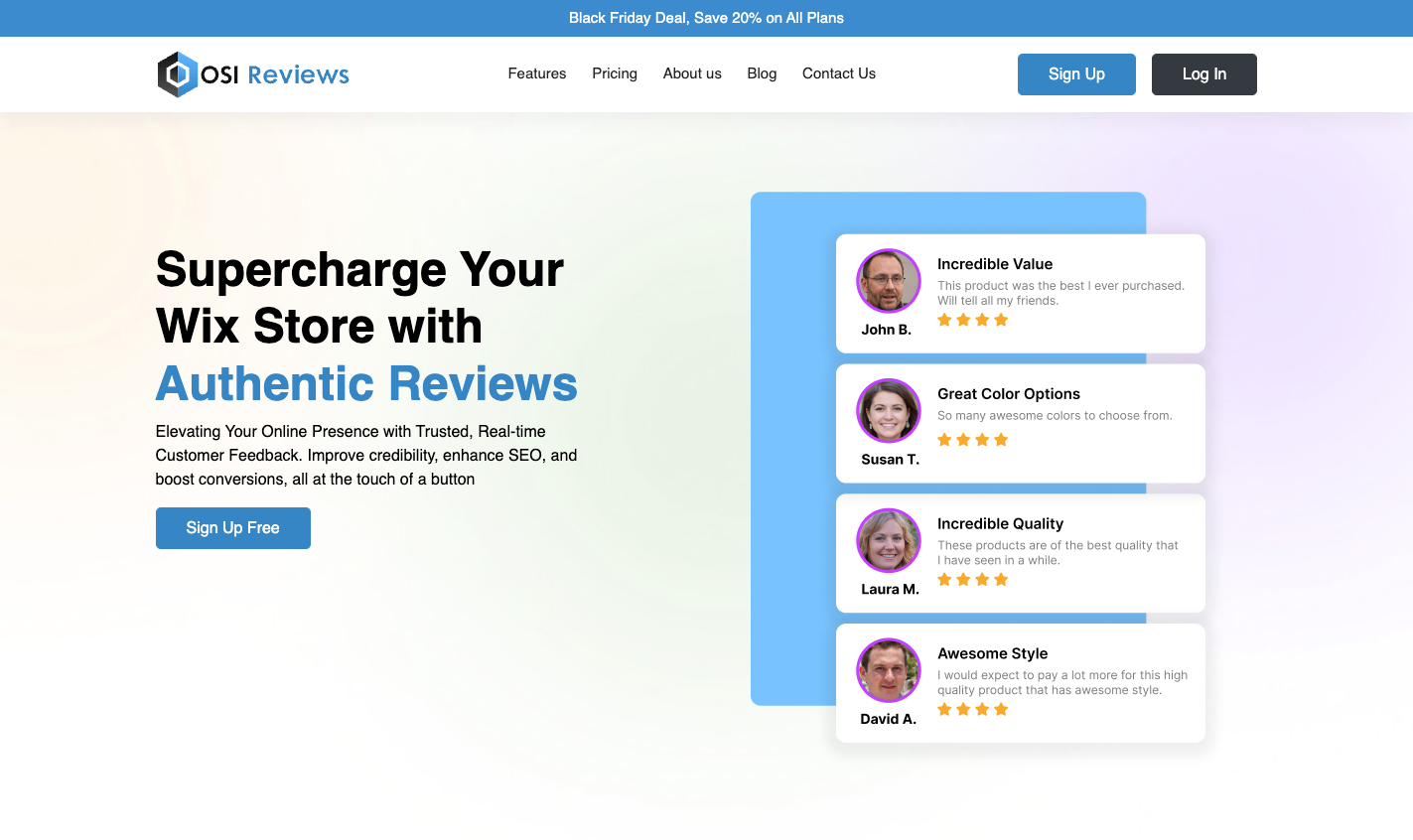 Communication Tools: Black Friday Offers
Consolto: Customer Meeting Tool
Consolto transforms customer meetings with an all-in-one platform that combines live chat, appointment scheduling, and video chat, akin to Zoom, Calendly, and Intercom combined.
Offer: Get 50% off yearly subscriptions for the first year.
Availability: This offer is valid until the 28th of November.
Grab the deal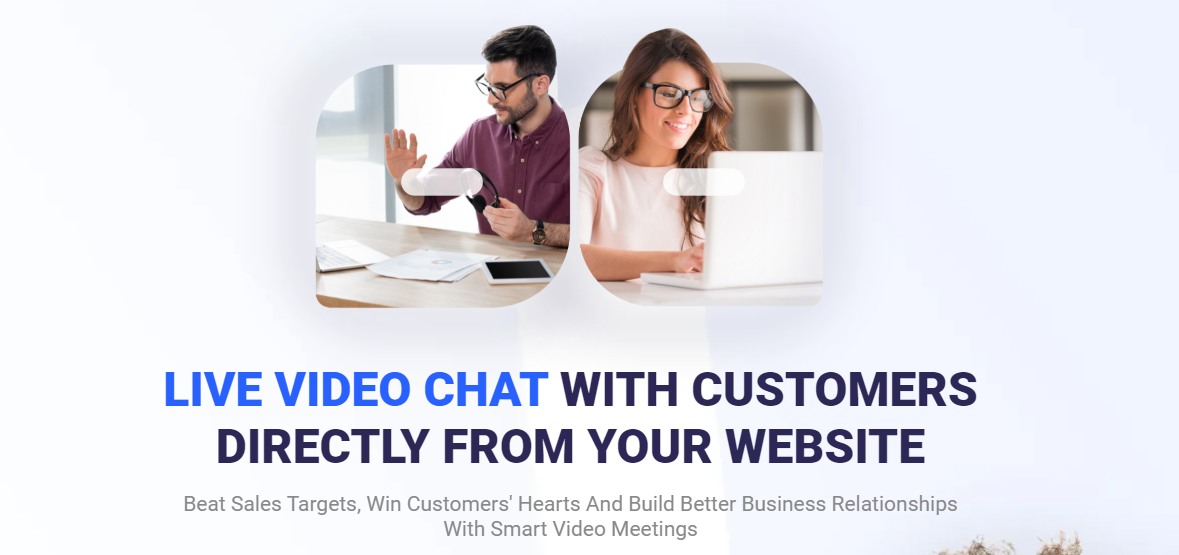 Website-Building Tools: Black Friday Offers
Landigni: Landing Page Platform
Landigni is a no-code platform tailored for data-driven marketers. With it you can design, publish, and optimize various digital marketing assets, including landing pages, pop-ups, and one-pagers.
Offer: The Landigni Black Friday Deal: Up to a $597 bonus with our Annual Plans!
Availability: This offer is valid from November 7 to December 2, 2023.
Grab the deal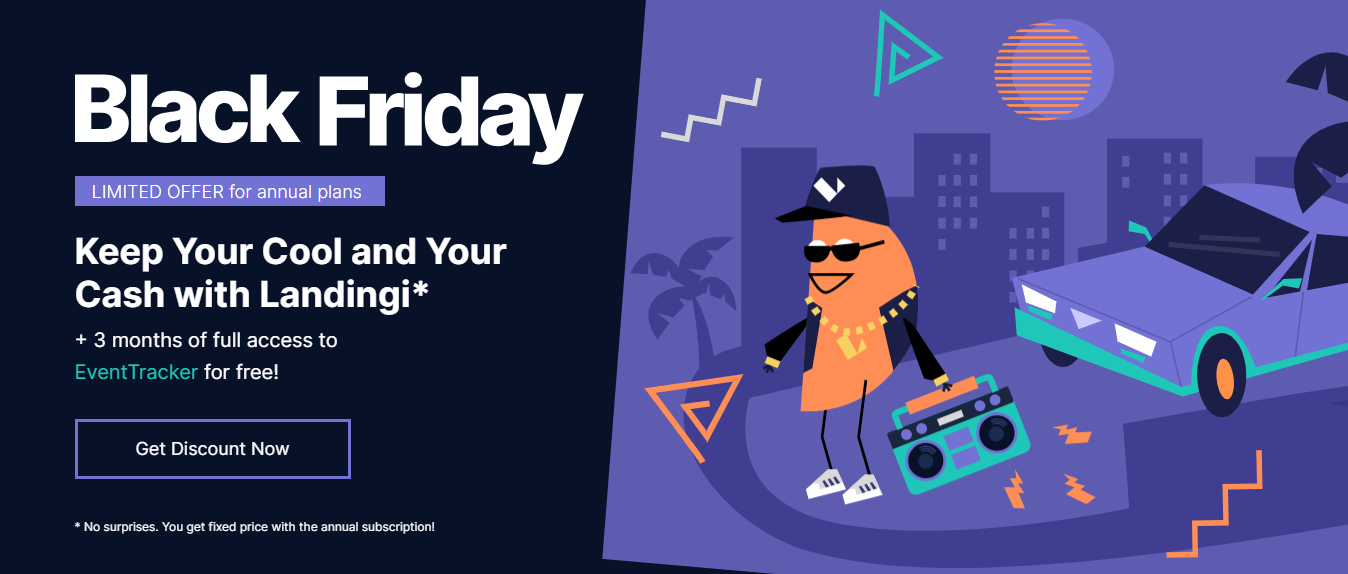 Dorik: AI website Builder
Dorik is the go-to website builder for professionals with zero design or coding experience to create beautiful and functional websites, leveraging AI capabilities.
Offer: 30% OFF on Annual and 2-year Plans
Availability: You can avail of this offer between November 14 and December 9, 2023.
Grab the deal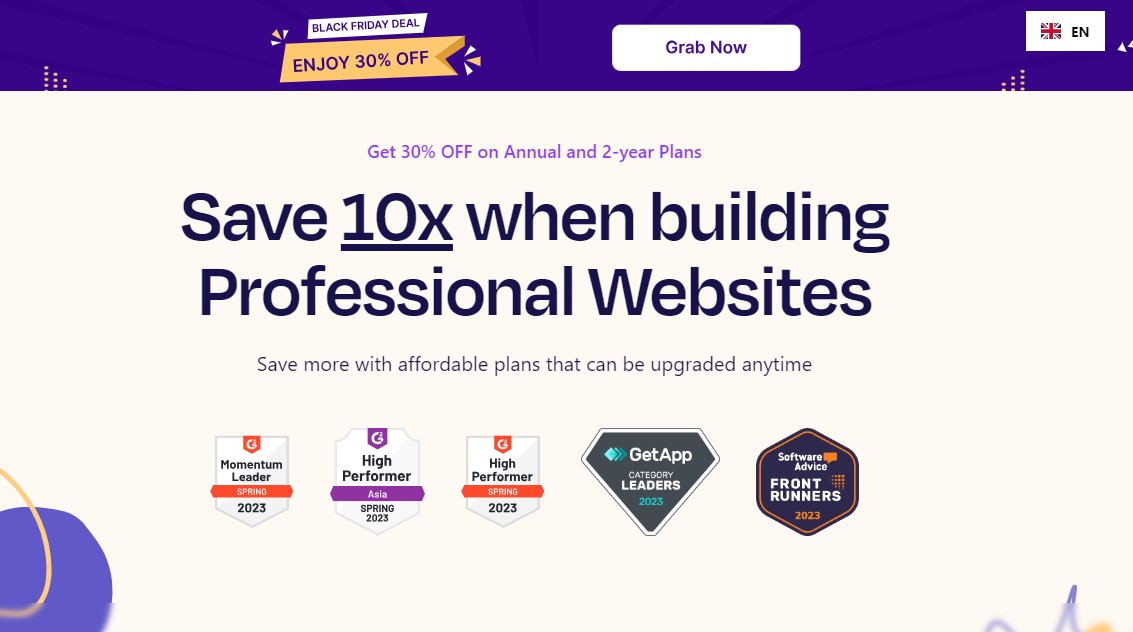 Affiliate Marketing: Black Friday Offers
OSI Affiliate: Affiliate Program & Referral Marketing Software
OSI Affiliate is an affiliate program and referral marketing software designed to help businesses encourage their customers to promote the products or services they sell.
It features a user-friendly panel that allows you to manage, track, and reward all your affiliates efficiently.
Offer: Enjoy 20% Off on Any Plan
Availability: The offer will be available until December 1, 2023.
Get the deal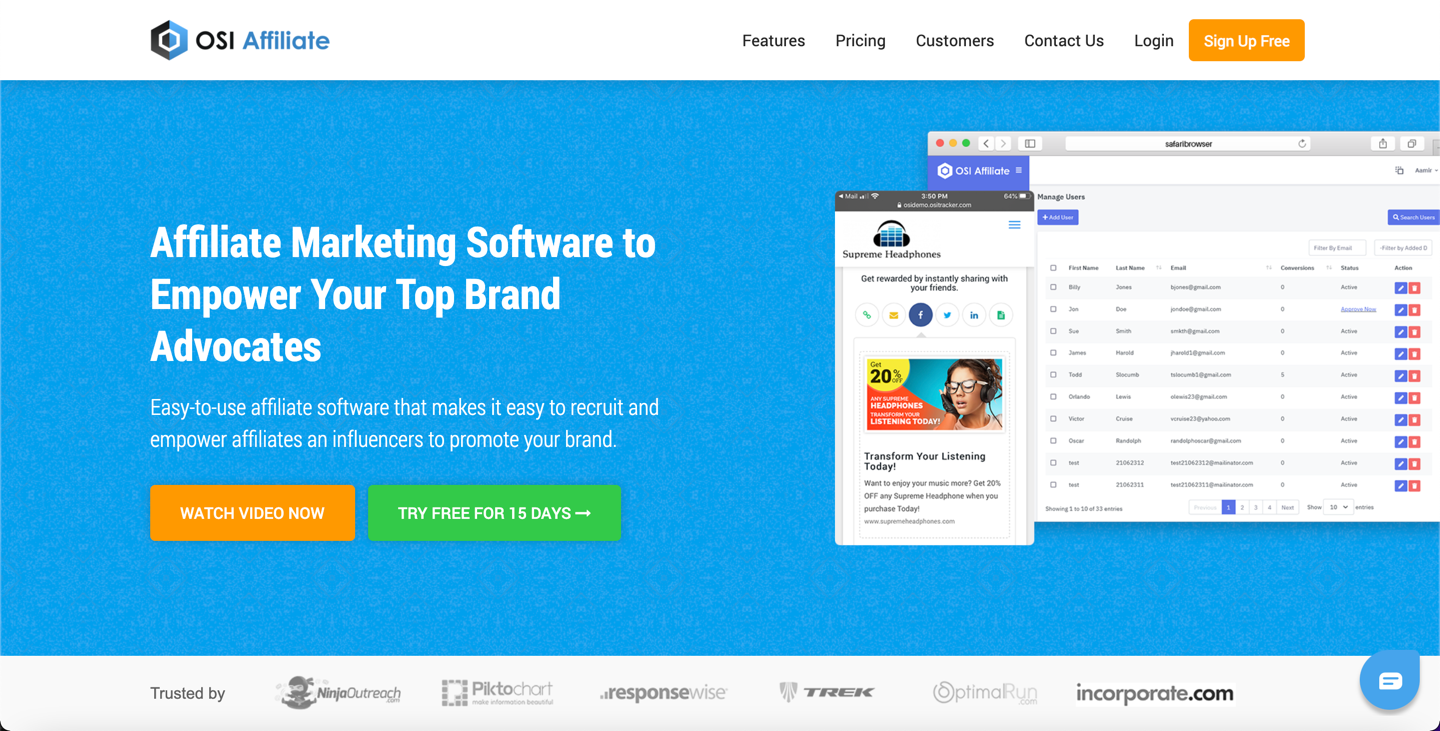 VYPER: Giveaways, and Referral Marketing Software
VYPER lets you create giveaways, contests, referrals, and loyalty programs that will encourage people to engage with your brand. You can create stunning campaigns and landing pages that use gamification to generate leads and customers.
Offer:  50% OFF VYPER this Black Friday & Cyber Monday
Availability: Offer Valid from 01 – 31 November 2023
Get the deal