The Best Time to Post on Social Media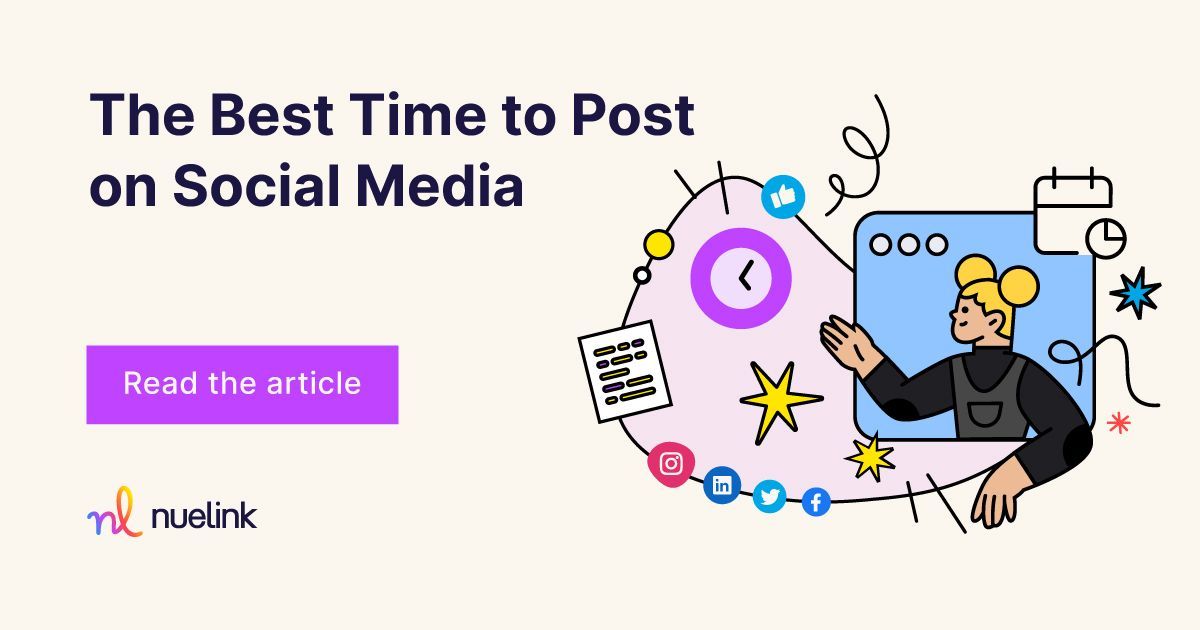 Social media is one of the most effective methods to promote your business and the great content you're producing. However, that can't be done randomly whenever you feel like it! Businesses need to take a more strategic approach.

You must know that every successful brand on social media has a data-supported posting plan that identifies the most effective day and hour. And even the best social media postings won't benefit your company if you don't post them at the appropriate time.

The best solution to grab your audience's brief attention is to publish during periods of heavy traffic. But when's that? When's the best time to publish on social media in 2022?

Luckily we did the research and created the ideal social media schedules for you to plan your content and increase visibility and interaction.


But first, let's know a little more about social media.

Social Media Facts:

Active social media users have passed the 4.65 billion mark.
6 out of every 10 people on the planet have a social network account.
The average daily usage of social media is 2 hours and 27 minutes.
Almost 45% of internet users research products on social media.
The Best Times To Post On Social Media In General:
For some social media users, posting at random hours is just fine if it's just for fun. But, when using social media to promote a business or a brand, then the best time is crucial.

On another note, you must bear in mind that the majority of your target market will, in fact, never even see anything you publish on social media due to the social network's algorithm. But overall,  social media engagement is highest during midweek mornings. That refers to days between Tuesday-Thursday at 9 a.m. or 10 a.m.


You can check how the Instagram algorithm work over here: Understand Instagram's Algorithm first

Best Time To Post On Facebook
With 2.8 billion daily actives, 11.2 billion total visits, 1.5 billion unique visitors, and 21 minutes 52 seconds of average time per visit, Facebook remains undefeated.

The best time to post on Facebook is on Tuesday, Wednesday, and Friday between 9 a.m. and 1 p.m. And the peak traffic on Facebook is observed the highest in the early afternoon between 1 P.M. and 3 P.M.

While the worst day to post on Facebook is Saturday.
Best Time To Post On Instagram
With more than 2 billion active users and an average of 100 million posts each day, Instagram is considered a powerhouse when it comes to social media marketing.

The best time of day to post on Instagram is before work, during lunch, and after work, which means on weekdays between 11 A.M. and 2 P.M. While the best day to post on Instagram is Tuesday.
The worst day to post on Instagram is Sunday.
Best Time To Post On Twitter
Twitter is considered one of the mainstream social media platforms, with more than 211 million daily active users.


The best time to post on Twitter is early in the morning on weekdays: ideally, 9 a.m. on Mondays and Thursdays.

Twitter's prime engagement times are identified as Mondays, Tuesdays, Wednesdays, Fridays, and Saturdays at 9 a.m.

The worst day to post on Twitter is Sunday.

Best Time To Post On LinkedIn
An integral tool today for job seekers, recruiters, businesses, and professionals with an estimate of 810 million members.

The best time to post on LinkedIn is identified as Tuesday from 10 a.m. to noon.
The best days to post on LinkedIn are Wednesdays and Thursdays. And the worst days to post on LinkedIn are Saturdays and Sundays.
Best Time To Post On YouTube

The video-sharing platform has 2.6 billion users worldwide as of 2022. It's ranked as the second-most popular social network with 62% of global consumers using it.

In general, the best time to post on YouTube during weekdays is between 2 P.M. and 4 P.M.
The best time to post on YouTube on weekends is between 10 A.M. to 11 A.M.
Thursdays and Fridays are the best days to post on YouTube as a brand.
The worst days to post on YouTube are the early weekdays: Mondays, Tuesdays, and Wednesdays.



Final Thoughts:
In conclusion, there isn't a definite,  ideal moment to share something on social media. The best time for your brand to be seen is different for every channel and is as distinctive as your audience.

However, using the correct data to optimize your publishing schedule may increase your social ROI and provide significant benefits to your business.
So, pay special attention to the performance of previous posts on your social media accounts.