What are the best tools to make simple social media graphics?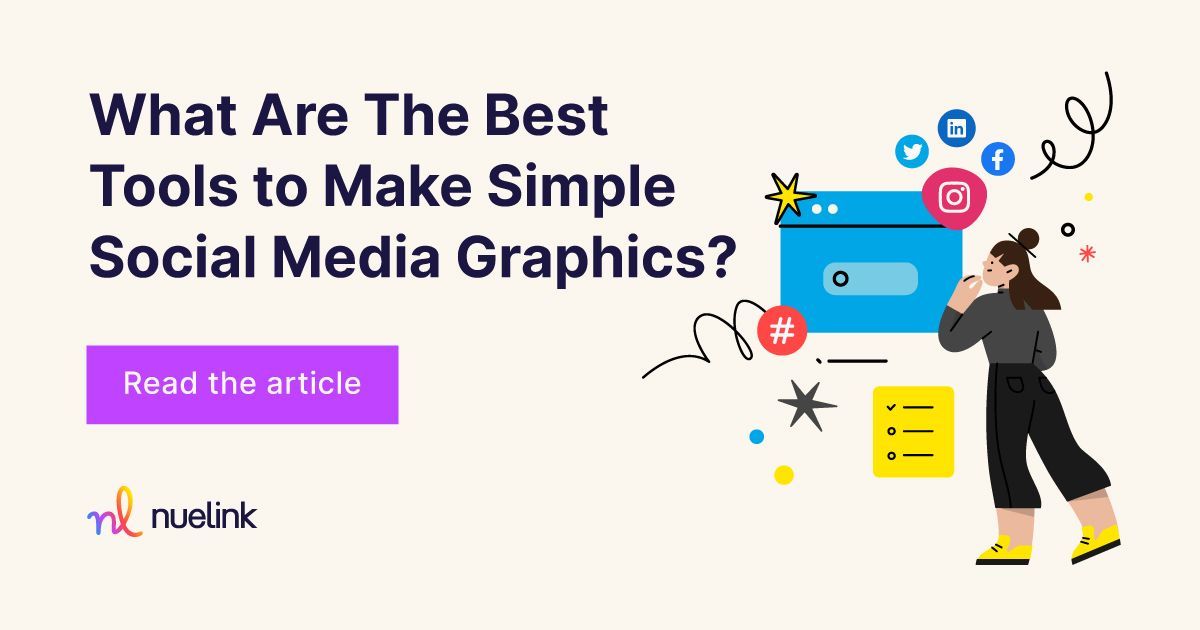 In this technological era, social media marketing has become the most significant platform for modern business marketing. And it has become a key part of the marketing strategy for most companies and influencers.

However, social media presence isn't the only thing you need to take care of. The design of your content is as well one of the most crucial aspects to consider when you increase your social media following.

The majority of social media sites are visual in nature (like Pinterest, TikTok, and Instagram). Some networks, such as Facebook and LinkedIn, aren't always designed with visuals in mind. Visuals, on the other hand, play an important role in content strategy and audience interaction. And still, not everyone possesses the graphic design skills required to create stunning social media visuals on their own or knows the importance of using images in social media posts.

You might be wondering what to do?

Thankfully, you don't have to be a graphic designer yourself, hire one, or spend hundreds of dollars on it —there are some great graphic design tools out there you can use to create incredible social media graphics.
But, even with these tools available in your hand, you still need to get educated about social media videos and graphics. If you are asking where to find this kind of education, you will find this social media videos guide by Explainerd super helpful.

So, without any further ado, We've put together our list of the best social media design tools out there to get you started on your way. Take a look!


A tool that has been a household name in graphic design for years and good reasons. It is one of the most versatile free tools you can use for any kind of project to create professional-looking designs.

With a vast collection of templates, backgrounds, and stock images, as well as a huge selection of graphics, shapes, frames, icons, and illustrations that you can easily drag and drop to create a stunning design.

Not just that you can also easily make video thumbnails, providing you with options to specify unique measurements with the dimensions they already have.
Canva's editor can also be used to produce social media videos, making it one of the best design tools available.

It is a simple yet powerful tool for graphic designers and is available in both a free and premium edition. The Canva Pro provides a few more features and increased storage space.
Piktochart is another simple and intuitive infographic creation tool that helps users make their own infographics easily. With hundreds of available templates and over 100 customizable themes for Infographics, reports, banners, and presentations you can start your own design from scratch and bring it to life.

Piktochart offers a free-for-life version as well as two tiers of paid accounts: Pro and Enterprise. The free may be somewhat limited compared to the other version, still, it gives you access to over 4,000 icons, the editor system, and the ability to share.

Overall, PiktoChart's intuitive editing tools give you flexibility and control over every aspect of your project.


Another design tool for non-designers that's not like the others. Desygner is not only one of the most elegant tools for creating eye-catching social media images with little effort, but it is also the only app optimized for a smooth mobile experience. This means you will be able to design social media graphics on your phone wherever you are and whenever.

Desygner also provides you with tons of templates to work with and 150 million Shutterstock images and videos, and a ton of visual material to use as inspiration. Which gives you a lot of creative freedom while still being simple to use.

When it comes to social media graphic software, usually the cost is the most frustrating part of it. But that doesn't apply to Snappa. Snappa is known as the only tool whose free plan has access to the exact same templates, graphics, images, and other design resources as the paid plans.
It has also a lot of cool features, such as image cropping, visual effects, adding text to images, working with shapes, and so on. Snappa's paid editions come with a few extra features but you still can get a lot out of the free plan.

Adobe Creative Cloud Express was previously known as Adobe Spark, and it is an essential one-step shop for creating social media graphics. It offers a variety of pre-sized templates that helps many small business owners and managers create striking designs even with no design experience.

Adobe CC Express has also a pretty advanced number of features and a huge library of design assets and fonts. It also doesn't take much time to get comfortable with it, as it is too simple and easy to use.


If you are looking for a simple and free tool to create basic social media graphics, then Pablo is your choice. It is a platform developed and shared by the major social media scheduling app Buffer.

With free and ready templates optimized for Facebook, Twitter, Pinterest, and Instagram and a set of filters available to change the images' look, Pablo makes it easy to create different graphics quickly and with no worry.


Wrapping up:

The use of visual content is critical to the success of your social media campaign. All of your social media posts should have some type of visual appeal, whether it's photographs, infographics, or videos. That is why, in order to boost your marketing efforts, you must have a solid design tool in your arsenal.

I hope one or two of the tools on this list prove beneficial to taking your social media game to the next level.