Nuelink: A Powerful Sprout Social Alternative for Agencies That Won't Break the Bank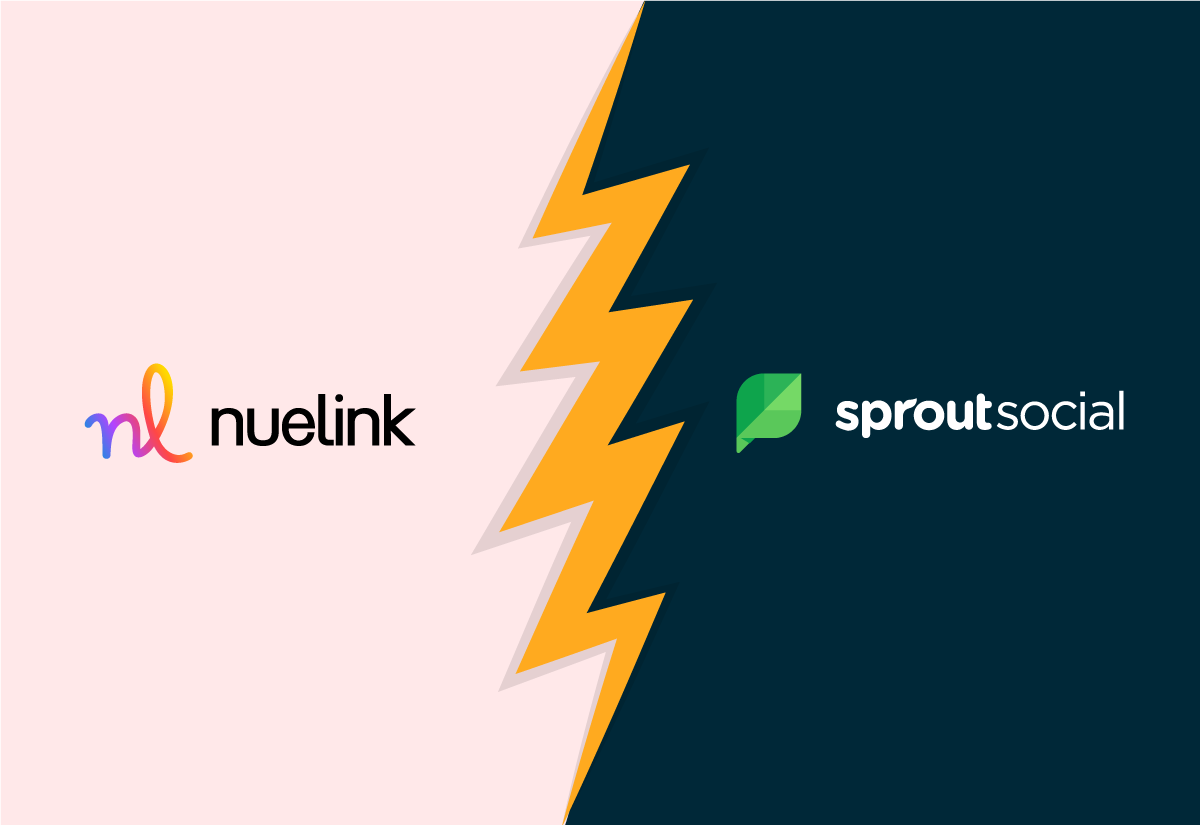 Sprout Social is often hailed as one of the best social media management tools on the market. It's often advertised as an all-inclusive tool that touches all aspects of social media management.
But is it? Well, to make a long story short, No.
When you dig a little deeper, Sprout Social's features are average at best and fail to accommodate social media agencies with their outrageous costs for additional team members. Their plans, ranging from $249 to whatever price you are quoted for Enterprise, fail to deliver the results.
Keeping this in mind, it's time to see what the market has to offer and look for other tools with far superior features and less stomach-turning price tags.
Why you shouldn't pay a king's ransom for less-than-average features!
Sprout Social is one of the most expensive social media management tools on the market, especially for social media agencies and teams.
If you want to invite team members to collaborate on social media content, you will need to pay an extra $299 for each user on top of $399 for your plan!
The social channel integrations are less than ideal, especially for businesses since Sprout Social only supports 8 platforms, and Google Business Profile is not one of them.
Their current social media automation service, or lack thereof, just isn't up to par. It's not going to help you significantly cut down on your workload.
It's unsuitable for agencies as it doesn't streamline collaboration between team members and clients.
Sprout Social doesn't offer free or freemium versions for their users looking to try the tool for more than 30 days.
Sprout Social lacks cross-posting features that help ease social media marketing across channels.
Sprout Social doesn't offer support to their users, even those paying the big bucks for their Enterprise Plan.
You don't believe me? Here is what you will be missing out on if you opt for Sprout Social.
Nuelink vs Sprout Social
Best Social Media Management Tools Duel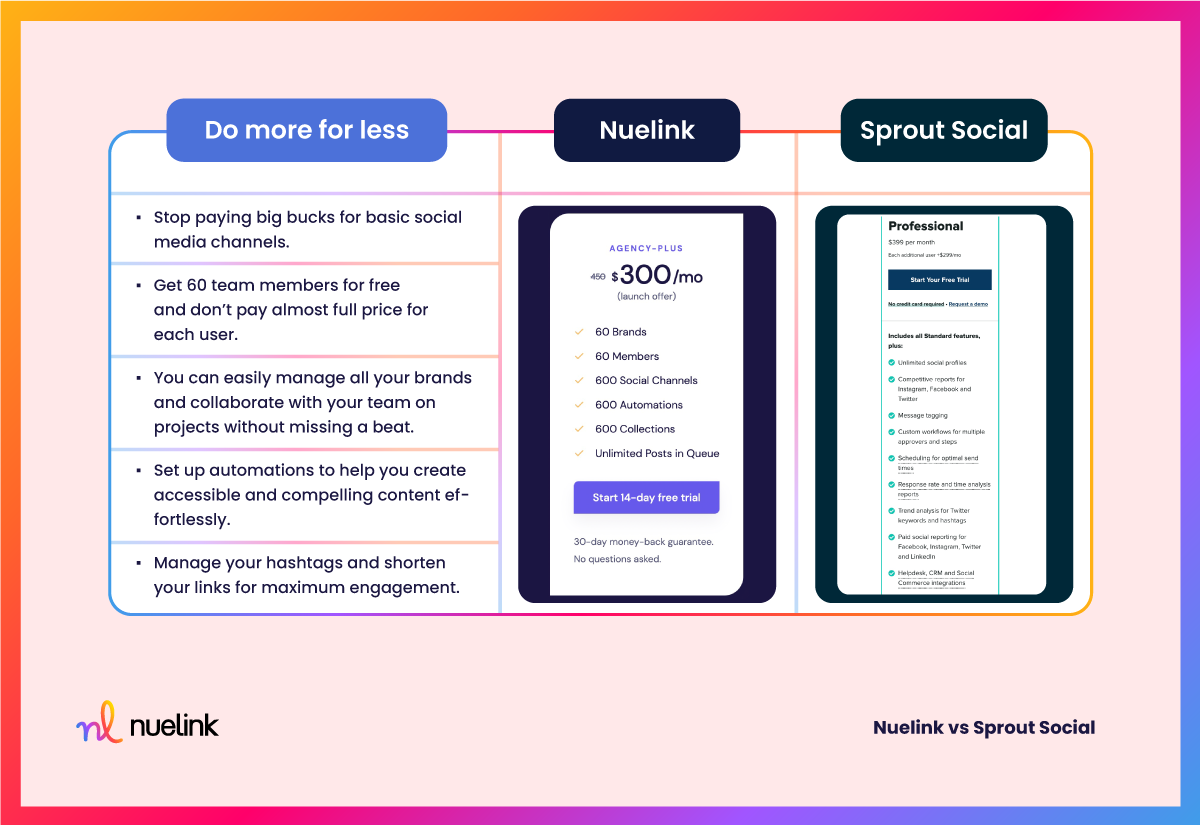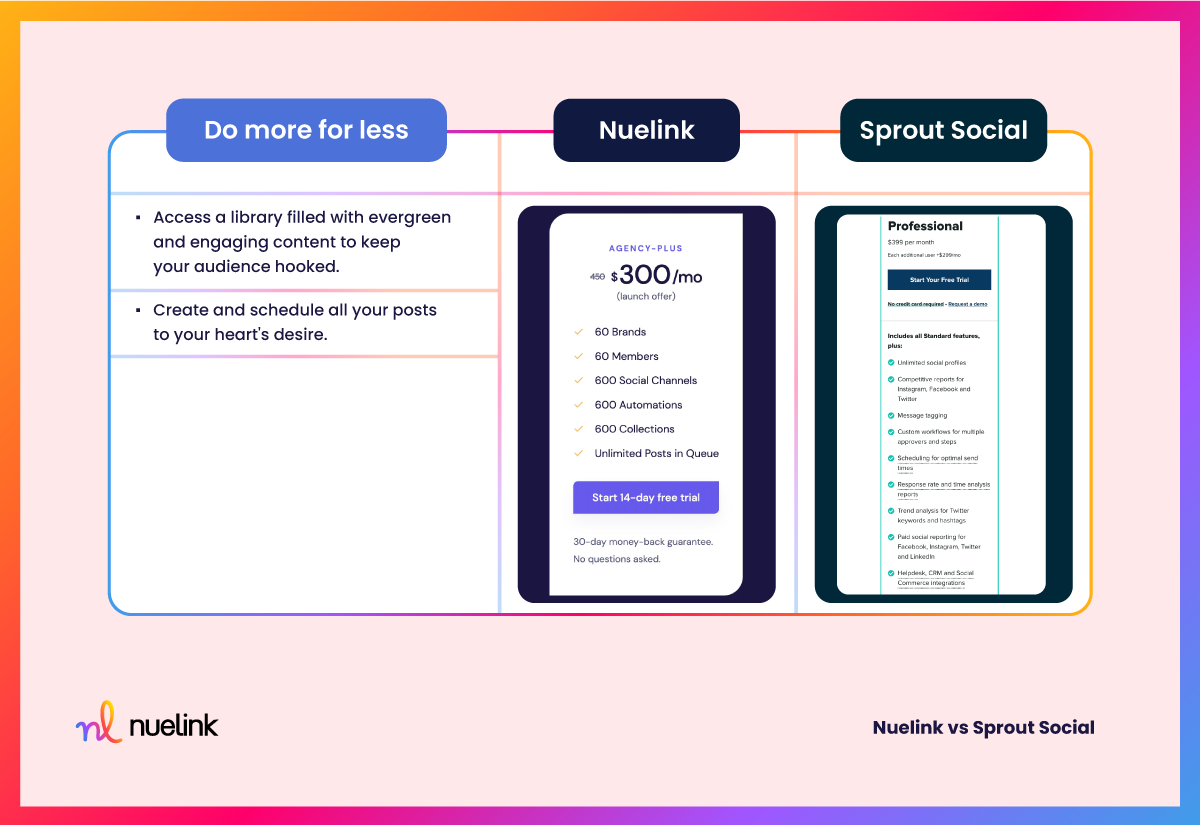 Nuelink's Features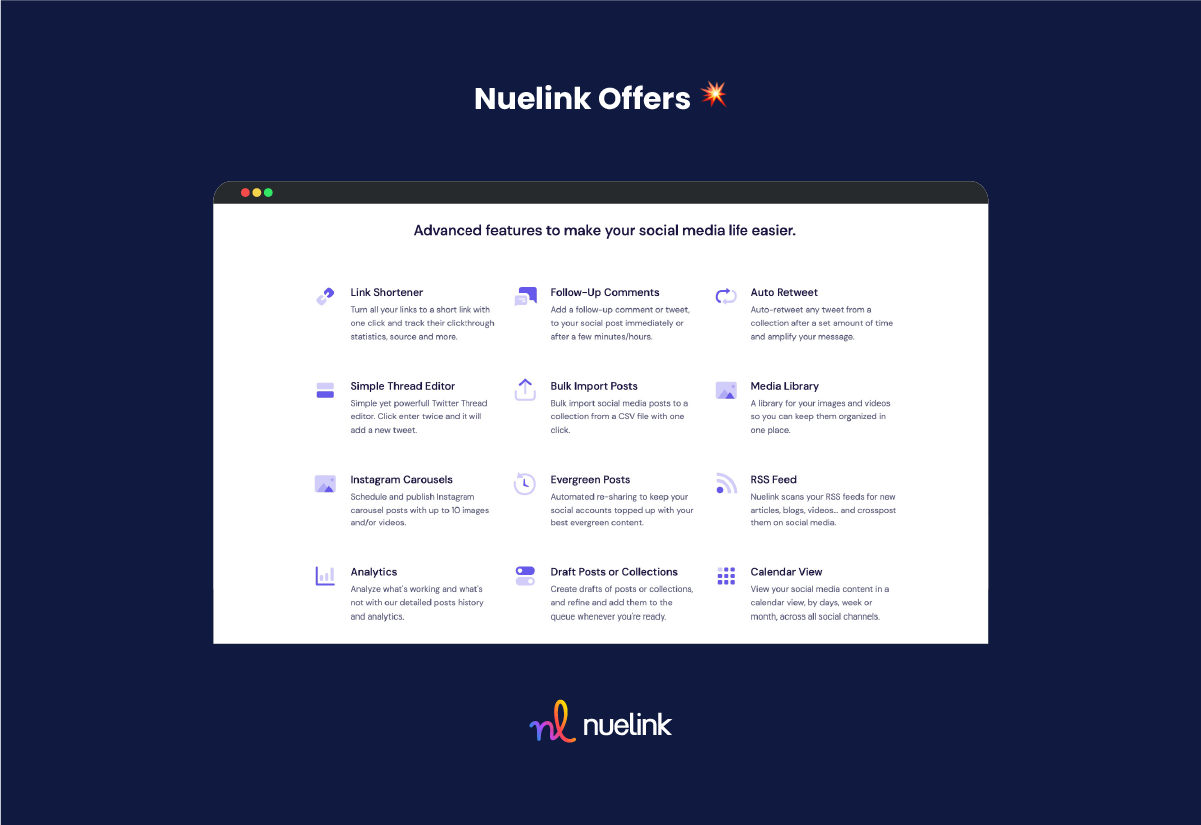 Social Media Managemnet
Access all of your social media channels from one user-friendly dashboard with Nuelink. Users can easily manage different collections, sort posts, and schedule content.
Agency Features
Nuelink also offers agency features for team collaboration, including the Brand dashboard and Members' feature.
Social Media Automation
Save time and effort with Nuelink's social media automation, which can auto-post to over 12 social media channels.
Social Media Cross-posting
Cross-post content from one channel to all others with social media cross-posting, currently supporting Instagram, LinkedIn, Pinterest, and Twitter.
Smart Content Creation Features
Take advantage of Nuelink's innovative content creation features, including setting content to Evergreen, supporting various content types, and using the hashtag generator and Unsplash to enhance posts. Nuelink also offers a link shortener tool and provides users with analytics and data about their shared links.
Analytical Features
Track your social media metrics with Nuelink's analytical features, including likes, shares, comments, impressions, engagements, clicks, views, and shares. The Insights feature provides detailed data on users' social media metrics for each platform.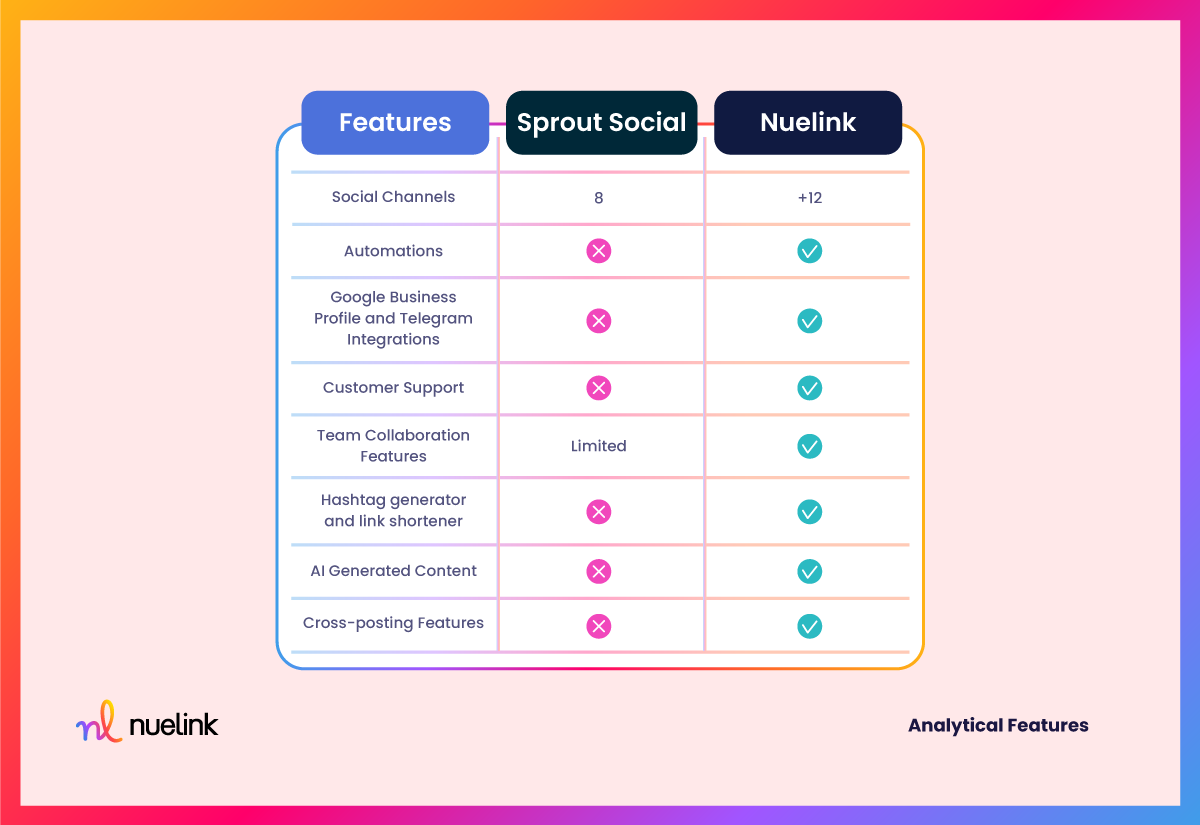 Rating and Reviews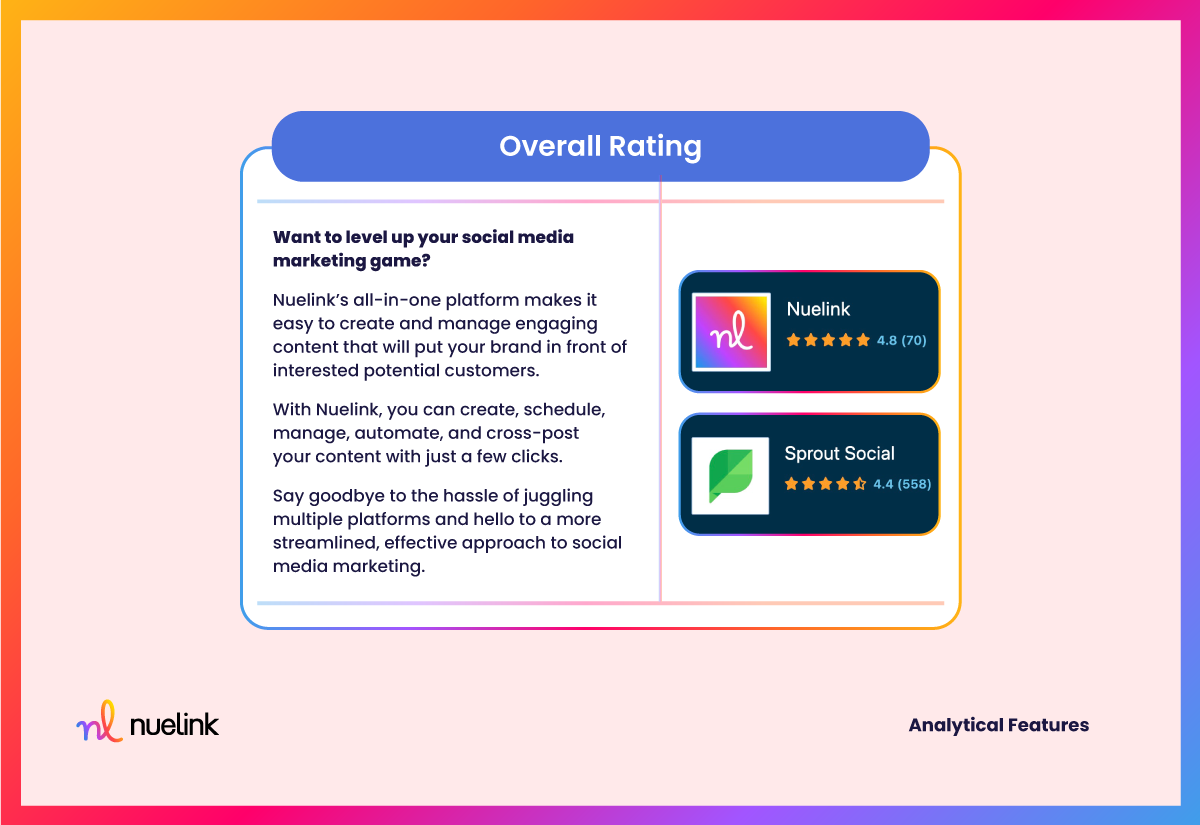 Schedule months of social content in minutes!
Nuelink helps you plan, automate and manage your social media and saves you time to focus on your business while your social media runs itself.
Integrated Automations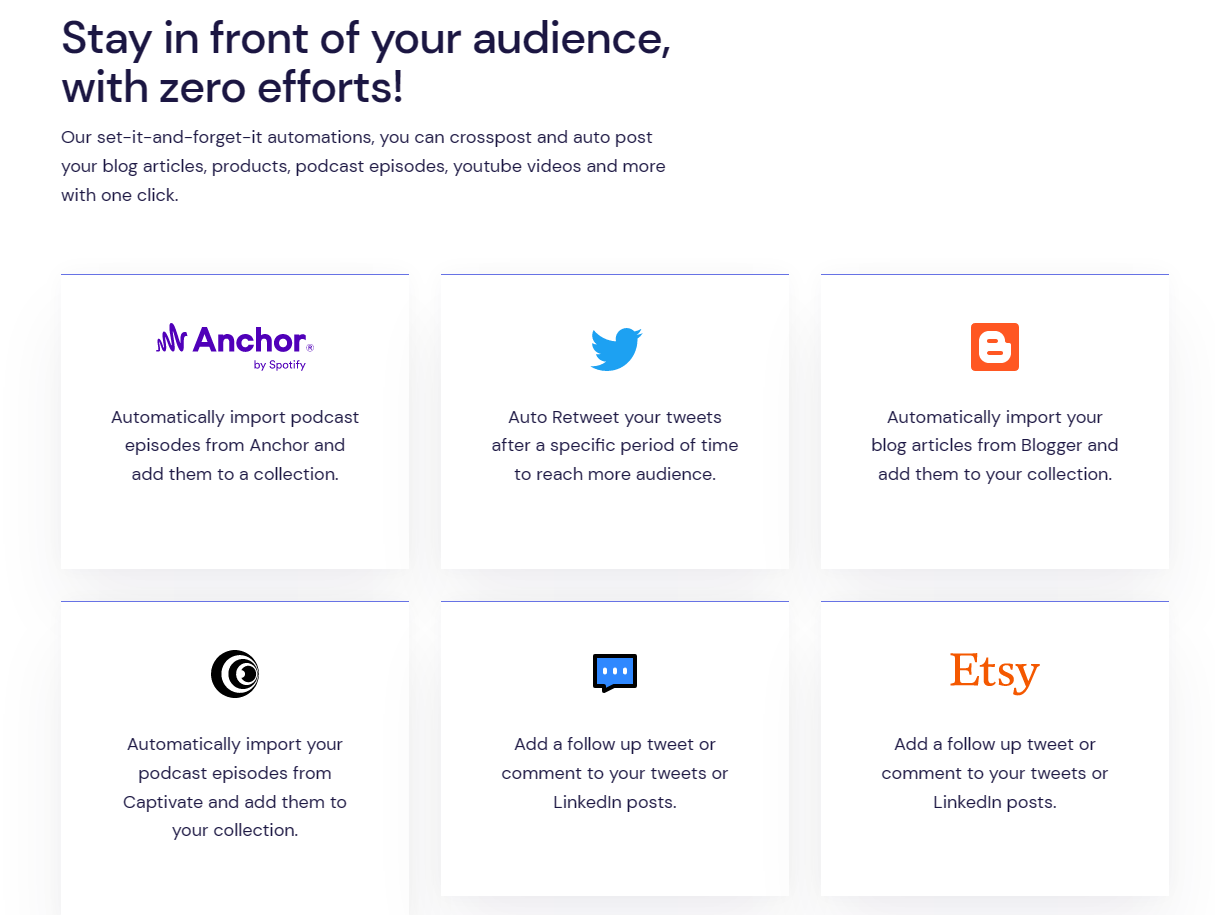 Social Media Automation for Bloggers: Auto-post your blog posts from WordPress Blogger, Ghost, RSS, Squarespace Blog, Substack…to Facebook, Instagram, Twitter, LinkedIn, and more than 8 social media channels.
Social Media Automation for E-commerce Sellers: Auto-post your product listings from Etsy, Shopify, Squarespace Shop, and Woocommerce… to Facebook, Instagram, Twitter, LinkedIn, and more than 8 social media channels.
Social Media Automation for Podcasters: Auto-post your podcasts from Anchor, Captive, SoundCloud, and Transistor…to Facebook, Instagram, Twitter, LinkedIn, and more than 8 social media channels.
Social Media Automation: Auto-retweet, Follow-up Comment, Tumblr, YouTubers…Other: IFTTT, Zapier…
With the rise of social media, the social media management tools market will only continue to flourish. And, as we have already seen, Sprout Social fails to keep up with the rest. If you are not convinced already, try Nuelink's features and automation for yourself to see what real social media management tools are capable of.