Understand Instagram's Algorithm first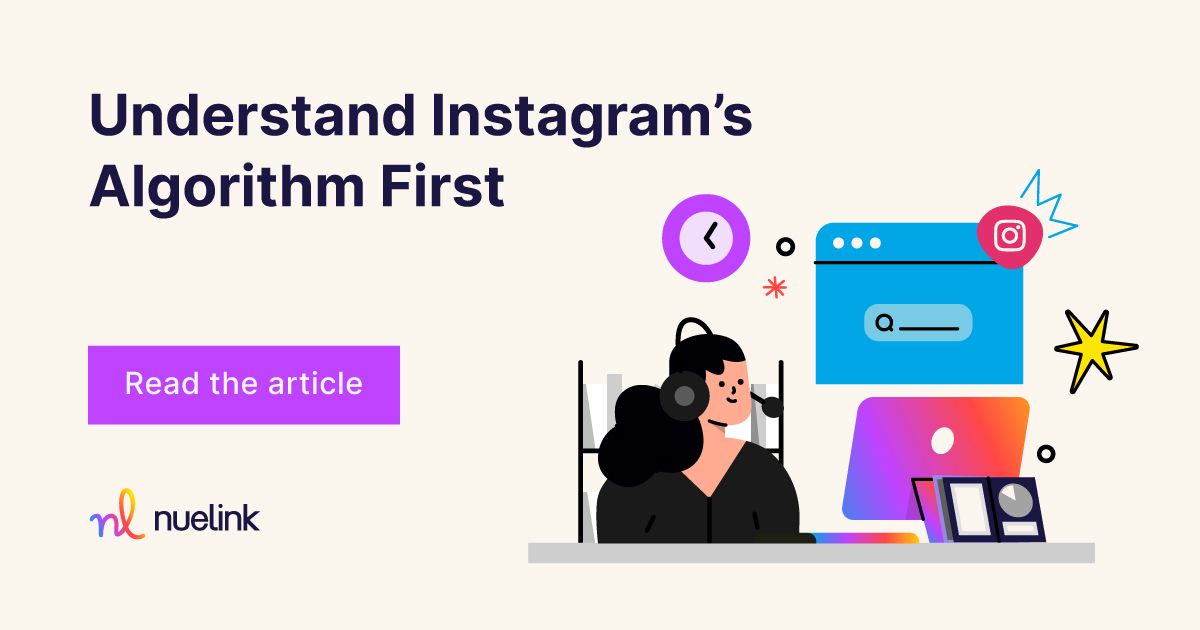 Instagram's algorithm has been the talk of the town for the last few years. This is not the first or the last time, Instagram has introduced a new look and feel to its app. Its transition from a chronological to an algorithmic feed in 2016 has proven confusing. And it sparked a flurry of debate and discussion.

In this blog post, we will be sharing with you how the Instagram algorithm works for posts, stories, the Explore page, and Reels.

What is Instagram's algorithm?
The Instagram algorithm is basically a set of rules, not just one but a combination of rules and algorithms that determine which content gets seen.
In its beginning, Instagram was using a simple chronological algorithm that displayed posts in order of how they were created. But the 2022 version of the Instagram algorithm is a highly sophisticated system that is mainly influenced by what each user cares about the most, what they would like to see, and what they enjoy.

"We use a variety of algorithms, classifiers, and processes, each with its own purpose. Each part of the app – Feed, Explore, Reels – uses its own algorithm tailored to how people use it". Said Instagram CEO Adam Mosseri.

This means that this advanced rating algorithm ensures that the user experience is highly tailored based on the preferences of each user. As a result, no two people will see the identical thing on their Explore page.

How does it work?
There are specific factors that tailor every user's experience, taking into account six major ranking signals:

1. Interests:  You will likely be showered with content that you highly engage with.

2. Timeliness: Instagram will prioritize newer content over the older to stay up-to-date with trends.

3. Relationships: Content from users you have frequently interacted with will be prioritized over others.

4. Frequency: it is about how often you are on the app. Based on how long your screen time is, Instagram organizes your feed.

5. Usage: Using the app and spending more time on it you will be able to see more offered to you. In addition to that, the IG algorithm will have more information to showcase relevant content on the user's feed.

6. Following:  depending on how many people you follow, Instagram will organize your feed. If you are following a large number of accounts, you may see fewer posts from specific ones.

How does the Instagram algorithm rank Feed posts?
Instagram has given further details to explain the key factors that influence the Instagram algorithm for feed posts. They confirmed that the following factors are the criteria used in the new Instagram algorithm:

Information about the post: is it a photo or a video? if it is a video how long is it? when was it posted? How many likes did the post get? This information helps the Instagram Algorithm determine the relevance and popularity of the post.
Information about the poster: How exciting and valuable are they to you? How often do you engage with them? By tracking how many times you've interacted with any account, the Instagram algorithm will get a sense of how interesting a person might be to you.
Your activity: do you watch a lot of videos? What type of content do you engage with the most? By observing your activity, Instagram can define what kind of other posts you might be interested in seeing.

Based on all this information, Instagram's algorithm determines the order in which posts will be displayed in the feed. Yet, that's not all. Instagram takes into consideration another five important interactions, listed as follows:
Time spent: will you interact with the post?
Likes: will you like the post?
Comments: How likely are you will comment on the post?
Saves: How likely are you to save the post?
Taps on Profile: Are you likely to tap on the profile after seeing the post?
How does the Instagram algorithm work for stories?
The Instagram algorithm treats Instagram Stories in a manner similar to how it does the feed. So typically, all the Instagram stories that appear at the start of the Feed are from accounts that you engage with the most.
The timelines of posting also affect the Instagram story algorithm, the recent and last posted stories appear in the front line on the user's feed. With this in mind, posting stories consistently is the best way to stay on the first line.
How does the Instagram algorithm work for Explore Page?
For the Explore Page, the algorithm works very similarly to the feed's algorithm. They both deliver to you content that seems interesting and relevant to the user base on the previous interactions.
Albeit Instagram shows the users content they are most likely interested in most of the posts introduced in the Explore Page will come from accounts you don't follow.  And that's the main objective of the Explore tab, to introduce you to new stuff.

This implies that the Explore Page considers much more than simply relevancy and engagement. After determining what you are most likely like and interested in, Instagram ranks those posts using the most important signals for the Explore Page, which are:
Post information: Instagram looks at the overall popularity of the post based on how many likes, comments, shares, and saves it has received.
User activity: Instagram takes into account the posts you have liked, shared, and commented on. Instagram uses your behavior on the Explore page to know what you'd like to see more of.
User interaction history: even though most of the content shown on the Explore Page is from new-to-you accounts, yet Instagram algorithm takes into consideration accounts you have interacted with their content in the past and gives them a priority.
Information about the poster: How much interaction from users has been received in the previous weeks is a good piece of information to help Instagram discover high-quality content from a wide range of users.

How does the Instagram algorithm work for Reels?
Just like the Explore Page, many of the videos you see on Reels will come from accounts you don't follow. But the difference here is that instead of getting what you might be interested in, Instagram focuses on content that might entertain you.
To do that, Instagram tries to predict how likely you are to watch a Reel all the way through, and how likely you are to interact with the content. The Instagram Algorithm evaluates all of that by examining the following:
Reel information: Information like audio tracks, popularity, and analysis of the pixels and frames help Instagram to rank videos properly.
User activity: To get a better understanding of the content you might be interested in, Instagram looks at signals such as which Reels you have liked, the ones you have commented on, and the ones you have watched until the end recently.


Interaction history: Much like the Explore Page algorithm, some of the videos you see may be from creators you don't follow. But you might have interacted with them in some way in the past or watched their Reels. Instagram takes that into account.
Information about the poster: Whether the original poster is someone who attracts an engaging audience and whether it receives consistent likes and shares. The Instagram algorithm also allows small creators to find a wider audience by giving an equal chance to everyone.
What Does Instagram Algorithm Not Rank?
Instagram is known for its content restrictions or what is called shadowban. It is one of the most common issues of Instagram that prevents your content from appearing on the Explore page by having a shadow on it.
But until now, the shadowban algorithm is still not clear, which causes confusion among creators when their contents went under restrictions even if they follow the Instagram guidelines.
Some known reasons that cause shadowban on Instagram posts are:
Using banned hashtags.
Using the same set of hashtags for a long period.
Getting reported by other users.
Exceeding Instagram's daily posting limits.
Posting offending content.
On that account, Instagram is now looking for ways to let its users know when and why their content is taken down or is against the app guidelines.


Now, by knowing how Instagram's algorithm works you will be able to beat it and stay on top of your account. Whether you're a brand or a content creator, the best way to step up your game is by knowing how to work with the algorithm first.