5 Social Media Management Tools for Agencies that Will Cut Down Your Workload in Half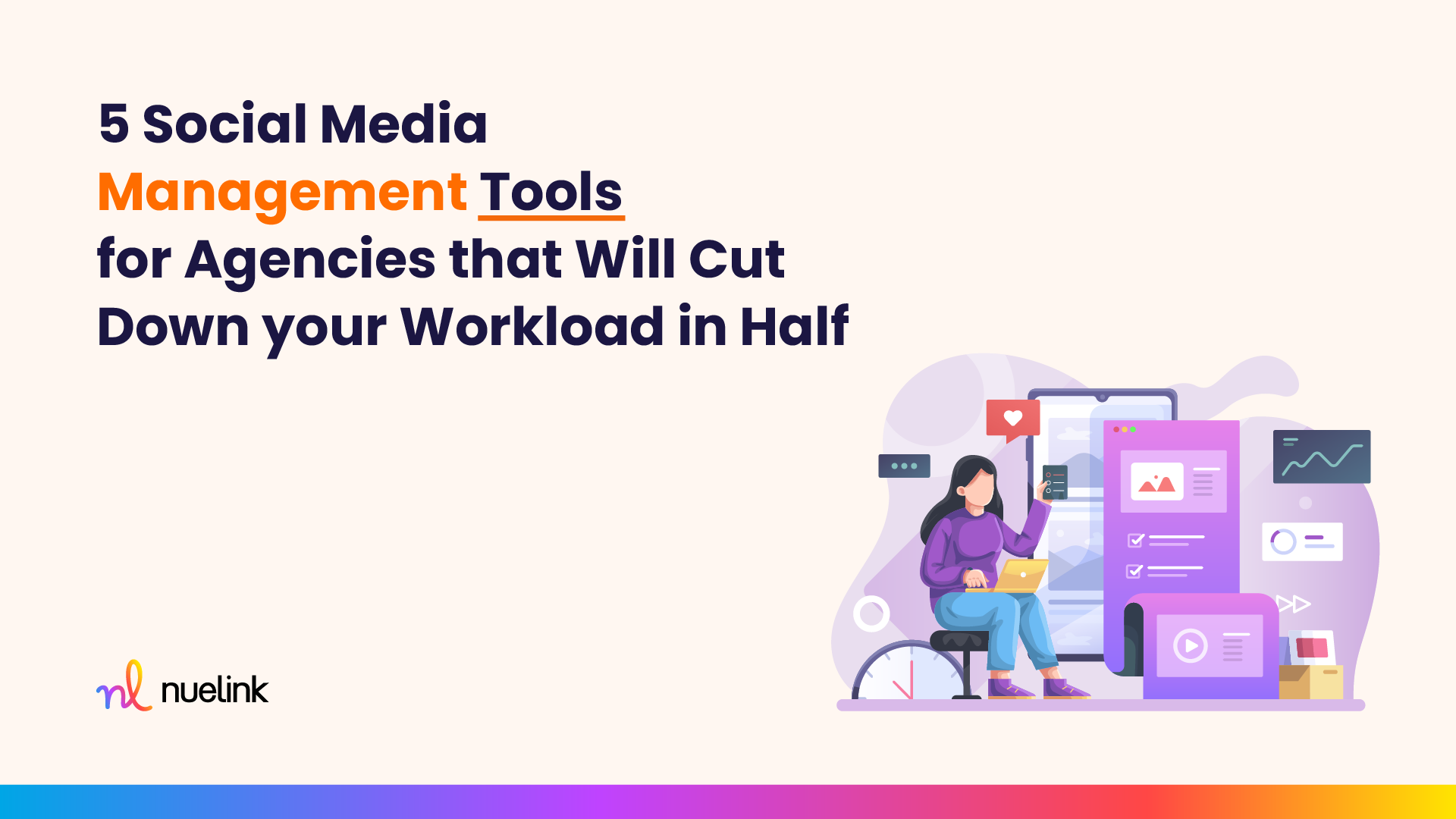 As a marketing agency, finding ways to help your clients effectively utilize social media is important. Simply posting more content or ads is not enough. By using the most effective tools to manage your customers' social media presence, you can boost engagement and establish your agency as a leader in your industry.
However, managing several social media campaigns can be challenging. To help you overcome this, we have compiled a list of 5 of our favorite social media management tools specifically designed for agencies.
Table of Contents: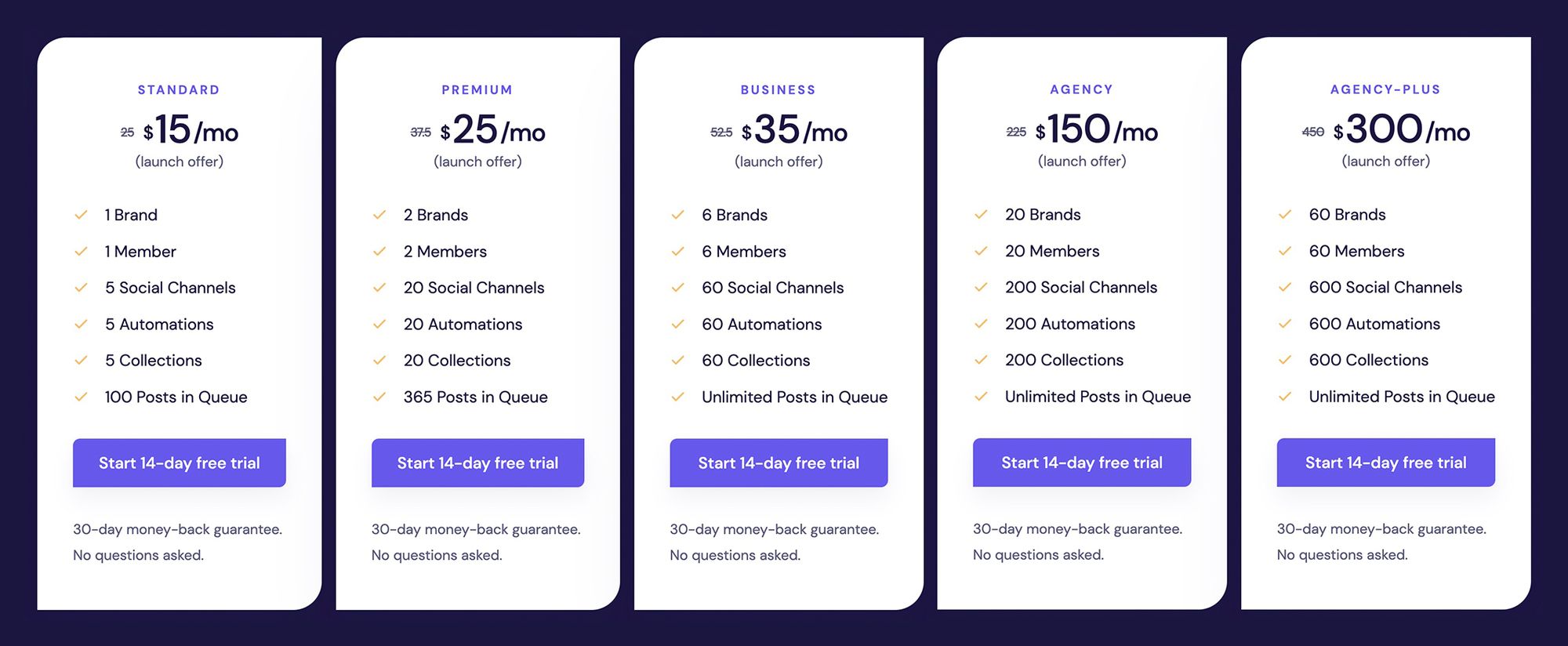 Nuelink is a highly effective social media management tool designed for social media marketing agencies and has different plans, including an all-unlimited plan, depending on your needs. It offers a variety of features that allow agencies to streamline their workload and delegate time-consuming tasks to team members.
With Nuelink, you can easily plan, automate, and manage clients' social media accounts. The platform also includes a library of pre-made content organized into collections, making it simple to create high-quality campaigns for your clients in no time.
In addition to scheduling and automation features, Nuelink also allows you to manage interactions, engagement, and analytics across all integrated platforms. You can even set certain content to "evergreen," which will recycle and keep your clients' platforms active. Nuelink also lets you create and manage multiple brands or dashboards for different clients.
One potential downside of Nuelink is the lack of social listening features. The tool, however, is working on building one and expanding its analytical tool.
Sendible is a social media management tool designed specifically for agencies. It allows you to create a centralized inbox for managing all of your clients' social media accounts in one place.
With powerful features for social media monitoring, publishing, and analytics, as well as personalized content recommendations based on your clients' social media profiles, Sendible makes it easy to effectively manage and grow your clients' social media presence.
However, social listening can sometimes be slow. The tool also offers very limited plans that will not suit a lot of agencies.
Hootsuite is a social media management tool that helps businesses and agencies manage their social media presence on various platforms, such as Instagram, TikTok, Twitter, Facebook, LinkedIn, Pinterest, and YouTube. It allows agencies to schedule their clients' posts and engage with their audience online.
Hootsuite is user-friendly due to its easily navigable dashboard, which allows social media managers to efficiently manage tasks across multiple social media networks.
Additionally, Hootsuite offers integration that includes many services such as Salesforce and Google Drive. This allows you to track your clients' social media activity across a variety of platforms. One of the benefits of Hootsuite is that it is a web-based tool, so there is no need to purchase additional software.
On the flip side, adding additional team members will result in an increase in the cost of using the tool even with their top-tier plans. While some analytics reports may be free, others can cost up to $50. Additionally, the ow.ly URL shortener must be used to shorten links.
Buffer is a social media management tool. There are two different facets of buffer, Publish and Analyze. You can either purchase them individually or as a bundle depending on the need of your agency.
Publish allows you to plan, collaborate on, and publish content that will help your clients stand out on social media. Analyze enables you to track social media performance, generate comprehensive reports, and receive suggestions for increasing your clients' reach, engagement, and sales.
It allows you to easily post the same content to multiple platforms and has a clear and easy-to-use social media calendar. However, Buffer Analyze may not offer advanced features for certain plans. There may also be occasional technical issues while using Buffer with Instagram which can be an issue for a lot of agencies. The channel offer for agencies on Buffer is also very limited.
CoSchedule is a powerful social media marketing tool that helps you streamline your social media marketing efforts. It allows you to manage assets, set up workflows, and integrate other tools such as email marketing services or content marketing platforms.
CoSchedule is particularly useful for agencies allowing you to group multiple projects and campaigns for easier tracking. One of its standout features is the Social Message Optimizer, which helps you craft the most effective message for your clients based on your client's social media content and offers suggestions for improvement.
However, the lack of customization options can also be an issue for a social media marketing agency. Slow loading can also be a problem, as it can lead to frustration for clients and managers alike and could deter them from using the tool altogether. The tool also doesn't integrate with some major platforms, TikTok being one of them.

As a digital marketing agency, it is important to effectively schedule posts for your clients, monitor relevant keywords on various social media platforms, and analyze performance in real time. This is why a good social media management tool is not only important but rather vital for the growth of your agency.